Curator's Corner
Sinking of the Titanic Anniversary
The 15th of April was the 101st anniversary of the sinking of the Titanic. In order not to dwell on that morbid subject (but to relate it to art) I'm showing you all one of a series of paintings Frederic Church did on icebergs. Church, the only person to ever be taken as a student by Hudson River School "guru" Thomas Cole (1801–1848), produced a unique series of dramatic paintings of nature that he observed, as well as composite landscapes for dramatic purposes. The Hudson River School style was basically Romantic Realism.
---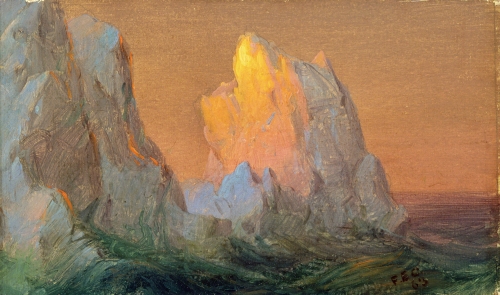 Frederic Church (1826–1900, United States), Icebergs, 1863. Oil on canvas, 3 1/4" x 5 5/8" (8.25 x 14.29 cm). © Museum of Fine Arts, Boston. (MFAB-240)
Church's interest in the Arctic began with the search for Sir John Franklin (died 1847), a British explorer whose expedition to the Arctic ended with the death of crews of two ships, and the search for the bodies of the crews in the following decade. Church's paintings already emphasized the power and grandeur or nature, and the Arctic north with its ice flows and icebergs fascinated him. He produced several paintings on the iceberg theme from sketches he had seen by actual later expedition participants. He eventually booked passage in 1859 on a ship to the Arctic to study icebergs first hand. The result of that trip was a collaborative book chronicling the trip through the Northwest Passage, called After Icebergs with a Painter. This painting is based on that sojourn, although I am doubtful that this is the iceberg that sank the Titanic! What I love about this painting is how Church endows all of nature with an awe-inspiring glory through his dramatic placement of the subject and lighting. If I ever see an iceberg in real life and it looks like the ones in the Church painting, I would definitely be awed!
Born in Connecticut, Church was the son of a wealthy businessman. Although his father wanted him to become a businessman or doctor, Church pursued his desire to be an artist. In 1842 and 1843 he studied with local landscape painters in Hartford. Accepting his son's career choice, Church's father arranged for him to have two years of lessons with Thomas Cole in New York starting in 1844. He was the only pupil Cole ever accepted for instruction. This would give him an advantage over other aspiring young painters at the time.
Church immediately distinguished himself through his meticulous, detail drawings of the natural world. His eye for detail far exceeded Cole's: elements of nature being examined seemingly microscopically. Church exhibited for the first time at the National Academy of Design at the age of nineteen, where he exhibited throughout his career. In 1849, at twenty-three, he became the youngest artist ever elected to full membership in the National Academy. By that point he had established himself as the most promising of up-and-coming young painters.
This painting is most likely a study for a larger work. I've seen it in person—it's little bigger than a postcard, so most likely not meant to be a finished work. What's amazing about it is the atmosphere of being in the cold Arctic Ocean at sunset and seeing these magnificent mountains of ice. Here's a modern interpretation on the subject.

Robert Moskowitz (born 1935, United States), Iceberg, 1987. Pastel on black paper, 39 3/4" x 112" (101 x 284.5 cm). Museum of Modern Art, New York. © Robert Moskowitz. (MOMA-P3077)
Studio activity: A landscape painting representing something that you find awe inspiring; be it because of dramatic lighting, weather, or view. Choose a photograph from a magazine of a landscape or of a painting of a landscape with dramatic impact. Make notes about the desired colors and shapes. Create a dramatic landscape using colors and shapes, including warm or cool colors or geometric or organic shapes. Use crayons to blend the various shapes and colors together for a harmonious composition. Remember to use a consistent light source in order to enhance drama in the composition.
Correlations to Davis programs: Explorations in Art Grade 2 1.3; Explorations in Art Grade 4: 4.21, 4.22; Explorations in Art Grade 5: 4.20, 2.19; A Global Pursuit: 7.2; A Community Connection: 4.4; Exploring Visual Design: 9; Discovering Art History: 12. 2.