Curator's Corner
Happy Fourth of July!
I'm celebrating the 4th of July by showing you one of the many portraits Gilbert Stuart did of our first president, George Washington. I hate to be an overly sappy art historian, but one of my secret dreams is to be around at the time our first president was alive. It must have been such an exhilarating period, everything about our democracy brand new (compared to now with a do-nothing Congress).
---
I know there were plenty of problems to iron out, but I've always admired George Washington (he stopped at a tavern at the end of my street in 1776!). The right man for the right job I say. To be totally honest, I'm not a big fan of American artists who emigrated to Britain before the Revolution in order to perfect their style and make more money, but I find Stuart a lot less objectionable than Benjamin West, John Trumbull, and John Singleton Copley who ended their days in Britain. Go US artists!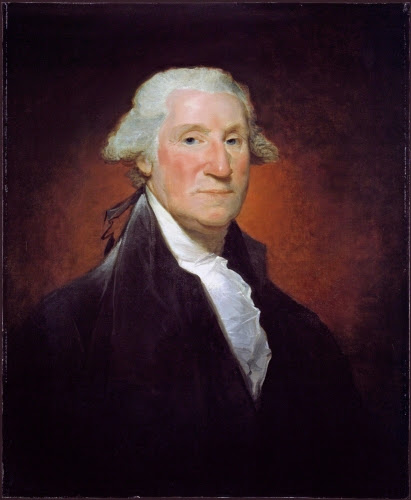 Gilbert Stuart (1755–1828), George Washington (Vaughan Portrait), 1795. Oil on canvas, 28 ¾" x 23 13/16" (73 x 60.5 cm). © National Gallery of Art, Washington, DC. (NGA-P0675)
Gilbert Stuart was exclusively a portrait painter. He returned to the US in 1793, settling in New York, having been in Britain since 1775, under the tutelage of Benjamin West. Apparently, Stuart accrued so many debts in both Britain and, subsequently, Ireland that he decided to return to the US. What is called a "provincial style" by the National Gallery in Washington was honed by Stuart's contacts with British portraitists, such as Joshua Reynolds and particularly George Romney, whose combination of softened Classicism and the burgeoning Romantic style affected Stuart's style permanently.
Immediately after returning home he began producing portraits, displaying what he had learned in Europe, with the American prescient for extreme realism. Compared, however to his portraits before the Revolution that emphasized worldly gain and extravagance, his portraits after the Revolution revealed a simplicity of form, costume, and background that combined Romanticism and Neoclassicism. The portraits that Stuart produced after his return attracted a great amount of attention.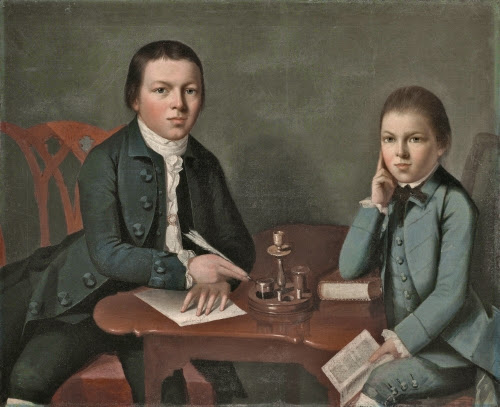 Gilbert Stuart, Francis Malbone and His Brother Saunders, ca. 1773. Oil on canvas, 36" x 44" (91.44 x 111.76 cm). © Museum of Fine Arts, Boston. (MFAB-459)
Eager to establish himself with the major players of the Revolution and officials of the new government, he moved to Philadelphia in 1795. Philadelphia was the capitol of the US from 1790 to 1800, when Washington DC was finished. Stuart's stoic, dignified, monumental realistic style appealed to the members of the new democracy's government, and it soon attracted the attention of the our first president. His first sitting with the president was in 1795, but the result dissatisfied him and he did another sitting in 1796. The Vaughan style was oriented to the left. Out of the over 1100 portraits produced by Stuart, 104 of them are of our first president.
I may be a Northern Renaissance specialist when it comes to art history, but I love Stuart's portraits of our first president because he actually got the president to sit for him. Apparently it wasn't a comfortable session, because Stuart talked a lot. President Washington was a very reserved person and found Stuart's prattling annoying. Maybe that's why the president's cheeks are so flushed? (Like, "Shut up, won't you!?")
Correlations to Davis programs: Explorations in Art Grade 3: 1.1, 1.2; Explorations in Art Grade 4: 1.2, 2.7; Explorations in Art Grade 5: 1.1, 1.2; A Community Connection: 3.4, 6.2; Discovering Art History 11.5; Experience Painting: Chapter 6; Exploring Painting: Chapters 7, 10; The Visual Experience: 9.3