Curator's Corner
Fashion and Society
I've talked about fashion relating to politics. This entry will relate to society at the time of one of the most outlandish periods in fashion: France in the 1750s through 1780s during the reigns of Louis XV and Louis XVI (well, maybe not compared to Punk in the late 1970s and 1980s, which, interestingly was a reaction to society in the opposite direction, protesting the "luxury" of the middle class).
---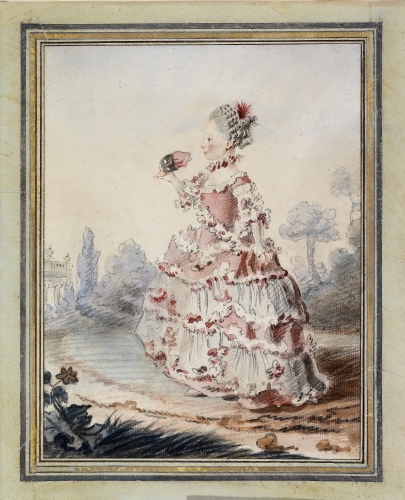 Louis Carrogis de Carmontelle (1717–1806, France), Mademoiselle d'Azincourt, 1759. Watercolor, 10 5/8" x 8 3/4" (27 x 22.2 cm). © Albright-Knox Art Gallery, Buffalo, New York. (AK-799)
This image comes from a large series of small watercolors Louis Carrogis de Carmontelle did of members of the French court immediately preceding the Revolution (1789–ca. 1798). Carmontelle was an artist, theater designer, architect, and landscape designer who designed the first "landscape garden," the Parc Monceau in Paris, upon which some of Versailles' late gardens were based. From humble origins, he rose to serve members of the lesser nobility and produced portraits of dozens of famous people he met. His watercolor and ink sketches of these fashionable people usually took only two hours for him to complete.
Fashion reached new heights of ridiculous ornament, size, and complexity in France between the 1750s and the 1780s. When the ancient Roman city of Pompeii began to be excavated in earnest in 1748, it elicited an excitement for ancient Roman, and hence Greek, art and introduced Europeans (and ultimately Americans) to the ideas of the ancient republics. This coincided with the increasing rise of the middle class in Europe. In reaction to "democratic" ideas, fashion went the other way. The French nobility sought to express their superiority through over-the-top fashion and life-styles. Let's see some other ridiculous notions of "chic" from the period.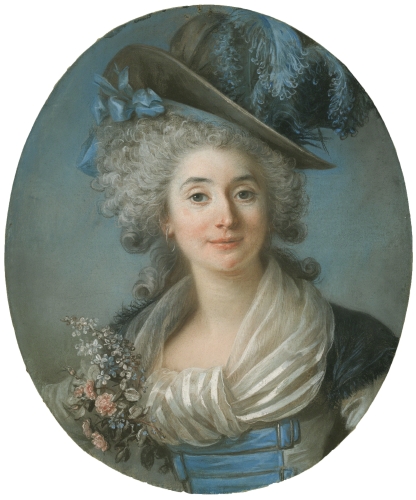 Adélaïde Labille-Guiard (1749–1803, France), The Vicomtesse de Gand, 1787. Pastel on blue paper, 21 5/8" x 18 1/8" (55 x 46 cm). © The National Gallery of Art, Washington, DC. (NGA-P0988)
This entitled young woman parades around in a ridiculous wig surmounted by an even more ridiculous hat. Wigs had become fashionable in France around 1700 after the king Louis XIV went bald, and the fashion spread throughout the Western world (including America, Central, and South America). Some were so outlandishly high that they had hinges so that wearers could go through doorways.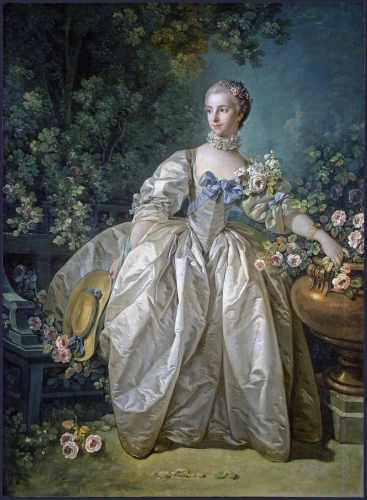 François Boucher (1703–1770 France), Madame Bergeret, 1746. Oil on canvas, 56 1/4" x 41 3/8" (142.9 x 105.1 cm). © The National Gallery of Art, Washington, DC. (NGA-P0327)
Imagine tooling around the garden picking blooms in this wide load. She should wear a red flag on the back! Side hoops (paniers) increased in width during the first half of the 1700s. Then classicism and a faux "of the people" fashion for classically inspired garb took over. A little too late to stall the French Revolution.
Here's Marie Antoinette's "shepherdess" look: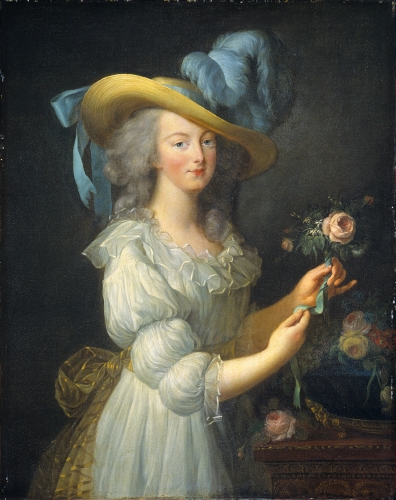 Attributed to Marie Louise Elisabeth Vigée-Lebrun (1755–1842, France), Marie-Antoinette, ca. 1783. Oil on canvas, 36 1/2" x 28 7/8"(92.7 x 73.1 cm). National Gallery of Art, Washington, DC. (NGA-P0681)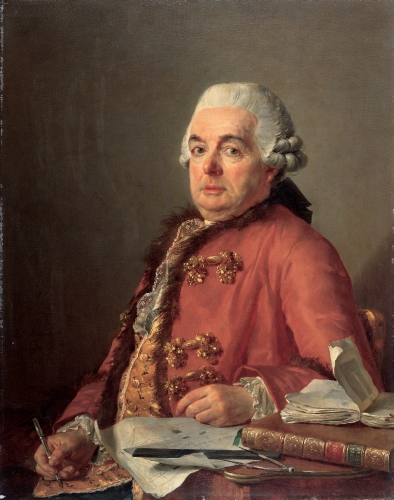 Jacques-Louis David (1748–1825, France), Portrait of Jacques-François Desmaisons, 1782. Oil on canvas, 36" x 28 1/2" (91.44 x 72.39 cm). © Albright-Knox Gallery, Buffalo, NY. (AK-282)
Men also "overdressed." This guy is David's uncle, an architect and contractor. Imagine working at a drawing board in this get-up, complete with silly wig. Fur trim on a frock coat, where it can provide no warmth, was a concession to luxury, and a status symbol, of course.
Here are some examples from other countries that adopted the luxurious dress of the French upper class.
Rad hair in England: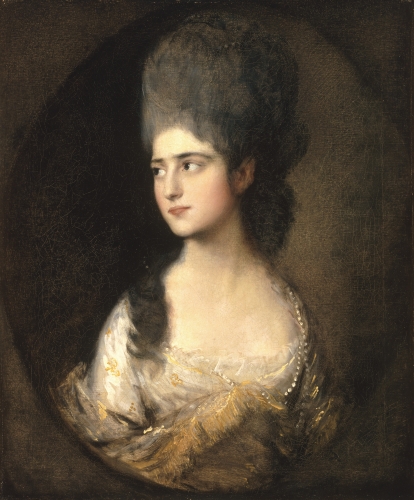 Thomas Gainsborough (1727–1788, Britain), Miss Linley (Later Mrs. Richard Brinsley Sheridan), ca. 1775. Oil on canvas, 30" x 25" (76.2 x 63.5 cm). Philadelphia Museum of Art. (PMA-1256)
Nice paniers in England: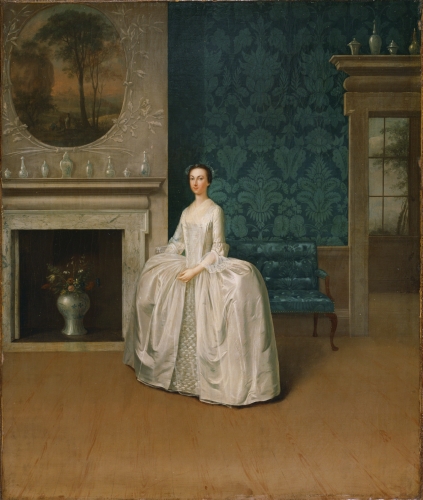 Arthur Devis (1712–1787, Britain), Portrait of Lady Juliana Penn, 1752. Oil on canvas, 36 1/8" x 31 1/8" (91.8 x 79.1 cm). Philadelphia Museum of Art. (PMA-3837)
An elite Mexican who obviously had no day job: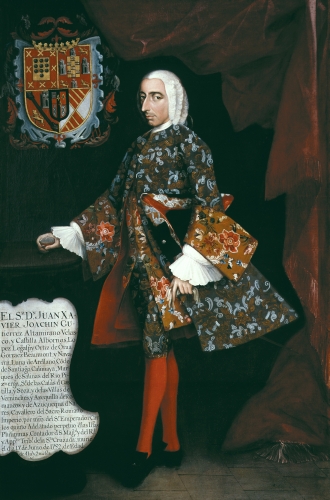 Miguel Cabrera (1695–1768, Mexico), Don Juan Joachín Gutiérrez Altamirano Velasco, ca 1752. Oil on canvas, 81 1/16" x 53 1/2" (206 x 136 cm). Brooklyn Museum, Brooklyn, NY. (BMA-157)
A Puerto Rican upper-class woman who hadn't gotten the news about the impending revolution in France: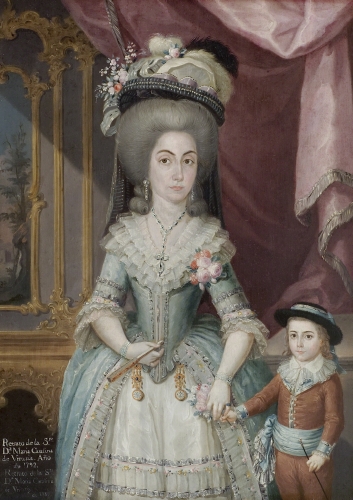 José Campeche y Jordán (1751–1809), Doña Maria Catalina de Urrutia, 1788. Oil on wood panel, 20 1/2" x 11 1/4" (52 x 28.6 cm). Museo de Arte de Ponce, Ponce, Puerto Rico. (PON-3)
The Swiss upper class notoriously aped the French court styles. This guy was a Swiss lawyer, writer, and art collector: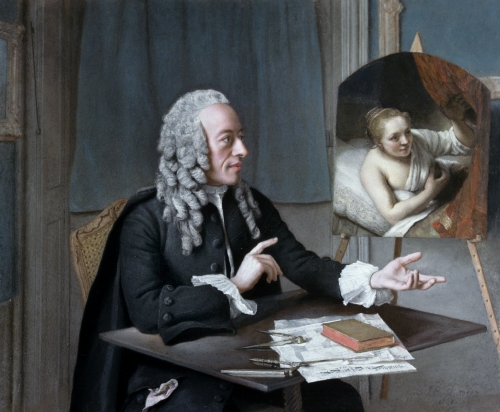 Jean-Étienne Liotard (1702–1789, Switzerland), François Tronchin, 1757. Pastel on parchment, 15" x 18 1/4" (38 x 46.3 cm). Cleveland Museum of Art. (CL-45)
Studio activity: Design an outfit or uniform that reflects personal tastes or the characteristics of a friend or other person. Make a cardboard figure on which to attach the finished outfit. Use markers or colored pencils to design the outfit on paper. Cut out the outfit and attach it to the cardboard figure cutout. Make studies of the costume before committing it to the paper, and try to design an outfit that reflects personal values or an exaggerated sense of someone's personality.
Correlations to Davis programs: Explorations in Art Grade 1: 2.8, 5.30, 6.33, 6.34; Explorations in Art Grade 2: 2.8; Explorations in Art Grade 3: 1.3; Explorations in Art Grade 6: 6.32; A Personal Journey: 3.1