Curator's Corner
European Abstraction: Pierre Alechinsky
October 19th is the birthday of the brilliant, expressive colorist Pierre Alechinsky, who was part of CoBrA, an important modernist group in the Netherlands after World War II (1939–1945). CoBrA was part of a new generation of artists who, like the Abstract Expressionists in the U.S., were seeking new ways of abstract expression that were totally different from the canonized abstract movements that dominated the pre-war period such as Constructivism, Cubism, and other doctrinaire movements. Alechinsky's work celebrates the joys of color and vigorous brush stroke.
---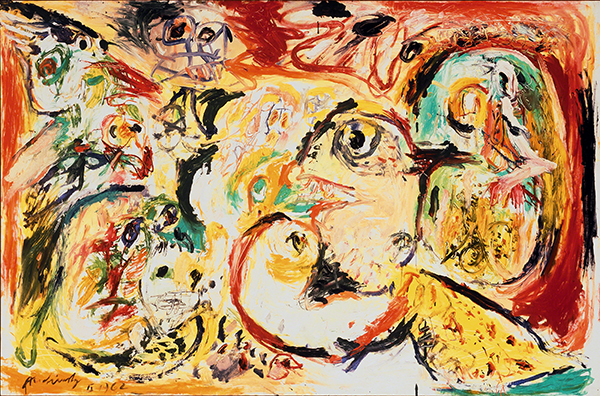 Pierre Alechinsky (born 1927, Belgium), Greet the North, Greet the South, 1962. Oil on canvas, 53" x 80" (134.6 x 205.7 cm). Image courtesy of Albright-Knox Art Gallery, Buffalo, NY. © 2020 Pierre Alechinsky/Artists Rights Society (ARS), New York. (AK-485aears)
In post-World War II Netherlands, modernist artists finally tired of the geometric, Constructivist abstraction of De Stijl that had dominated art since the 1920s. Three artists, Karel Appel (1921–2006, Netherlands), George Constant (1920–2005, Netherlands), and Cornelis Corneille (1922–2010, Belgium), established the Experimental Group in 1948. They wanted to explore new forms of expression that rejected both the style of Piet Mondrian (1872–1944, Netherlands) and the stale academic tradition. The group evolved with artists from Belgium and Denmark to CoBrA (standing for Copenhagen, Brussels, and Amsterdam) in 1948.
Alechinsky enthusiastically joined CoBrA in 1949 and participated in their first group show at the Stedelijk Museum in Amsterdam that same year. For Alechinsky, the art of CoBrA summed up his desire for free thought and action in painting, rather than the cold calculations of geometric-specific abstraction, like Mondrian and Theo van Doesburg (1883–1931, Netherlands), or the sterility of social realism. He organized their second international exhibition in Liege in 1951, the same year the group disbanded.
Alechinsky's paintings and prints all demonstrate an allover structure of seamlessly interwoven elements of color; line; and fluid, expressionist brush work. Like the artists of l'Art Informel in France, Alechinsky's emphasis was on pure abstraction, unfettered by any canon, and linked to the French movement in the desire to create from subconscious impulse rather than from studies or dependence on formal concerns. Works like Greet the North, Greet the South very much reflect—like the work of Jean Dubuffet (1901–1985, France)—the influence of children's art. His emphasis of line reflects his fascination with Japanese calligraphy, particularly in the robust nature of his linear brush strokes. His use of color often resembles the work of CoBrA artist Appel.
The son of Russian Jewish immigrants, Alechinsky was born in Brussels, Belgium. From an early age he was interested in graphic arts, attending the Cambre National School of Architecture and Decorative Arts in Brussels, where he studied illustration, printmaking, and photography. An early influence was his discovery of the Art Brut work of Dubuffet in 1945.
Alechinsky moved to Paris in 1951, where he studied printmaking with Stanley William Hayter (1901–1988, British)—a Surrealist/Abstract Expressionist artist—at his renowned Atelier 17. He explored all techniques of printmaking, including engraving, etching, aquatint, and lithography. During the same period, he became interested in Japanese calligraphy, travelling in 1955 to Tokyo and Kyoto, where he visited experts in the art form. He was the first recipient of the Andrew Mellon Prize for artists in 1976. From 1983 to 1987, he was a professor of painting at the National College of Fine Arts in Brussels. In 1995, one of his designs was used on a Belgian stamp. He currently lives and works in Bougival, France.