Curator's Corner
Earth Appreciation Month
What better way to celebrate Earth Month than to show you paintings by an American Impressionist who celebrated the beauty of nature through COLOR. To be totally honest, I had never heard of Enneking before I saw his work at the MFA in Boston. And, to be totally honest again, I almost fainted when I saw this painting. He has so masterfully captured the yellow-greens of New England spring. And, on an Earth Month note, trees are a valuable part of the biosphere of our planet that we threaten with our toxic habits.
---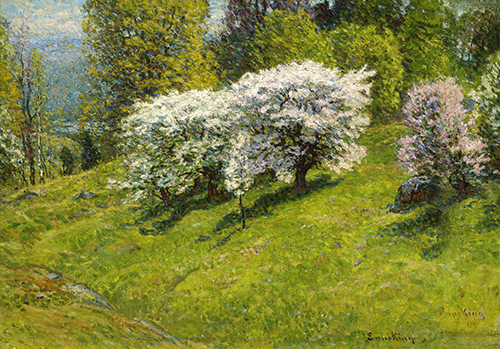 John Joseph Enneking (1841–1916, US), Spring Hillside, 1899–1902. Oil on canvas, 24 5/8" x 34 ½" (62.6 x 87.6 cm). © 2019 Museum of Fine Arts, Boston. (MFAB-46)
I am a BIG fan of American Impressionism, almost as much as the French original. These artists really applied what they learned in France to paintings of the American landscape with beautiful results. Enneking was the first artist to return to the US after painting with Claude Monet (1840–1926), the "leader" of French Impressionism. Born of German immigrants in Minster, Ohio, he drew landscapes and animals with charcoal and crayon as a young man. He first saw fine art when he moved to Cincinnati in 1856, and determined to become a painter. His first training was in Cincinnati, and after the Civil War (1860–1865) he studied printmaking in Boston.
Enneking went to Europe in 1870 and studied first in the expatriate American school there, which featured overall the Dark Impressionism style that was influenced by Baroque tenebrism. He then went to Paris where he was initially influenced by the Barbizon school landscape palette. By 1873, however, he came under the influence of the nascent Impressionist movement. By the end of that year he was one of the first American artists to paint in Monet's garden at Argenteuil.
When he returned to Boston in 1876, he brought back his enthusiasm for Impressionism. He actually set up a studio in the same building as Childe Hassam (1859–1935). Ironically, Hassam is considered by many as the "leader" of American Impressionists, but he did not truly adapt the Impressionist palette until the mid-1880s. Enneking spent summers at a house in North Newry, Maine, where he perfected his Impressionist style with brightly lit landscapes, many of them depicting sunrise or sunset. As is evident in Spring Hillside, he was particularly adept at applying the Impressionist technique to flowering trees.
It is interesting that he declined to join The Ten rebel American Impressionists when they formed their break-away group from the National Academy in 1898. He did not want to be categorized as any particular type of painter!
Here's another lovely work, this one of the White Mountains: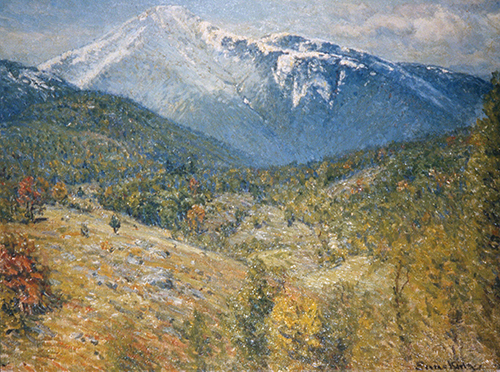 John Joseph Enneking, Speckled Mountain, 1901. Oil on canvas, 20" x 29" (50.9 x 73.6 cm). © 2019 Butler Institute of American Art, Youngstown, OH. (BIAA-199)