Curator's Corner
Have We Seen This Before?
I'm sure I've said it before, but I'm not a big fan of stylistic labels. However, I do like investigating interesting similarities in artists' works from different periods. The similarities are most often from completely different influences. In the case of the two works I'm highlighting this week, I see great similarities in influence, yet completely different and fascinating approaches with media. Both of these paintings are huge (Aqua Poppies is 8' x 12'!), creating a rather abstract type of still life.
---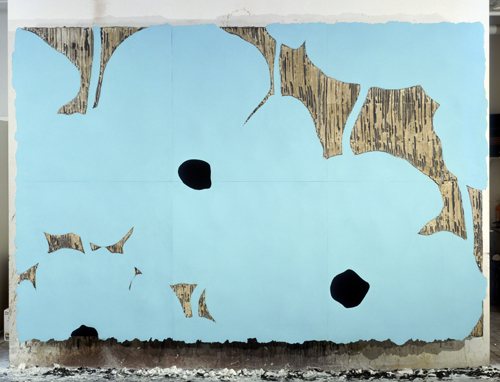 Donald Sultan (born 1951, US), Aqua Poppies, December 10, 2002, 2002. Enamel, flocking, tar, spackle on tile on Masonite, 96" x 144" (243.84 x 365.76 cm). Mint Museum of Art, Charlotte, NC. © 2012 Donald Sultan. (MIN-21)
Donald Sultan became interested in construction materials when he worked for Denise René Gallery in New York. While replacing tiles, he became fascinated with manipulating the tar that adhered the tiles to the Masonite floor. In his art, he utilizes construction materials and techniques to create elegant still lifes. His substantial poppies are painted a hue seldom found in nature. From a simple wooden grid he carves the outline of the flowers, filling the depressions with plaster, and then applies paint to define the petals and black flocking to signify the centers. Sultan is interested in the juxtaposition of the natural with the industrial. He masterfully transforms humble materials to create a bold, yet ephemeral image. Sultan's most iconic works are those of the large lemons on a jet-black tar background.
The Whitney Museum created the unfortunate label of New Image Art in a show of artists in December 1978. These artists had returned to figuration after the domination of geometric abstraction, minimalism, and hard edge painting in the 1970s.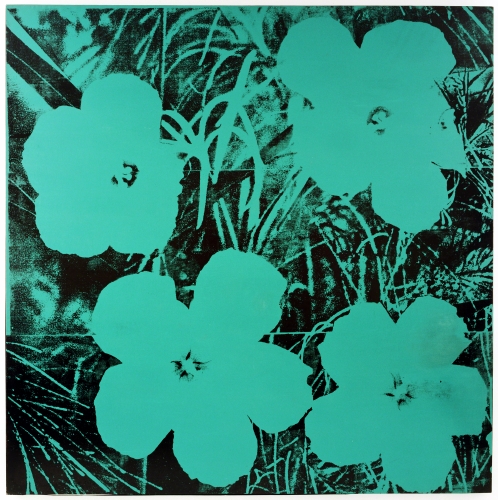 Andy Warhol (1928–1987, US), Ten Foot Flowers, 1967. Synthetic polymer paint and silkscreen ink on canvas, 115" x 115" (292.2 x 292.2 cm). The Museum of Modern Art, New York. © 2012 Andy Warhol Foundation for the Arts / Artists Rights Society (ARS), New York (MOMA-P3307waars)
Andy Warhol was an icon of Pop Art. Similar to Sultan, Pop artists rebelled against the domination of Abstract Expressionism in the art world of the 1950s and 1960s. They returned to figuration and recognizable subject matter in a variety of different personal styles. Warhol chose to use the silkscreen medium to eliminate any personal marks, such as brush strokes, in his works to evoke the mass-media billboards and advertisements of American commercial culture.
In the case of both artists, the result is beautiful interpretations of flowers. Being a landscape painter myself, I always enjoy seeing artists who extoll the glories of nature, no matter what medium they choose. Although we may find that the process is more importance to these artists, I believe that they were expressing a joy in nature in two radically different ways. They also were quietly rejecting total abstraction, although their large, flat shapes certainly have an abstract potential.
Hmm, what other artists produced huge floral subject with abstract potential? Can you guess?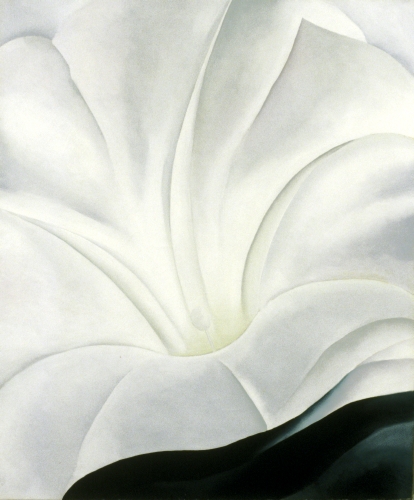 1.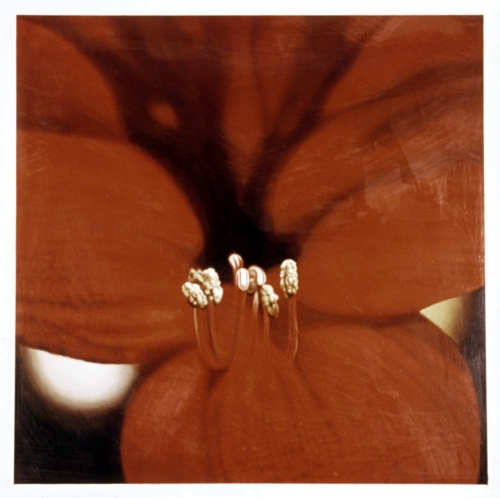 2.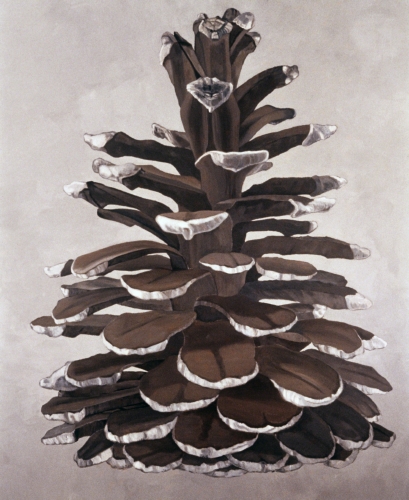 3.
Did you guess Georgia O'Keeffe, Peter Holbrook, and Buffie Johnson?
Image 1: Georgia O'Keeffe, Morning Glory with Black I, 1926. Oil on canvas, 35 7/8" x 29 3/4" (91 x 75.5 cm). Cleveland Museum of Art, Bequest of Leonard C. Hanna Jr, © Estate of Georgia O'Keeffe / Artists Rights Society (ARS), New York. (CL-524okars)
Image 2: Peter Holbrook, Red Amaryllis, 1972. Oil on Masonite, 30" x 30" (76 x 76 cm). Photo courtesy of Richard Gray Gallery, Chicago, © 2012 Peter Holbrook. (8S-17606)
Image 3: Buffie Johnson, Pitthea, 1974. Oil on linen, 93" x 78" (236.22 x 198.12 cm). Private collection. Photo courtesy of the Artist, © Estate of Buffie Johnson. (8S-17657)
Studio activity: Close-up view of a flower. Find a flower, leaf or twig and observe it carefully. Make sketches several times and then create a watercolor painting. Observe the main parts of the flower and then details, such as lines and different shapes. Vary the kinds of brush strokes, thin and thick, wavy and straight, dots and blobs to record the main shapes of the flower. Mix colors to create visual interest.
Correlations to Davis programs: Explorations in Art Grade 1: 4.20; Explorations in Art Grade 2: 1.2; Explorations in Art Grade 5: 4.19, 4.20; Explorations in Art Grade 6: 2.11; A Global Pursuit: 7.1; Exploring Visual Design: 2, 4, 5, 6, 8; Discovering Art History: 17.2