Curator's Corner
Disability Pride Month 2021 II
Susan Te Kahurangi King excels at reconfiguring images she sees and stores in her memory, using them over and over in her artwork. In her early drawings, King turned to pop culture icons such as Donald Duck. Later works are populated with hybrid human figures interspersed with complex composite creatures. These forms are always camouflaged within some sort of setting.
---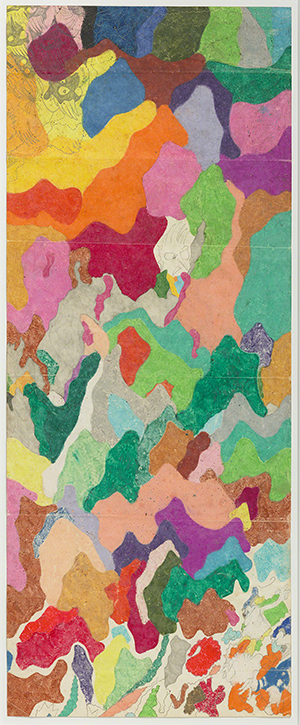 Susan Te Kahurangi King (born 1951, New Zealand), Untitled, 1960s–70s. Crayon and graphite on paper, sheet: 22 7/8" x 9 1/8" (58.1 x 23.2 cm). Image courtesy of the Philadelphia Museum of Art. © 2021 Susan Te Kahurangi King. (PMA-8866)
King turned to complete abstraction in her complex interweaving of forms after 2008. This earlier work from the 1960s to 70s contains some of her Pop culture figures interwoven into a mosaic-like swath of brightly colored shapes. Typical of her work before 2008 are the areas King leaves blank, negative space that outlines the forms in the lower right.
King is a self-taught Visionary artist who references pop culture, trauma, identity, sexuality, and fantasy. She was born the second of twelve children in Te Aroha, New Zealand. As a small child, King was chatty and precocious in drawing. This propensity for drawing increased as she got older, while her ability to speak declined. At age five, a teacher identified her copious artworks as artistic genius, which spurred her parents to support her art. By seven she could no longer speak, largely expressing herself through her art.
In 1960, King's family moved to Auckland to place her in a school for children with learning disabilities, where she stayed for 30 years. This was interspersed with stays in a psychiatric hospital. She was ultimately diagnosed as severely autistic. Her prodigious output of drawings continued until the early 1990s, when she inexplicably stopped drawing. Renewed interest in her work occurred when one of her sisters put images of her drawings on Facebook in 2008. King again began to draw and has since been featured in exhibitions in both museums and galleries.
Correlations to Davis Programs: Explorations in Art 2E Grade 4: 6.7; Explorations in Art 2E Grade 6: 5.1; Exploring Painting 3E: Chapter 12; The Visual Experience 4E: 4.3