Curator's Corner
Disability Pride Month 2021 I
The intricate, beautifully composed works of Hector Alonzo Benavides are a leap into his detail-inclined mind. Even if he did overwork some of his pieces, he still has a great sense of balance, compositional structure, and unity through color. Many works, like this one, verge on the aesthetic of Op Art.
---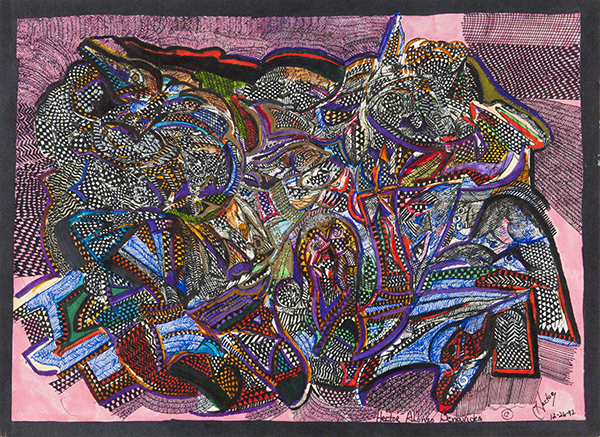 Hector Alonzo Benavides (1952–2005, U.S.), Untitled, 1992. Watercolor over colored ballpoint pen and fiber-tipped pen inks on paper, sheet: 9 13/16" x 13 7/16" (24.9 x 34.1 cm). Image courtesy of Philadelphia Museum of Art. © 2021 Artist or Estate of Artist. (PMA-9288)
Drawing his abstractions with ballpoint pen and straightedge, Benavides often reworking a composition until his mother stopped him from tearing through the paper. His designs are complex combinations of dots, squares, triangles, and circles. He turned the paper as he worked, confounding the idea of a single vantage point and unifying his compositions.
Benavides was born in Laredo, Texas, of Mexican parents. From childhood on he executed highly detailed drawings. His earliest works were portraits of people and animals. Over time, his works gradually evolved into organic abstractions. After graduating from high school, he studied optometry and became an optician in Laredo, but that career was short-lived because he was diagnosed with a severe obsessive-compulsive disorder (OCD). He also had a rare condition in which his tendons shortened, causing him to have to wear braces and walk with crutches.
During the 1980s, his family encouraged him to take art classes. However, Benavides resisted taking classes because, in his mind, his disability had already cemented his personal artistic style. He is said to have believed that drawing helped him cope with his OCD. He produced five or six hundred drawings in his career.
Correlations to Davis programs: Explorations in Art 2E Grade 4: 6.7; Explorations in Art 2E Grade 6: 5.1; Experience Painting: Chapter 4