Curator's Corner
Contemporary Jewelry Pioneer
On a cold January day, I stop and look at this beautiful brooch by Eleanor Moty and wonder why I haven't introduced you to her jewelry?! She is a fellow Illinoisan by birth, and actually grew up not far away from me. So, I have a special fondness for her art, which I have been following since the 1980s.
---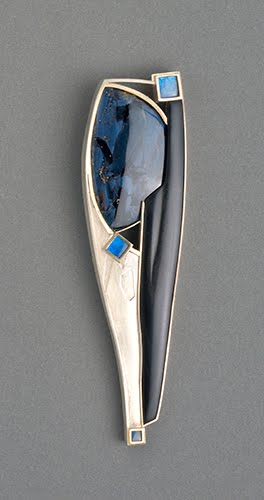 Eleanor Moty (born 1945, US), Pietersite Brooch, 2000. Sterling silver, gold, pietersite, labradorite, blackpaper micarta, 1 ¾" x 3/8" x 4 7/8" (4.4 x 1 x 12.4 cm). Philadelphia Museum of Art. © 2019 Eleanor Moty. (PMA-4757)
Moty prefers to call herself an "artist/metalsmith." When she was teaching jewelry, she preferred "artist/educator." In college at the University of Illinois Champaign-Urbana, she intended to major in art education, but shifted her focus when she learned that jewelry making was a studio major.
Having grown up on a farm, Moty believes that the rural isolation affected her artistic development. Every day on the farm, she saw the horizon with its constant changes of light and color, which she now incorporates into her pieces. She considers landscape and architecture major influences on her work. Moty remembers her earliest jewelry-making as cutting out small pieces of metallic paper after tracing circles with a dime to make rosaries.
In some of her early jewelry, Moty concentrated on the technical manipulations that fascinated her such as electroplating, electroforming, and photo-etching in metal. She felt that her work had become too complex in the 1970s, resolving to leave the complex processes behind to focus on the simple act of making jewelry, concentrating on formal design. Works such as this brooch display the angled planes of a landscape or architectural interior, highlighted by the silver lines encompassing the stones. I totally see a winter landscape in this brooch.
Moty likes working in white, yellow, and black. One interesting material she works in is the blackpaper micarta. Micarta is an industrial material of resin-impregnated paper or fabric. Moty likes using the black because it mimics inclusions in tourmalinated quartz. She also is drawn to black slate with inclusions of pyrite crystals that conjure up landscape imagery for the artist. Instead of cutting natural crystals and minerals, she prefers to use their natural shapes as the central design elements. She carefully observes reflection, distortion, and facets, polishing the stones accordingly.
If one image isn't enough for you, a Google Image search shows tons of beautiful pieces by the artist.
Correlations to Davis programs: Explorations in Art 1E Grade 2: 2.11; Explorations in Art 2E Grade 2: 2.7; Explorations in Art 1E Grade 6: 5.29; Explorations in Art 2E Grade 6: 5.7; A Personal Journey: 7 connections; A Community Connection: 5.2; The Visual Experience 3E: 10.7