Curator's Corner
A Consistent Concretist
I recently learned about an artist who turned 100 this past may. Turning 100 is fabulous, and even more fabulous is discovering that this artist was ahead of her time stylistically in painting, but did not sell her first painting until she was 89! Unlike Alma Thomas, who began painting when she retired from teaching, Carmen Herrera painted steadily for 60 years before she started gaining international attention in the early 2000s.
---
I'm not sure if the word "concretist" is real (my spell-check says it isn't), but it's as good a word as any to describe Herrera's work.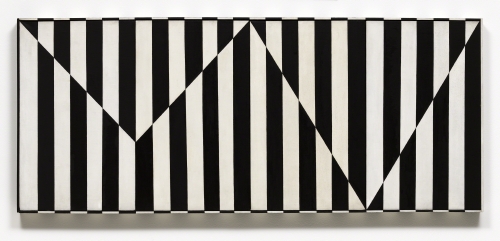 Carmen Herrera (US, born 1915 Cuba), Untitled, 1952. Synthetic polymer paint on canvas, 25" x 60" (63.5 x 152.4 cm). The Museum of Modern Art, New York. © 2015 Carmen Herrera. (MOMA-P5120)
Long before World War II (1939–1945), the great De Stijl artist Theo van Doesburg (1883–1931) sought to redefine abstract art as "concrete art," because he felt that the term "abstract" denigrated non-objective work when discussed in terms of "reduction" or "simplification." He indicated that there was nothing more concrete than pure, non-objective art. The geometric, minimalist abstraction pioneered by the De Stijl artists and some artists from the Bauhaus, such as Josef Albers (1888–1976), did not disappear after World War II, when Abstract Expressionism and its European counterparts, l'Art Informel and Tâchisme, dominated modernist experiment. It persisted in the work of artists like Carmen Herrera.
Carmen Herrera, born in Havana, was one of the post-war Latin American modernists concerned with geometric, minimalist, and optic abstraction in painting and sculpture. Some Latin American artists—who exhibited in both Europe and their own countries—formed groups dedicated to abstraction such as Los Disidentes (Venezuela), Grupo Madi (Argentina), and the Concretists (Brazil). Herrera went back and forth between Paris and Cuba during the 1930s and 1940s, having originally studied architecture at the University of Havana. She studied at the Art Students League in New York between 1949 and 1953, where she was affected by the work of other geometric minimalists, such as Leon Polk Smith (1906–1996), Barnett Newman (1905–1970), and Ellsworth Kelly (born 1923).
Herrera painted this work while at the Art Students League, right before she settled into her studio near Union Square in 1954, in which she still paints to this day. Compared the the action painting dominating the New York art scene at the time, Herrera's paintings seem to bridge the geometric minimalism of pre-World War II European painting with the Op Art and Minimalism of the 1960s. Even a lot of Barnett Newman's geometric abstraction is not as beautifully precise as Herrera's. (She was good friends with Newman and his wife.)
Herrera's stated purpose in her work is to condense her forms to the simplest, most refined state possible. Recent works feature single colors, sometimes contrasting with unpainted areas of canvas.
I'll show you four other artists who worked in a similar vein to Herrera around the same time period, with one exception. The first two artists were also geometric minimalists whose work may have impacted Herrera's direction: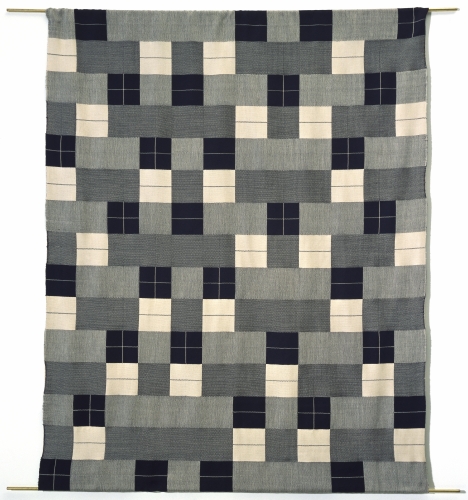 Anni Albers (1899–1994 Germany-US), Wall Hanging, designed 1927. Cotton and silk, 58 1/4" x 47 5/8" (148 x 121 cm). The Museum of Modern Art, New York. © 2015 Josef and Anni Albers Foundation / Artists Rights Society (ARS), New York. (MOMA-D0133alars)
Leon Polk Smith (1906–1996, US), Untitled, 1946. Gouache on cardboard, 24" x 16" (61 x 40.6 cm). Private Collection. © 2015 Leon Polk Smith Foundation / Licensed by VAGA, New York. (8S-18373lpvg)
And here are two artists usually associated with minimalist-optical geometric abstraction, but mostly in the 1960s: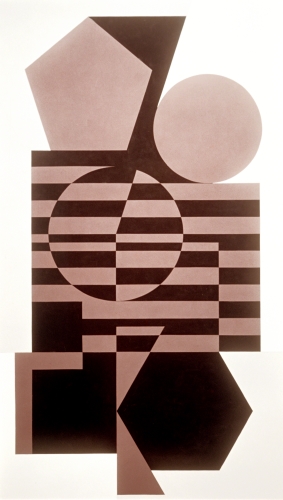 Victor Vasarely (1908–1997, Hungary-France), Gerode III, 1956. Oil on canvas, 70" x 40" (177.8 x 101.6 cm). Private Collection. © 2015 Estate of Victor Vasarely / Artists Rights Society (ARS), New York. (8S-2241vsars)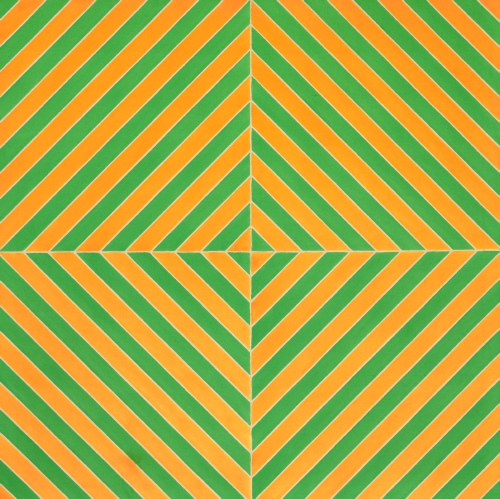 Frank Stella (born 1936, US), Fez (2). Fluorescent alkyd on canvas, 77" x 77" (195.6 x 195.6 cm). The Museum of Modern Art, New York. © 2015 Frank Stella / Artists Rights Society (ARS), New York. (MOMA-P3109slars)
Correlations to Davis programs: Explorations in Art Grade 4: 6.35; Explorations in Art Grade 5: 3.15, 3.16, 3.Connections; Explorations in Art Grade 6: 5.25; A Community Connection: 6.2, 8.4; A Global Pursuit: 5.5; Experience Painting: 9; Exploring Painting: 12; Exploring Visual Design: 1, 9, 11, 12; The Visual Experience: 9.3, 16.7