Curator's Corner
COLD
It's been really cold here recently, relatively speaking for New England. How do you turn something New Englanders consider a negative into a positive? Focus on cool colors in works of art. Color is one of the elements of art, and what better way to kick the winter blues than to look at cool colors that have nothing to do with the weather?
---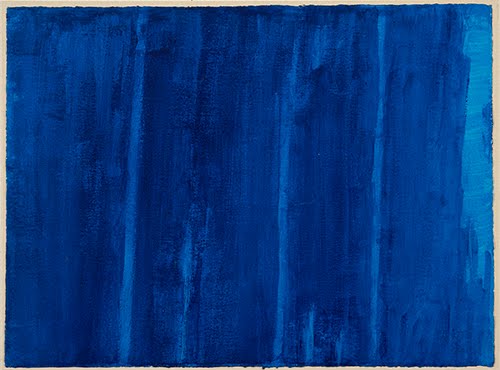 Alma W. Thomas (1891–1978, US), Deep Blue, 1974. Watercolor on paper, 22 9/16" x 30 ½" (57.4 x 77.5 cm). Image © 2019 Smithsonian Hirshhorn Museum and Sculpture Garden. © The Estate of Alma Thomas. (SI-389)
I am a great admirer of Alma Woodsey Thomas, about whom I've blogged before. She was the first graduate of the Howard University fine arts program, and for thirty-five years she taught art in the public schools of Washington, DC. After painting in a realistic style while teaching, she began to explore color field painting in the late 1950s while studying painting at American University. Her interest in pure, unmodulated color was influenced by the then-prevalent Abstract Expressionism style.
Thomas developed her signature mosaic-style of nature painting in the mid-1960s, ultimately replacing her color field style. However, this work from 1974 is reminiscent of her color field works. It almost reminds me of a color interpretation of rain falling. At any rate, the cobalt blue is a beautiful, abstract statement.

René Lalique (1860–1945, France), Iris bracelet, ca. 1897. Gold, opal, and enamel. Private Collection. © 2019 Artists Rights Society (ARS), New York. (8S-28071llars)
Lalique was apprenticed to a jeweler in Paris at the age of sixteen. His mentor, Louis Aucoc (1850–1932) was one of the leading jewelers in Paris, and acquainted Lalique with the latest styles and techniques in jewelry. At the same time, the young man studied at the School of Decorative Arts in Paris, and subsequently at Sydenham College in London. Returning to France in 1880, Lalique was freelancing as a jewelry designer by 1881. In 1890, he established his own shop in Paris during a period when Japanese art and the Arts and Crafts movement helped develop the popular Art Nouveau style.
Lalique's inspiration in his jewelry was the natural world of the French countryside, as well as Japanese art that included natural motifs. Unlike other jewelry designers, he incorporated materials not usually used in jewelry, particularly the use of glass. He only used precious gemstones when they brought something to his pieces artistically, rather than for their value. His jewelry designs are truly works of art, not just settings for expensive gems.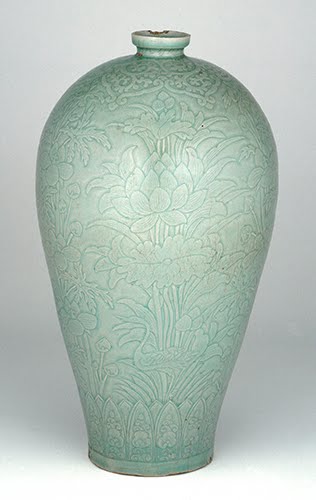 Korea, Goryeo Kingdom, Vase, ca. 1100s. Porcelain-like stoneware, height: 16" (40.6 cm). © 2019 Philadelphia Museum of Art. (PMA-983)
Many of the art forms developed in both Korea and Japan were indebted to Chinese influence, but both cultures made changes to traditional forms that made them unique to their cultures. The maebyong vase is a Korean variation on the Chinese meiping (literally "plum vase"), a vessel originally intended to store wine or oil, and was later used to display plum blossom branches. Typical of the Korean form is the incised, rather than painted, decoration of cranes and lotus flowers.
This vessel has the typical celadon glaze, a blue-green to gray-green hue, that was perfected during the Goryeo Kingdom (918–1392 CE). Koreans perfected celadon glazes after learning technological and kiln modifications from the Chinese. They had initially learned of the glaze from Song (960–1279/1280) Chinese artists, particularly from the Yue kilns. Early Korean celadon wares were undecorated in order to emphasize the importance of the nuances in the glaze's color. By the 1100s, Korean artists explored many ways to decorate the vessels, relying most heavily on incised patterns and inlay.