Curator's Corner
A Christmas Card: Mary Ellen Mark
Leave it to Mary Ellen Mark to sum up the ironies of a time of year that is touted as "joyous" and "home for the holidays" in social media! Kudos to the late artist for pointing out that we should all think about the meaning of the "holidays" rather than getting bogged down in gift-buying, decorating, etc. Many photographers focus on the forgotten people in the world, but Mark truly knew how to present these individuals with dignity and a sense of empathy. We all know there's a professional guild of Santas, but you probably never think about their down time!
---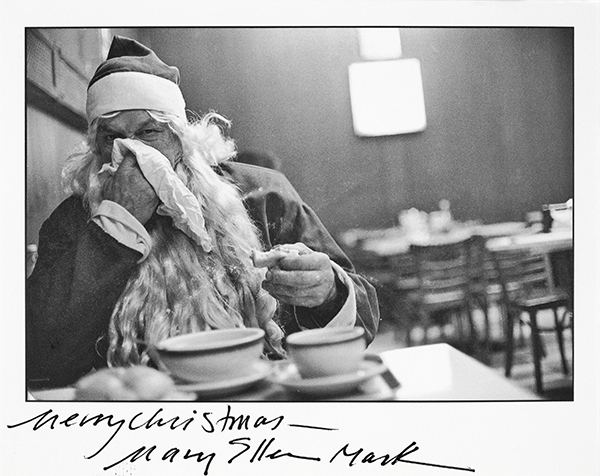 Mary Ellen Mark (1940–2015, US), Merry Christmas, 2004. Inkjet digital print on paper, card: 3 15/16" x 4 15/16" (10 x 12.5 cm). Philadelphia Museum of Art. © 2019 Estate of Mary Ellen Mark. (PMA-3546)
Mark photographed people in the margins all over the world. Unlike the work of other artists who often—if not always intending to—exposed the subjects up to naked ridicule, Mark's subjects have a quiet psychological force that gives her work a level of insight akin to the 1930s work of Doris Ulmann (1882–1934). This image of an off-duty Santa in an empty diner is poignant in the extreme, exactly what Mark wanted to emphasize.
The combining of art, photojournalism, and documentary photography is evident in the work of Mary Ellen Mark. She was born in Philadelphia, and realized her vocation was photography at the age of nine when she received a Kodak Brownie camera. She was also interested in drawing and painting. After high school, Mark received a BFA from the University of Pennsylvania in painting and art history. She earned an MFA in photojournalism in 1964 from the Annenburg School for Communication, University of Southern California, Los Angeles.
After moving to New York, Mark's early work was characterized by social protest, including demonstrations against the Vietnam War (1955–1975), the Women's Rights movement, and trans culture. The social consciousness wave that permeated the younger generation at the time helped shape her subject matter. Despite Mark's empathy for people on the fringes of society, her goal in her work was merely to register these people's existence with dignity and monumental composition. The viewer of her photographs could form their own conclusions.
Correlations to Davis programs: Focus on Photography 2E: 5, 6