Curator's Corner
Celebrating Juneteenth 2023: Norman Lewis
In celebration of Juneteenth, or Freedom Day, let's honor Harlem Renaissance (ca. 1920s–1930s) (and beyond) artist Norman Lewis, one of the earliest African American artists to embrace abstraction. Lewis was part of many firsts for the African American art community, including being one of the founders of the Harlem Art Guild in 1935 and the Black artists' group SPIRAL in the 1960s. And his art never lost its centering on the Black community.
---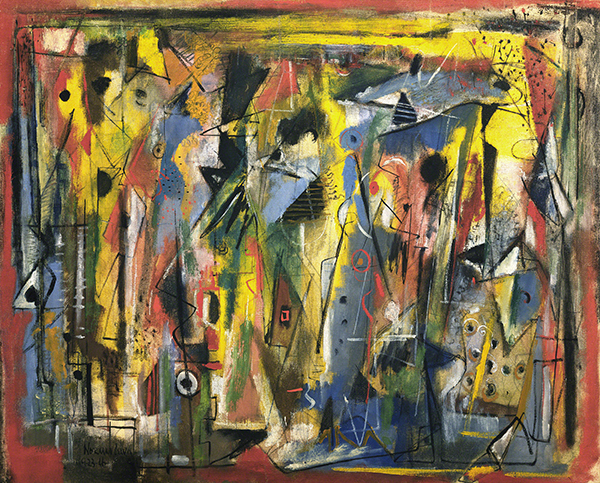 Norman Lewis (1909–1979, U.S.), Phantasy II, 1946. Oil on canvas, 28 1/8" x 35 7/8" (71.4 x 91.2 cm). Courtesy of the Museum of Modern Art, New York. © 2023 Artist or Estate of Artist. (MOMA-P2252)
In 1946, Lewis formally announced his rejection of social realism in his art, accusing it of being a stagnant remnant of "tradition." He had read Vasily Kandinsky's (1866–1944) book On the Spiritual in Art (1911, English translation 1946), wherein the Russian modernist—who produced the first Western, totally nonobjective abstract work—pondered on the connections between music and art. Likewise, Lewis saw that connection in the revolutionary jazz music that evolved out of Harlem and other Black urban centers during the Harlem Renaissance period.
The painting Phantasy II contains Lewis's distinctive use of calligraphy-like lines, combined with areas of vigorously worked color, an ode to Abstract Expressionism's action painting. However, his work has more of a Surrealist bent with the calligraphic lines in forms reminiscent of human figures moving across the canvas in a rhythmic dance, the joy of which is heightened by the brilliant colors. The forms in Phantasy II have a similar quality to those seen in the work of Cuban Surrealist Wilfredo Lam (1902–1982) from the same period.
After World War II (1939–1945), the GI Bill allowed unprecedented numbers of Black artists to attend prominent art schools. During the Korean War (1951–1953), Black men were part of the first officially integrated army in U.S. history. However, racism and segregation surged during the 1950s, aided in part by forced desegregation of schools by the federal government, and in part because of the Cold War (1947–1991) and fear of Communism. Social protest was considered "un-American".
Some African American artists continued to study in Europe, choosing to escape the racism and lack of opportunity to display their work in the U.S. The Civil Rights Movement of the 1960s galvanized Black artists to push for a revival in exhibitions and study of African American Art. This led to the formation of the group SPIRAL in New York in 1963. The styles from this group ranged from Abstract Expressionism to Social Realism. Although the group disbanded in 1965, it ushered in a revitalization of Black artistic community. By the 1970s and 1980s, many Black artists were represented in major museums and galleries in the U.S.
Lewis was born in Harlem, New York, one of the few native New Yorkers who was part of the Harlem Renaissance. He was the only African American artist who is associated with the pioneer American modernist Abstract Expressionism movement. At the time he was born, Harlem was primarily an Italian American and Jewish community, although that would change after the Great Migration of the late teens. This acquainted him with racial inequality at an early age. Lewis recognized at age 9 that he wanted to be an artist.
After serving on a merchant marine freighter, and inspired by the New Negro Movement in Harlem, Lewis enthusiastically embraced African art. He studied African art in museums, particularly the 1935 exhibition of African art at the Museum of Modern Art, New York. At MoMA, he studied European modernists like Vincent van Gogh (1853–1890), Pablo Picasso (1881–1973), and Kandinsky. Studying art at the Savage Studio of Arts and Crafts from 1933 to 1935, while also taking classes at Columbia University, Lewis was mentored by modernist African American sculptor Augusta Savage (1892–1962). From 1936 to 1943, Lewis painted murals that honed a personal social realist style for the Federal Art Project.
In the mid-1940s, Lewis turned to abstraction, influenced by his association with artists from the New York School (Abstract Expressionism), including color field painter Ad Reinhardt (1913–1967). Lewis's work was included in the landmark 1951 exhibition of Abstract Expressionist artists, Abstract Painting and Sculpture in America, at the Museum of Modern Art. While part of this elite group of American modernists, Lewis was still deeply connected to the arts and people of Harlem. As a founding member of SPIRAL, Lewis confirmed his path with abstraction as a way to demonstrate the importance of Black artists to modernism in American art.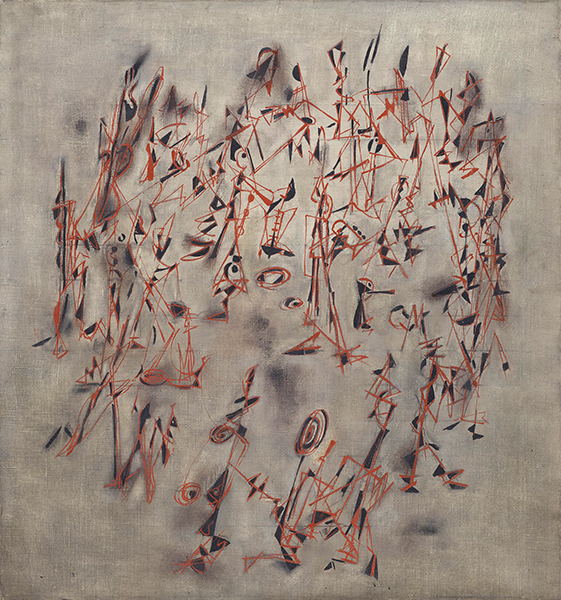 Norman Lewis, Street Music, 1950. Oil on canvas, 32 5/8" x 31 1/8" (82.9 x 79.1 cm). Courtesy of the Buffalo AKG Art Museum, Buffalo, NY. © 2023 Artist or Estate of Artist. (AK-2506)
After seeing the Disasters of War prints of Goya on a visit to the Prado in the early 1940s, Lewis came to the conclusion that a realist style "never stopped wars," and so he turned to abstraction after joining Abstract Expressionism. Unlike most of those artists, however, he was not concerned with process as much as he was with creating poetic subject matter that reflects nature and humanity. Although his approach eventually became fully abstract, Lewis never gave up his passion for social change.
At first glance, Street Music may seem like a composition of calligraphy-like lines. Further inspection reveals pseudo-figures, some in the guise of music notes and staff marks. The work conveys a sense of motion—in the shape of a heart no less—that relates to the bustle of urban streets, where impromptu music events often took place, particularly in Harlem. It presents a birds-eye view of a clustering of people, which symbolized the coming together of all people under similar ideas, goals, and shared values. In spirit, Lewis's forms resemble the biomorphic forms in the work of fellow Abstract Expressionist Arshile Gorky (1904–1948), and, by extension, those of Spanish Surrealist Joan Miró (1893–1983).
Correlations to Davis Programs: Explorations in Art 2E Grade 4: 6.7; Explorations in Art 2E Grade 6: 5.1; Experience Art: 6.2; The Visual Experience 4E: 4.2, 4.3; Exploring Painting 3E: Chapter 12