Curator's Corner
California Bound
I'm going to California, namely Los Angeles, on vacation to visit dear friends in a couple of weeks. And what artists come to mind when I say "Los Angeles," you might ask? Well, Isamu Noguchi for one. He's so awesome, such an interesting person, such an groundbreaking sculptor and designer, and…well, I could go on and on. I'm showing you one of the most interesting works he did, and connecting it to another one of his many interests, which was innovative product design. In this case, connecting his lamp designs to the lights in this sculpture.
---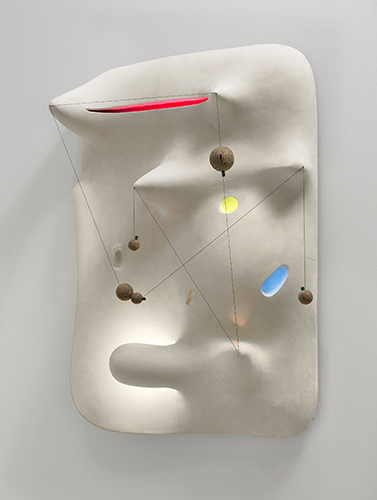 Isamu Noguchi (1904–1988, US), Lunar Landscape, 1943–1944. Magnesite, cement, cork, fishing line, electric lights and acetate on wooden mount, 34 7/16" x 24 ¾" x 7 7/8" (87.5 x 62.8 x 20 cm). Hirshhorn Museum and Sculpture Garden, Smithsonian Institution. © 2019 Estate of Isamu Noguchi/Artists Rights Society (ARS), New York. (SI-258ngars)
Lunar Landscape dates from the period immediately after Noguchi left the Japanese internment camp in Arizona. To the artist, the Arizona desert was like a lunar landscape, without the freedom to roam. His imagination allowed him to travel to the moon and beyond, turning the great injustice of Japanese internment during World War II (1939–1945) into a beautiful work of art.
Noguchi's idea for illuminated sculptures first appeared in his plans for a neon project in the late 1920s. A design for a musical weathervane in the 1930s also contained light. It was not until the 1940s that he created his first sculptures incorporating light through the use of magnesite-enclosed light bulbs.
The surface treatment of Lunar Landscape resembles the biomorphic forms seen in the work of Jean Arp (1886–1966) or Joan Miró (1893–1983). He used this motif in several sculptures, as well as in his dramatic "lunar" interior designs of 1947 to 1948 that included cast-cement ceilings similar to Lunar Landscape.
Born of an American mother and Japanese father in Los Angeles, Noguchi was a truly international modernist sculptor. An avid traveler, his art was influenced by myriad sources, including Mesoamerican monolithic sculpture, Japanese stone gardens, Chinese calligraphy, and the surface beauty of marble in Italy. From the mid-1930s on he produced a body of work reflecting a career-long curiosity and respect for materials, strong conception of form, and always a lyrical, nature-connected spirit reflecting his Japanese heritage.
Noguchi spent much of his childhood in Japan with his father's family, then moved to Indiana at 13. He took night courses in sculpture while studying to become a doctor. A 1926 exhibition of Constantin Brancusi's (1876–1957) simplified, organic sculpture in New York had a powerful impact on Noguchi.
Noguchi subsequently abandoned his pre-med studies, obtained a John Simon Guggenheim Fellowship, and went to Paris, working in Brancusi's studio from 1927 to 1929. In Paris, he associated with expatriate American modernist sculptor Alexander Calder (1898–1976), and became aware of the organic fantasy forms of French modernists. From Brancusi he learned direct carving methods.
During trips to Japan in the 1930s, Noguchi studied calligraphy and traditional ceramics. Gradually, the expressive realism of his 1920s works gave way to simplified surfaces and organic forms, which led the way to modernism. The simplified surfaces of his 1930s works reflect the influence not only of Brancusi and Japanese ceramics, but also the biomorphic Surrealism of Jean Arp (1886–1966).
Now, onto some of his lamp designs:
In the 1940s, Noguchi extended his interest in illuminated sculpture to lamp design. This table lamp actually pre-dates his Akari works. It differs primarily in its use of industrial materials rather than the paper and bamboo of the Akari pieces.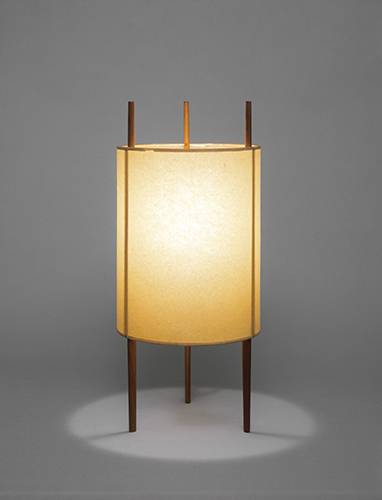 Isamu Noguchi, Table Lamp, designed 1948. Plastic, wood, 15 ¾" x 7 1/16" (40 x 18 cm). Manufactured by Knoll, Inc. (1938 to present, New York). Philadelphia Museum of Art. © 2019 Isamu Noguchi Foundation and Garden Museum/Artists Rights Society (ARS), New York. (PMA-9236ngars)
The Akari lamps were inspired by a 1951 visit to Japan. While in the town of Gifu, known for its manufacture of paper lanterns and umbrellas, he was struck by the sight of paper lanterns lighting night fishing on the Nagara River. After that, he produced his first paper lamp using the traditional paper and bamboo methods he had seen in Gifu. He called these designs akari, which means light, but also suggests light as in weightless. These lamps are wonderful examples of Noguchi's ability to produce modern design combined with Japanese traditional aesthetics.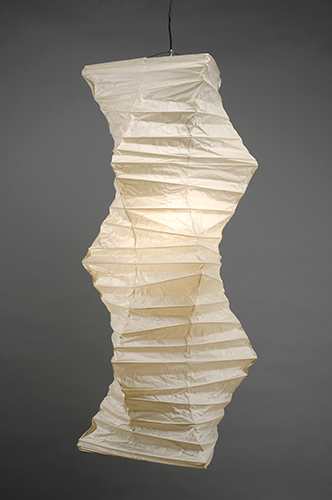 Isamu Noguchi, Akari Lamp, design 1960s. Mulberry bark paper, bamboo, metal, 63" x 23" (160 x 58.4 cm). Manufactured by George Kovacs Lighting, Inc. (1954 to present, New York). Philadelphia Museum of Art. © 2019 Isamu Noguchi Foundation and Garden Museum/Artists Rights Society (ARS), New York. (PMA-9252ngars)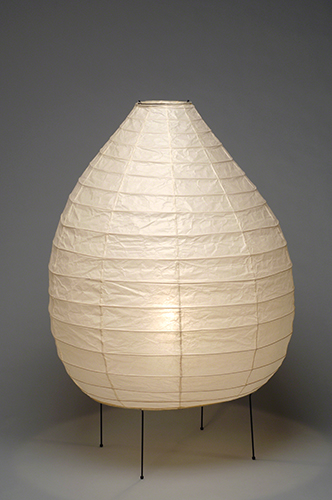 Isamu Noguchi, Akari Floor Lamp, design 1975. Mulberry bark paper, bamboo, metal, 45" x 32" (114.3 x 81.3 cm). Manufactured by George Kovacs Lighting, Inc. (1954 to present, New York). Philadelphia Museum of Art. © 2019 Isamu Noguchi Foundation and Garden Museum/Artists Rights Society (ARS), New York. (PMA-9251ngars)
Correlations to Davis programs: Explorations in Art 1E Grade 6: 4.23-24; Explorations in Art 2E Grade 6: 4.9; A Personal Journey 2E: 3.1, 3.4; The Visual Experience 3E: 12.4