Curator's Corner
Bullies Psychedelic
With all the talk about bullying in schools, I thought I would show you Virgil Marti's work. This piece, I would like to assume, is dedicated to all of us who were the ones on the receiving end of bullying. I certainly was in high school, where I was 6'1", 104 pounds (true story, it's on my first driver's license). What a wonderful form of pay back, years later, to immortalize your tormentors in a work of art! You might know I could find an art historical connection to this idea.
---
Throughout the history of art, artists have immortalized their detractors, critics or naysayers in works of art that have come down to us as fine art. Think Daumier, Goya, Thomas Nast, among others. Marti's work also is an indication a characteristic of 21st century American society: the über-analysis of feelings, intentions and wishes.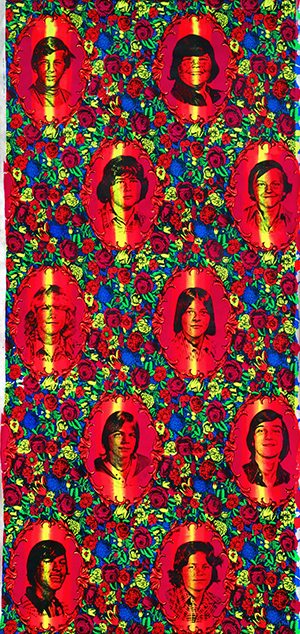 Virgil Marti (born 1962, US), Bullies Wallpaper, 1992–1997. Fluorescent ink and rayon flock on Tyvek, 108" x 54" (274.3 x 137.2 cm). Philadelphia Museum of Art. © 2010 Virgil Marti. (PMA-4015)
Installation art has been around for quite awhile. It really hit its stride in the 1960s and 1970s, but, if I want to be a picky art historian, I can find examples going waaaaaay back. Installation art is basically the establishment of a particular environment (temporary most of the time) in a gallery, building space, or even outside in nature by an artist or group of artists. It usually consists of the artist building/taking away elements that change the very nature of the space. Does that mean ancient Egyptian burials were environments? Technically, yes they were environments meant to provide for the deceased in the afterlife. Come on, a tomb full of rich artworks not an environment?
Some installation artists create a new environment by covering a gallery with their paintings on the gallery walls itself. Barry McGee comes to mind instantly, as does Arturo Herrera, Robert Gober, and Matthew Ritchie. Others use light to manipulate the viewer's perception of the gallery space, such as Dan Flavin, James Turrell, and Stephen Knapp. In a previous blog post I mentioned that painter Florine Stettheimer created the first modern installation in 1916 when she transformed the gallery showing her paintings into a feminist environment. Louise Nevelson followed suit in her exhibits of her found object constructions that dominated entire gallery spaces. Many installations have bordered on performance pieces, and vice versa. Most notable among those is Claes Oldenburg's Store of 1961, where he rented a store front in New York, created objects of muslin and painted plaster, mostly of food items, and sold them like a grocery store.
Marti is interested in the relationships between art and interior decoration. While his latest installations transform gallery spaces into psychedelic combinations of mirrors, macramé, and other objects referring to faded grandeur, many of his early installations were wallpaper events. These wallpapers were based on tacky wallpaper designs he saw while growing up in the Midwest. Marti created this unusual wallpaper by combining yearbook photographs of junior high school bullies he had known with traditional French wallpaper. He swapped out the peaceful country scenes from each oval with a yearbook portrait. A master printer, Marti hand-printed his Bullies on Tyvek, a synthetic paper-like material.
Despite the questionable "taste" of the wallpaper, it does cause the viewer to ponder on the title and the perception of bullies. Many years after experiencing bullying himself in his school, Marti found a way to creatively express his feelings on the subject with this room installation of wallpaper. This piece certainly ensures that you will never look at traditional, decorative wallpaper the same way again.
Do any K–12 art teachers out there use art to deal with bullying?