Curator's Corner
Black History Month 2023: Betye Saar
Since the 1970s, Betye Saar has been an important artist in both the Feminist Art Movement and in the ever-surging vitality and legacy of African American art. She is one of the most important assemblage artists to emerge since the death of Surrealist assemblage artist Joseph Cornell (1903–1972). Interestingly, while growing up she witnessed the creation of the Watts Towers (1921–1954) in LA—broken glass pieces, bottle caps, and ceramic shards embedded in cement—which may have impacted the character of her mature work.
---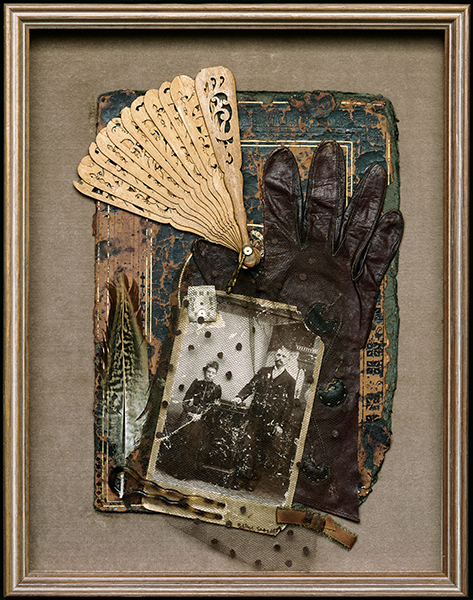 Betye Saar (born 1926, U.S.), The Differences Between, 1989. Cotton velvet on pressboard with found objects: embossed laminated paper board, wood fan, photograph, partial glove, nylon netting, feather, watch face, hair ornaments, 16 ½" x 13" x 1 ½" (41.9 x 33 x 3.8 cm). Courtesy of the Museum of Fine Arts, Boston. © 2023 Betye Saar, permission for reproduction received by Davis Art Images from the artist. (MFAB-685)
Saar's art has maintained a balance between her interest in mysticism and her commitment to exploring the history of African American struggle since the 1970s. She investigates the connectedness between mysticism and African Americans, as well as between African Americans and whites. An avid collector of vintage photography and objects, Saar believes vintage personal objects are imbued with a spiritual energy.
These elements are combined in The Differences Between. The objects establish the old-timey period of the photograph that forms the main subject of the work, an 1800s image of a mixed married couple. In this, Saar reflects on the history of mixed marriage that goes far back before the Civil Rights Movement, forcing the viewer to contemplate the years of discrimination and abuse of such unions in the U.S.—a country that only banned state laws outlawing interracial marriage in 1967! Her work challenges the viewer to ponder whether or not our culture has reached a plateau of acceptance on this common circumstance.
Saar was a pioneer of feminist and African American nationalist aesthetics, whose lasting importance in the major recognition of African American art was secured when she "reclaimed" the Aunt Jemima figure with works like The Liberation of Aunt Jemima (1972). Saar was born in Los Angeles, and her family moved to Pasadena in the early 1930s. A city with a rich arts milieu, she participated in art classes and experimented with numerous approaches of making art. Initially studying design at Pasadena City College, she transferred to University of California, Los Angeles, where she studied interior design.
After taking classes in printmaking, Saar turned to fine art, initially experimenting with prints. She began to explore combining her prints with photographs and objects, often placing them in window frames. Her mother was interested in the occult, and Saar developed an interest in mysticism at an early age. In the mid-1960s her work began to express mystical, spiritual, often occult iconography. After seeing an exhibition Cornell's assemblages, Saar, too, began to encase her collections of two- and three-dimensional objects in boxes.
Some art historians have likened Saar's process to a ritual, and she consciously explores spiritual practices from a variety of cultures, including African, Caribbean, and Mexican. A viewing of the African art collection of the Field Museum in Chicago cemented her quest to connect imagery from other cultures in her works to explore the idea of a shared universality.
Saar collects objects on her trips throughout the world and at flea markets in Los Angeles. She often collects old racist and stereotype images, as well as text about African Americans. In the 1960s, she began incorporating social comment into her work after the Watts uprising (1965) and murder of Martin Luther King, Jr. (1968). She also exploits the use of personal family objects in assemblages, which have as strong a spiritual appeal as her so-called "occult" works.
In the 1970s, Saar became active in the Feminist Art Movement, being a strong voice for making the movement more inclusive of Black and Latina women. In 1975, her stature as an important African American artist was crowned with a solo exhibition at the Whitney Museum of American Art, New York. In 1988, she was invited by the U.S. State Department to visit Asia on a cultural mission. Her leadership as a woman artist of color to this day has a resounding impact and influence on a new generation of African American artists.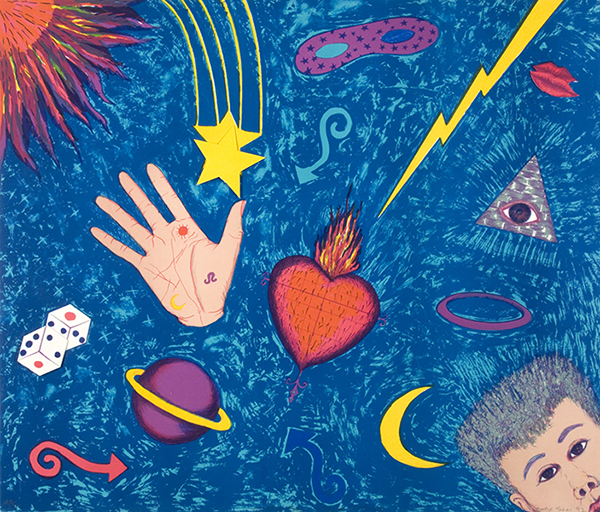 Betye Saar, Mystic Sky with Self-Portrait, 1992. Color offset lithograph on paper with collage and construction, 21 7/16" x 25 ¼" (54.5 x 64.1 cm). Courtesy of the Philadelphia Museum of Art. © 2023 Betye Saar. Permission for reproduction received by Davis Art Images from the artist. (PMA-4200)
Like her assemblages and constructions, Saar's Mystic Sky with Self-Portrait is a collection of symbols. The artist's main fascination lay in the memories prompted by found materials, symbols, fragments of relics, and ordinary objects. Saar has always gravitated toward elements of occult ritual, mysticism, and nontraditional religions in her art. In this piece, there are symbols from palmistry, alchemy, and tarot that dominate the composition. At the same time, Saar places her partial self-portrait off to the side to de-emphasize her own importance in the composition. She has always advocated that her works are intended to release an inner spirit in viewers so that they are free to create.