Curator's Corner
Black History Month 2022: Mark Bradford
Let's continue to celebrate art for Black History Month with the work of Mark Bradford.
---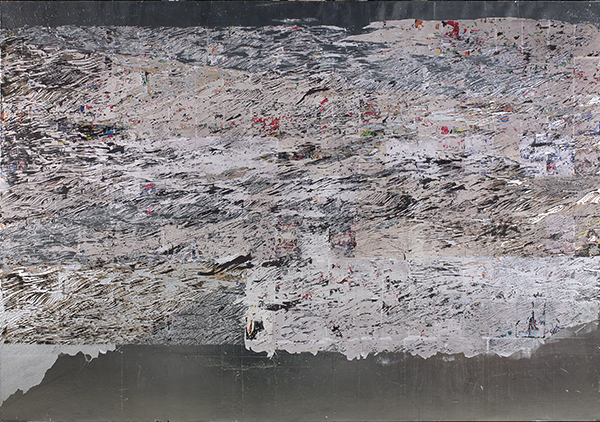 Mark Bradford (born 1961, U.S.), Mississippi Gottdam, 2007. Billboard paper, photomechanical reproductions, acrylic gel medium, comic-book paper, wrapping paper, and additional mixed media on canvas, 8' 6" x 12' (259.1 x 365.8 cm). Courtesy of the Albright-Knox Art Gallery, Buffalo, NY. © 2022 Mark Bradford. (AK-3817)
The title of the work Mississippi Gottdam indicates Bradford's reaction to the destruction of Hurricane Katrina on New Orleans with the flooding of the Mississippi River in 2005. This mixed-media artwork recalls the disaster in which fifty-one percent of deaths were Black. To create the large-scale work, Bradford collaged discarded scraps of paper he gathered from the city. The resulting imagery suggests the overwhelming power of water flooding the city and carrying both people and objects away, as well as the aftermath during which disadvantaged neighborhoods struggled to recover.
The strength and representation of African Americans in the American art world has led to a change in emphasis in the way Black artists' work is exhibited. The last major exhibition emphasizing the African connection to African American art was held in Dallas in 1989. By that time, most African American artists preferred to emphasize the independence of their work and their unique contribution to artistic development in America.
Unfortunately, African American artists in the 2000s still face similar concerns as their predecessors during the Harlem Renaissance. A century later, there are ongoing problems with racism, job inequality, and repression of African American culture that still prompts many Black artists to address that fact in their work. The history of that inequality is often the springboard for contemporary African American subject matter.
Bradford grew up in Los Angeles and Santa Monica, California, and attended CalArts (1991–1997) in Valencia. There he studied art and was fascinated by social anthropology and the impact it could have on art. The son of a hairdresser, Bradford's early use of found objects began with what he could find in salons, such as hair pins and dye.
Although he has explored abstract painting, Bradford is most well known for his use of torn and layered paper. Bradford often repurposes castoff materials from cities, reflecting on the people who live there and their experiences. He has expanded his body of work to include video, installation, and photographs, while continuing to work with printmaking and collage.
Correlations to Davis programs: The Visual Experience 4E: 4.13, 8.13