Curator's Corner
Black History Month 2022: John Biggers
While John Biggers is known for his murals, he is equally as renowned for his graphic works. His realist style is tempered by an abstract simplification reminiscent of African art. He drew his subject matter from his experience in a Southern Black family. Much of his artwork is from the period after his father's death.
---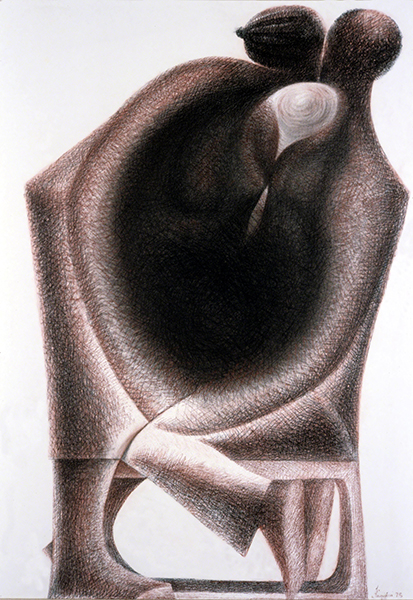 John Biggers (1924–1999, U.S.), Family, from Family Series, 1975. Conté crayon on paper, 42 1/8" x 30 5/16" (107 x 77 cm). Image courtesy of the Los Angeles County Museum of Art, from the landmark exhibition Two Centuries of Black American Art. © 2022 Estate of John Bigger /Licensed by VAGA at Artists Rights Society (ARS), New York. (8S-21959bivg)
In his personal reflections, Biggers also touched on experiences of the Black community in America. His signature style, as seen in Family, is a complex network of hatching and crosshatching to build up form, with an expressive exaggeration. He combined the crosshatching with areas of smearing to heighten the sculptural form of the figures.
Even in abstracted works, Biggers maintained a consistent emphasis on solid form and the sculptural quality to his figures. The forms of the figures in Family recall the simplification of Minimalism. Works such as this were an ongoing subject in Biggers's body of work, part of his efforts to show in his art that family was an important, strong force in the African American community.
The Civil Rights Movement of the 1960s galvanized Black artists to push for a revival of exhibitions and study of African American art, thirty years after the Harlem Renaissance. The revival of the Black artistic community led to the formation of groups dedicated to combining common aesthetic problems with a commitment to civil rights. The group Spiral, founded in New York in 1963, elevated awareness of the dual motivations among Black artists: art that was relevant, basically narrative, to the Black community, and the search for individual modern expression outside of political concerns, which would include abstraction.
Biggers's work represents this dichotomy among African American artists. His subject matter addressed concerns of the Black community, conveyed in an expressive, abstract visual language. Biggers was born in Gastonia, North Carolina, the son of a father who was, among other things, a schoolteacher and minister. He and his six siblings were raised in a household that valued creativity. In 1937, when his mother was widowed, he attended Lincoln Academy. While working in the boiler room there, Biggers perfected his drawing skills.
In 1942, Biggers's boiler room drawings helped him get into Hampton University, a historically Black school. At Hampton, Biggers learned about American Regionalist artists, Mexican muralists, and artists of the Harlem Renaissance. After service in World War II interrupted his schooling, he enrolled at Penn State University in 1946 to study art education, earning bachelor's and master's degrees in 1948. In 1954, he earned a doctorate from Penn State. Biggers later moved to Houston to join the faculty of Texas Southern University.
Correlations to Davis programs: A Personal Journey 2E: 2.1; Discovering Drawing 3E: Chapter 6, Chapter 7; The Visual Experience 4E: 7.5