Curator's Corner
Black History Month 2022: Akili Ron Anderson
Let's celebrate Black History Month by showing outstanding Black artists over the next few weeks. I'm starting the series with the work of Akili Ron Anderson.
---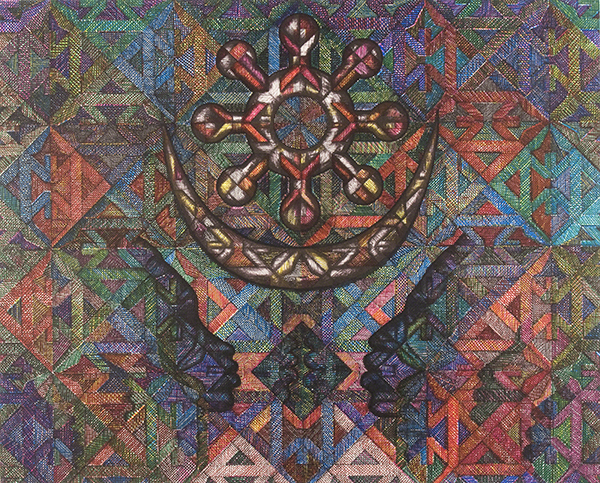 Akili Ron Anderson (born 1946, U.S.), Kiss, 1995. Color offset lithograph on paper, 21 11/16" x 26 7/8" (55.1 x 68.3 cm). Courtesy of Philadelphia Museum of Art. © 2022 Akili Ron Anderson. (PMA-4247)
Anderson is an educator and multidisciplinary artist, working in painting, sculpture, printmaking, stained glass, textile design, and theater set design. The complex patterning and luminous color of his lithograph Kiss reflect the influence of African textiles on both Anderson's fabric and stained-glass designs. The prominent symbol in the upper section references the Asante People's Adinkra symbol Osram ne nsoromma (moon and star), which represents love and fidelity.
Anderson's art is for and about the celebration of African people and culture. His work is meant to hold a cultural mirror up to African Americans and be a source of inspiration. He is currently a professor at Howard University.
Born and raised in Washington, DC, Anderson was inspired as an artist during the 1960s and 70s Black Arts Movement. This was a period when Black artist organizations such as Spiral, Weusi, Just Above Midtown (an African American women artist's collective), and AfriCOBRA formed. These artists' groups encouraged their collectives to forge a distinctive aesthetic for African American art and helped in the fight for equal representation in galleries and museum exhibitions.
Like the artists of the Harlem Renaissance, Anderson believes that the art of African Americans should document their heritage and contemporary life in uplifting ways. Anderson's work pays tribute to the African American community by using patterns, symbols, and culturally specific references in his work. He has continuously strived to make the dissemination of art accessible to this community by designing reliefs, stained glass, murals, and installations for religious, cultural, and public institutions.
Some of Anderson's earliest art as a young artist were sculptures he made from coat hangers. Before attending Howard University (BFA 1969, MFA 2008), he studied painting at the Corcoran Art Gallery School of Art. He has been a full-time artist since 1980 and has been a member of AfriCOBRA (founded Chicago 1968) since 1979.