Curator's Corner
Beauty in Weeds and Flotsam
Jewelry typically functions for its beauty alone, an adornment for the wearer to display wealth, identity, or style. For artist Jan Yager, her jewelry is meant to give voice to marginalized people and reveal beauty in unexpected places.
---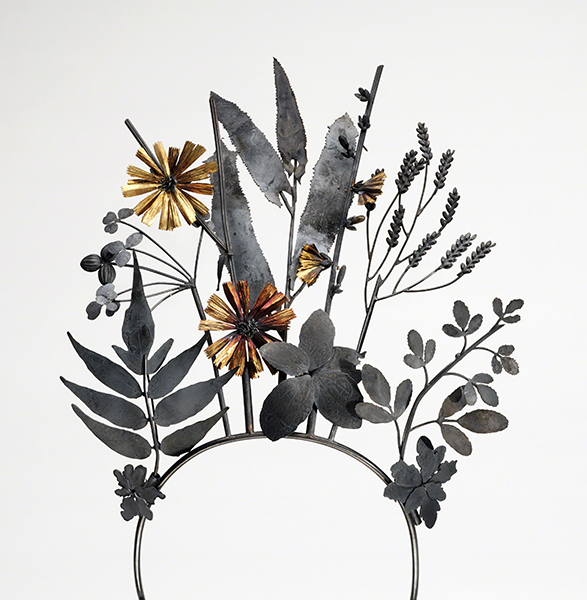 Jan Yager (born 1951, U.S.), Invasive Species Tiara, from the City Flora series, 2001. Oxidized sterling silver and gold, height: 8" (20.3 cm). Courtesy of the Philadelphia Museum of Art. © 2020 Jan Yager. (PMA-4072)
In the 2000s, Yager began to produce jewelry based on the surprising variety of plant life growing in sidewalk cracks and vacant lots near her studio in Philadelphia, Pennsylvania. She collected these plants for her City Flora series to balance the disturbing ideas in her earlier City Flotsam series. Usually seen by most people as weeds, Yager examines and researches these species carefully to find their beauty. She reproduces her findings in precious metals such as silver and gold, allowing others to also see the beauty in them.
Each plant presented in the series has meaning, such as a potato leaf symbolizing both the biodiversity of the plant in the Americas and the destruction caused by growing selective varieties from Europe. This work also references the colonization of the Americas, just as invasive plants from other countries have replaced many native species. Used to form a tiara, they become a symbol of victory over the land.
This crown may also be informed specifically by the British colonization of America. She created it for a one-woman show at the Victoria and Albert Museum in London in 2001. Wanting to make a special, particularly America-referential crown "for the queen," she looked for inspiration to ancient Greek and Roman victory laurel wreaths, often composed of beaten gold leaf "leaves."
Born in Detroit, Yager received a BFA (1974) from Western Michigan University and an MFA from the Rhode Island School of Design (1981). Yager began her career working in the fashion industry in New York before moving to Philadelphia in 1983 to pursue a career as an independent artist.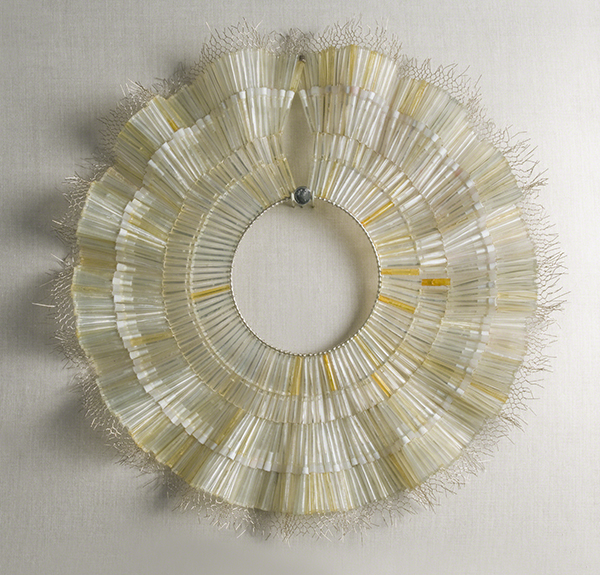 Jan Yager, American Ruff, from the City Flotsam series, 2000. Crack vials and caps, sterling silver wire and dimes, width 19 ¾" (50.2 cm). Courtesy of Philadelphia Museum of Art. © 2020 Jan Yager. (PMA-9555)
In the 1990s, Yager was inspired to restrict her inspirations to her urban neighborhood after seeing a Native American animal bone necklace. Prior to gathering plants for her City Flora series, she collected objects left by the homeless and drug addicted for her City Flotsam series. Incorporating her findings into her jewelry transforms them from something ignored and cast aside to objects of beauty and purpose. This not only represents contemporary life in Yager's urban neighborhood but is also part of the artist's ongoing interest in making jewelry that reflects art history. American Ruff references collars worn by colonial Philadelphians in the 1600s, beadwork of the Masai culture of Tanzania and Kenya, and beaded collars of ancient Egypt. Yager has also made similar collars out of bullet casings and cigarette butts.
Correlations to Davis programs: Explorations in Art 1E Grade 2: 2.11; Explorations in Art 1E Grade 6: 5.29; Explorations in Art 2E Grade 2: 2.7; Explorations in Art 2E Grade 6: 5.7; A Community Connection 2E: 5.2; The Visual Experience 3E: 10.7; The Visual Experience 4E: 10.11