Curator's Corner
Autumn Color: Chung Hae-Cho
There have been some gorgeous arrays of color in Massachusetts foliage this autumn. I am particularly amazed at the palette of reds, especially when contrasted with any leaves that are still green. They are complementary colors, after all.
---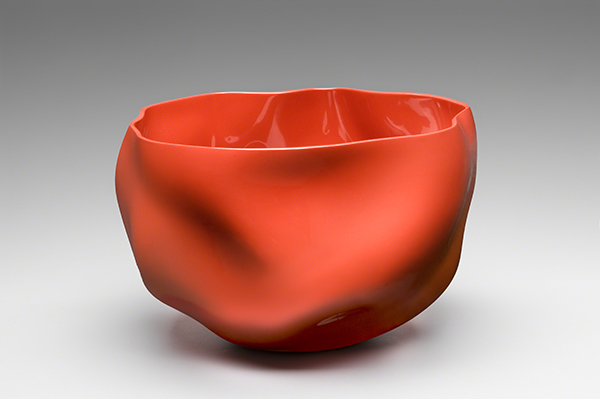 Chung Hae-Cho (born 1945, South Korea), Bowl, 2008. Lacquer, 12" x 12" x 10" (30.6 x 30.5 x 25.4 cm). Courtesy of the Philadelphia Museum of Art. © 2022 Hae-Cho Chung. (PMA-4947)
Ottchil (lacquer) artist Chung Hae-Cho has developed a method of building objects primarily from lacquer using layers of raw lacquer paste and hemp fabric applied to a mold. Each layer is individually cured and sanded. The outer layers of colored lacquer are polished to a high luster.
First, Chung draws a design for a vessel, often inspired by forms from nature. He then creates a model of the form in Styrofoam. After shaping the mold, Chung applies the lacquer in layers on top of the foam. One vessel often takes six months to complete.
Lacquer has played an important part in Korean, Japanese, and Chinese cultures for more than 2000 years. It is often used as a protective, decorative finish for items made from leather, wood, paper, bamboo, and metal. Pieces of Korean lacquerwares date back to the 300s BCE. The benefits of using lacquer are the unique colors available and luster finish.
The sap of lacquer trees (Toxicodendron vernicifluum) is harvested to make lacquer. It is applied to an object with a brush or spatula. Lacquer hardens to a waterproof finish in a controlled environment of high humidity and temperature.
After earning an MA in Art Education from Keimyung University (1981), Chung researched ottchil art at Kanazawa University of Fine Arts and Crafts, Japan (1990). He also completed the advanced lacquer painting course at Ho Chi Minh University of Fine Arts, Vietnam (2006). Chung studied industrial art and wood craft, later becoming a teaching professor at Paichai University.