Curator's Corner
August Artist Birthday to Recognize
Give credit where credit is due, I always say. Sadly, that isn't something a lot of art history texts do when it comes to women artists. For instance, there were many women practicing some form of abstraction already in the 1930s, when the Great Depression sort of slumped the interest in art from "something new and exciting" to Social Realism.
---
Several women, such as Gertrude Greene (1904–1956), helped found the group American Abstract Artists (1936) which championed abstraction in a period when it was being largely ignored. Hedda Sterne is another artist who worked in abstraction from early in her career. Since her birthday was the 4th of August, let's (unofficially) call this "Hedda Sterne Month." She's such an interesting artist!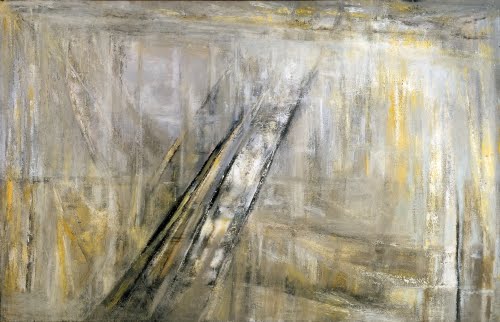 Hedda Sterne (1910–2011, born August 4, Hedwig Lindenberg, Romania), Alaska I, 1958. Oil on canvas, 71" x 110" (180.3 x 279.4 cm). Albright-Knox Art Gallery, Buffalo, NY. © 2016 Hedda Sterne / Artists Rights Society (ARS), New York. (AK-697snars)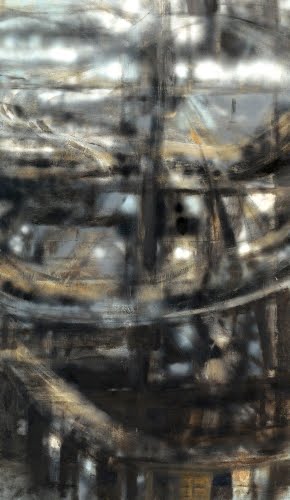 Hedda Sterne, New York, VIII, 1954. Synthetic polymer paint on canvas, 72 1/8" x 42" (183.2 x 106.76 cm). The Museum of Modern Art, New York. (MOMA-P1682snars)
It is evident (to me, anyway), that these two beautiful paintings have an innate sense of depth in them, even though I would call them abstracted. What is so fascinating about these two works is that I can see the subject of the title in them. I can totally see a snowstorm obscuring the horizon on Alaska I and I can really get a sense of the buildings of New York through a window in New York VIII. It is one of the works in a style she called "vertical-horizontals". Perhaps this is why Hedda Sterne usually did not refer to her intuitive painting as "abstract." This probably stems from her background in Surrealism, which gives greater weight to the reality of inner vision, than observed fact.
Born in Bucharest, Romania, Sterne trained in art there and later in Vienna. In the 1930s painter Victor Brauner (1903–1966) introduced her to the Surrealists, and later in that decade she began to exhibit her paintings with them. Many of her works of the 1930s include dream-like figuration or disembodied heads on abstract backgrounds. In 1941 Sterne escaped a round-up of Jews in Bucharest and escaped to New York.
In New York, Sterne became part of a community of refugee European modernist artists, befriending Marcel Duchamp (1887–1968), Max Ernst (1891–1976), and Mondrian (1872–1944), among others. It was this group of diverse European modernists who helped stimulate American artists prone to modernism into forming Abstract Expressionism, the first modernist movement indigenous to the US.
Sterne became represented by the wonderful Betty Parson (1900–1982) in her gallery in New York, Sterne joined the circle of artists associated with Abstract Expressionism also represented there: Jackson Pollock (1912–1956), Mark Rothko (1903–1970), and Ad Reinhardt (1913–1967). It is perhaps for this reason that Sterne is sometimes labeled an Abstract Expressionist.
Sterne, along with seventeen Abstract Expressionists, including all the "stars" of the movement, wrote an open letter to the Met in 1951 objecting to its refusal to show modern art. This group of artists became known as the "Irascibles," and Stern was the only woman in the photograph of the artists by Nina Leen (1909–1995, a fashion photographer mostly) that appeared on the cover of Life magazine.
The Metropolitan Museum of Art's refusal to exhibit modern art was the result of a 1921 exhibit of "modern art" from Europe, featuring Impressionism and Post-Impressionism. Lillie P. Bliss, one of the founders of the Museum of Modern Art in New York (1929), persuaded the Met to host the exhibit. It was such a "ratings" failure, that the Metropolitan Museum's rulers rejected featuring modern art in that museum.
Funny how things go, huh? I don't really see "action painting" or "color field" in Sterne's work, two of the standard measures of Abstract Expressionism. These works from the 1950s are logical progression from the crisper, grid-like paintings she did in the 1940s, only in more muted palette. Sterne painted in an abstract idiom for the rest of her career. Although she co-signed the letter to the Met, Sterne eluded the "star" status accorded to the men in Abstract Expressionism, and yet, perhaps more so than many of those men, had worked in abstraction throughout most of her career.
Correlations to Davis programs: Explorations in Art 4 6.35; Explorations in Art 5 6.35; Explorations in Art 6 5.25; A Community Connection 6.2, 8.4; Exploring Painting 12, Exploring Visual Design 4, 5; The Visual Experience 6.6, 9.3, 16.7; Discovering Art History 17.1