Curator's Corner
Asian Pacific American Heritage II
---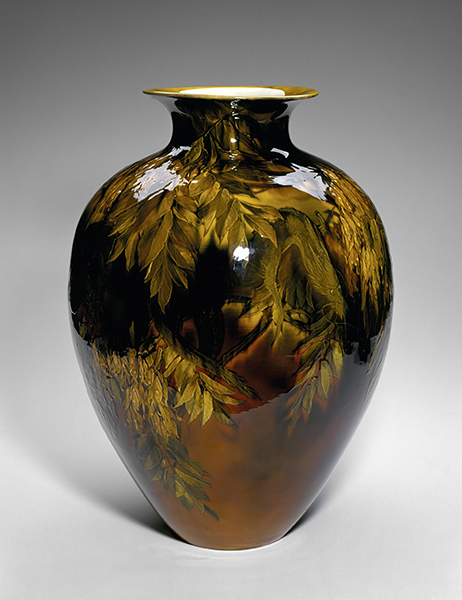 Kitaro Shirayamadani (1865–1948, U.S., born Japan) for Rookwood Factory (1880–1967, Cincinnati), Imperial Dragon Vase, 1892. Black Iris glaze line with copper and silver electrodeposits, height: 17 3/8" (44.1 cm). © 2021 Mint Museum, Charlotte, NC. (MIN-41)
When this vase was created in 1892, Rookwood Pottery had only recently perfected their "Black Iris" glaze technique. The decoration was achieved by building up delicate layers of light-colored slip (liquefied clay particles) on a cobalt glaze so thick that it appears black.
In 1884 Rookwood artists had begun blowing colored slips through an atomizer, creating an airbrush look on which the designer of this vase, Shirayamadani, capitalized. The "spray paint" effect is visible in the bottom of the vase. The delicately painted vegetal forms are reminiscent of Japanese ceramics of the Edo Period (1615–1867) and equally the Art Nouveau movement (itself influenced by Japanese art), which was at its height when this vase was created.
The art pottery movement in America began in the 1870s. It is suggested that the Philadelphia Centennial Exhibition in 1876 exposed American ceramic artists to Arts and Crafts movement ceramics from England. Many artists who later worked for art pottery kilns were inspired by the Philadelphia exhibition. Scholars define American art pottery as a type of ware made from the 1870s to the 1920s.
Maria Longworth Nichols founded the Rookwood Pottery manufactory after visiting the Philadelphia Centennial Exhibition in 1876. She was an enthusiast for decorating ceramics, a popular pastime for American women. In Philadelphia she was impressed by the Arts and Crafts style coming out of England, and also of the understated elegance of Japanese ceramics.
The common perception at the time was that American ceramics were inferior to European and Asian works. Nichols sought to change that when she established Rookwood, believing that quality ceramics could emerge from an environment filled with talent, ideas, and inspiration, regardless of gender. She became the first woman head of a manufacturing company in the United States.
Shirayamadani was born in Kanazawa, Japan, in 1865. His name means "White Mountain Valley." After several unsuccessful attempts to hire a Japanese artist, Nichols hired him away from Fujiyama, an import retail and decorating shop in Boston, Massachusetts. He worked at Rookwood from 1887 through 1912, when he moved back to Japan to work for the government. He returned in 1920 and worked at Rookwood until his death on July 19, 1948.
Many of the vessels made at Rookwood throughout the years were designed by Shirayamadani, and he created some of the most spectacular painting with a sense of realism. He used the entire surface of the vase as his canvas rather than just decorating the front and ignoring the back. The painting style was very unique because it was crisp and detailed but combined his Eastern training with Western style. He is considered to be one of the most talented artists to decorate at Rookwood, and collector interest in his pieces is always exceptional.
Correlations to Davis programs: Experience Clay 2E: Chapter 4; Visual Experience 4E: 10.10