Curator's Corner
Asian Pacific American Heritage Month I
In celebration of Asian American and Pacific Islander Heritage Month, I'll show you inspirational works by Asian American artists throughout the month. Let's start the month off with a painting by Dawei Guo.
---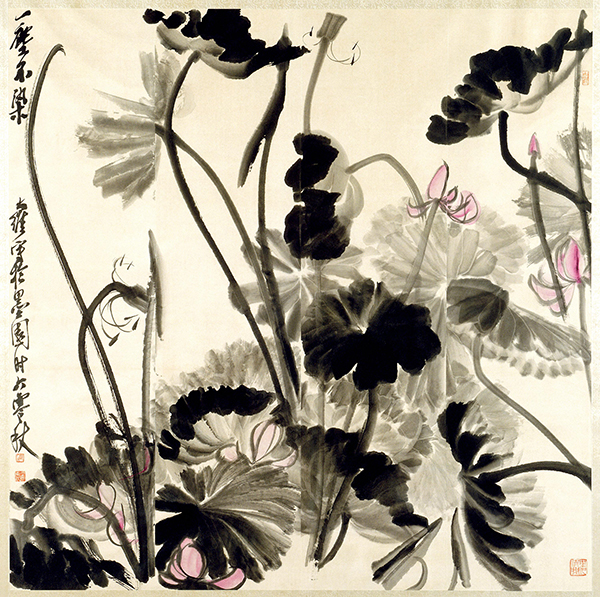 Dawei Guo (also known as David Kwok, 1919–2003, U.S., born China), Lotus, 1957. Ink and color on paper, 59 7/8" x 59 7/8" (152 x 152 cm). Image courtesy of the Philadelphia Museum of Art. © 2021 Artist or Estate of Artist. (PMA-2581)
Like many of his flower paintings, Guo's Lotus follows the centuries-old Chinese tradition of the huaniao hua, or bird-and-flower painting genre. This was primarily the province of the scholar/amateur artists (literati) who worked in monochromatic ink painting, to which Guo gives a reverential nod with his floral works. Although his gestural brushwork may reflect some influence of Abstract Expressionism's action painting, Guo's work never entered the realm of total abstraction.
During the Qing dynasty (1644–1912), Chinese painting continued the traditional distinctions between the professional painters and the literati. Once the Open Door Policy was forced on China by Western powers after the Opium War (1839–1842), five Chinese ports were open to trade with the West. Chinese artists began to learn substantially more about Western art at that time.
After the collapse of the Qing dynasty and establishment of the Chinese Republic in 1912, many young Chinese painters began to study Western art. They studied first in Japan, where schools were already established since the 1860s, then in Europe, mainly Paris, after 1918. A few of these artists stayed in Europe. Those who returned to China did not find an eager audience for their Westernized styles. Some resumed traditional Chinese modes of expression, while some mixed traditional with Western. Westernized styles were most popular in the cities of Shanghai and Tianjin.
Guo is a superb example of a Chinese painter who blended traditional Chinese subject matter, aesthetic, and technique with Western stylistic ideals. Born in Beijing, he trained at the Nanjing Institute of Fine Arts, studying under famed painter Qi Baishi (1863–1957), an artist who had studied traditional Chinese technique applied to more progressive ideas in the Shanghai art scene. Guo became adept at traditional landscape, figure, and bird-and-flower painting genres.
In 1953, Guo moved to the U.S., and he eventually became a U.S. citizen. He was exposed to Abstract Expressionism in New York, and was particularly affected by the action painting branch of that movement. He determined to bridge his native and adopted cultures artistically by blending the disciplined art of Chinese calligraphic brush stroke with the Western emphasis on freedom, creativity, and improvisation.