Curator's Corner
Asian/Pacific American Heritage Month 2022: Yasuo Kuniyoshi
Asian American and Pacific Islander Heritage Month continues with the work of Yasuo Kuniyoshi. Kuniyoshi applied modernist compositional principles to works that are solidly grounded in the object. His figurative work seems a combination of American folk art and Cubism.
---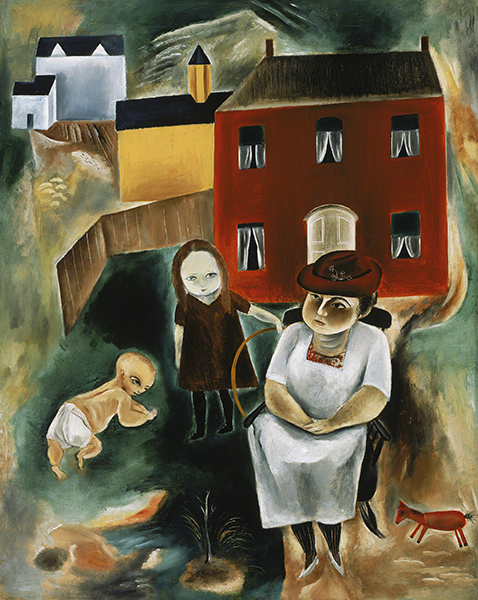 Yasuo Kuniyoshi (1889–1953, Japan/U.S.), Maine Family, ca. 1922–1923. Oil on canvas, 30 1/8" x 24 1/16" (76.7 x 61.3 cm). The Phillips Collection, Washington, Acquired 1940. © 2012 Estate of Yasuo Kuniyoshi/Licensed by VAGA, New York, NY. (PC-234kuvg)
These influences, along with an interest in Surrealism, contribute to the disconcerting space in Maine Family. It displays carefully modeled forms, yet a tilted and skewed space with vague background and off-center composition. Painted while Kuniyoshi was at the artists' colony at Ogunquit, Maine, this painting shows Kuniyoshi's inclination toward Western subjects because of prevalent anti-Japanese sentiment in the U.S. at the time. While many Western movements may have influenced the faceted nature of the composition, the simplification of forms into shapes and the almond-shaped eyes of many of his figures reflect the influence of his Japanese heritage.
Between the 1880s and 1920s, many American artists journeyed to Europe—particularly Paris—to learn about the most progressive modernist movements. The enthusiasm for abstraction and abstraction-influenced art post-World War I (1914–1918) decreased when Americans were no longer interested in anything European after involvement in the disastrous war. Interest in modern art fizzled almost altogether when the Great Depression (1929–1940), a severe worldwide economic downturn, caused American's to become even more isolationist and introspective.
The government-funded Federal Arts Project helped keep unemployed artists working starting in 1935, but the government did not sanction abstraction. The government believed that the American public desired uplifting, realistic art of American life. The 1930s, however, did see the emigration of many European abstract artists to the U.S. because of the rise of Nazi power.
The first exhibition of abstract and Cubist art at the relatively new Museum of Modern Art in New York in 1936 featured only European artists. Abstract American Artists (AAA) was founded the same year in New York to counter that trend and provide a continued voice for American artists who persisted in pursuing abstraction. Despite the prevalence of Social Realism and Regionalism during the 1930s, there were quite a number of artists who pursued personal types of abstraction.
Kuniyoshi emigrated to the U.S. on his own at the age of 16. This was partly to avoid service in the Japanese army, which had already defeated China in the first Sino-Chinese War (1894–1895) and was preparing a second attack (which ultimately drew in Russia) in order to control Korea (1904–1905). He went to high school in Los Angeles, where teachers indicated to him that he had artistic talent. Focusing his attention on that, he studied art there, then moved to New York in 1910.
In New York, Kuniyoshi studied art at the National Academy of Design and Independent School, where he met his lifelong friend, Cubist/Precisionist Stuart Davis (1892–1964). He studied for four years at the Art Students League, where he learned mostly about old master painting. His first one-person show was in 1921, and by 1929 he was included in the Museum of Modern Art's Paintings by 19 Living Americans exhibition. In 1925 and 1928, he made trips to Europe (Italy, Paris), where he absorbed the latest abstract movements, particularly Surrealism.
The Whitney Museum of American Art in New York presented A Retrospective Exhibition of Yasuo Kuniyoshi in 1948—the first time a living artist received such an honor. Throughout his time in the U.S., Kuniyoshi was unable to receive citizenship. Although he applied in 1952, he died the following year before citizenship was granted. This detail illustrates the importance of the artist's origins in his life and body of work, in a period marked by the Second World War and the conflict between Japan and the United States.
Correlations to Davis programs: A Community Connection 2E: 2.3; A Personal Journey 2E: 2.3, 2.4; Explorations in Art 2E: Grade 1 2.3; Explorations in Art 2E Grade 2: 2.1; Explorations in Art 2E Grade 3: 1.9; Explorations in Art 2E Grade 4: 1.2; Explorations in Art 2E Grade 5: 1.7; Explorations in Art 2E Grade 6: 1.5