Curator's Corner
Asian/Pacific American Heritage Month 2022: Kim Hwan-gi
Kim Hwan-gi (Kim Whanki) was a pioneer modernist in Korean art and subsequently in American art after he immigrated in 1963. His pioneering abstract works added greatly to the rich modernist atmosphere of New York at a time when Abstract Expressionism was still all the rage.
---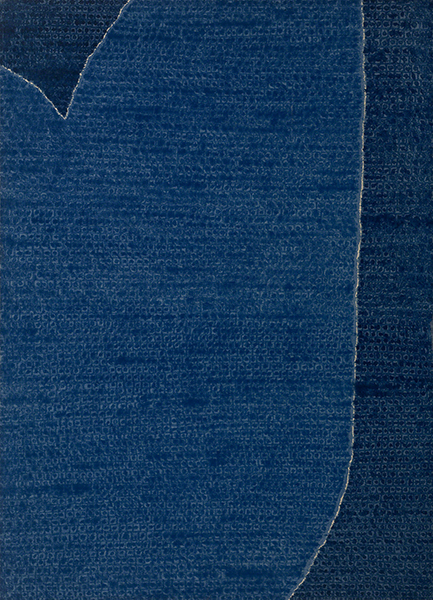 Kim Hwan-gi (Kim Whanki) (1913–1974, U.S./born Korea), 19-IX 73 (Landfall), 1973. Oil on cotton, 6' x 4' 4" (182.9 x 132.1 cm). Courtesy of the Albright-Knox Art Gallery, Buffalo, NY. © 2022 Artist or Estate of Artist. (AK-3589)
While in Paris, Kim streamlined his Korean motifs to simple lines and shapes. In New York, his work took a dramatic break from his previous style. He began an all-over type of painting with the surface constructed of intricate grids and dots, seen in 19-IX 73 (Landfall). His use of oil on cotton—wherein the pigment is soaked into the ground—created the effect of translucency that imitated ink-and-wash paintings. Subtle variations in light and hue, as well as passages of splashed ink-like effect, are typical of Kim's late period. Small dots of dark blue repeat endlessly in Landfall over the entire surface. Each dot was overpainted several times, blurred and blotted in the process. The great attention to surface and process evokes a contemplative mood.
Born in Jeollanam-Do province in present-day South Korea, Kim was the son of a wealthy farmer, against whose wishes he decided to be an artist. He became a pioneer of modernism in Korea before World War II (1939–1945). Kim's art combines traditional Korean aesthetics with Western modernist visual vocabulary.
Kim initially studied painting at Nihon University in Tokyo from 1933 to 1936. It was in Tokyo that Kim's foundation in abstraction was established, where he learned about Pablo Picasso (1881–1973), Henri Matisse (1869–1954), and other Western European modernists of the early 1900s. Kim was also influenced by Togo Seiji (1897–1978) and Fujita Tsuguharu (1886–1968), painters credited with developing new forms of Cubism and Futurism. After holding his first solo exhibition in Japan, Kim continued to submit work to Japanese exhibitions even after returning to Korea in 1937.
Between 1942 and 1950, Kim's work showed inspiration from indigenous Korean decorative arts and nature. After liberation from Japan in 1945 and during the Korean War (1951–1953), he continued to pursue odd juxtapositions of indigenous jars with landscapes or figures. From 1946 to 1949, Kim was professor at Seoul National Fine Arts University and launched a new modernism program. A visit to Paris from 1956 to 1959 reinforced Kim's preference for Korean indigenous art presented in abstract style.
After serving as the dean of the College of Fine Arts at Hongik University from 1959 to 1963, Kim moved to New York, determined to become a painter full time. In New York—the new center of modern art experimentation since World War II—current abstraction trends greatly affected Kim, particularly Abstract Expressionism. This was further cemented when he participated in the 1965 São Paulo Biennial, where he realized the far-reaching influence of that movement. In New York, Kim focused on developing a personal, nonobjective abstract style, exploring it in collage, watercolor, and ink-wash works as well as oil paint.
Correlations to Davis programs: The Visual Experience 4E: 4.7; Discovering Drawing 3E: p. 254; A Global Pursuit 2E: 9.5; Explorations in Art 2E Grade 4: 6.7; Explorations in Art 2E Grade 6: 5.1; Experience Painting: Chapter 9; Exploring Painting 3E: Chapter 12; Exploring Visual Design 4E: Chapter 11