Curator's Corner
Asian Pacific American Heritage IV
The Asian American and Pacific Islander Heritage Month series continues with Kota Ezawa, a Japanese-German American media artist and art educator. He is renowned, since 2002, for his videos, works on paper, and light-box installations. His work comes extremely close to being a new manifestation of a Pop Art aesthetic.
---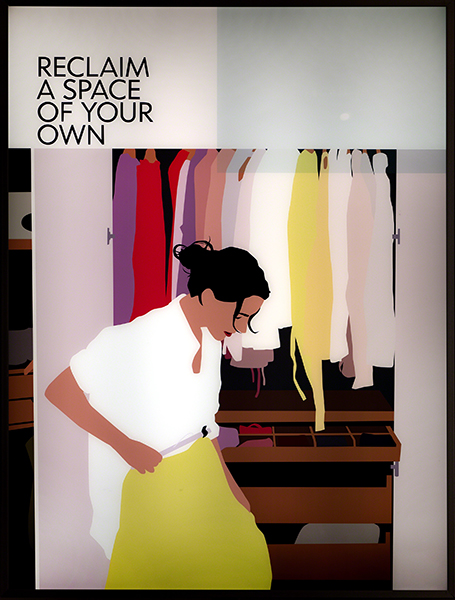 Kota Ezawa (born 1969 Germany, U.S.), A Space of Your Own, 2007. Duratrans transparency on lightbox, 40" x 30" x 5" (101.6 x 76.2 x 12.7 cm). Image courtesy of Albright-Knox Art Gallery, Buffalo, NY. © 2021 Kota Ezawa. (AK-2671)
Based in San Francisco, Ezawa transforms footage from TV news, movies, advertising spreads, and art history into simplified, flat, vector-based artworks. He uses digital animation, slide projections, paper cut-outs, and lightboxes, distilling and recontextualizing found visuals into newly iconic images stripped of their previous content. The reconstituted imagery, including text, seem to dull any message, narrative, or impact. They reflect the transient, superfluous role such mass-media imagery plays in the public mind on a daily basis.
Ezawa calls his works "video archeology." For A Space of Your Own, he took an advertisement for closet organizers from the 1980s and redrew it by hand. In redrawing the ad, he flattened it, removing all modeling of forms from the original photograph to create a type of cartoon. It was then made into a Duratrans transparency—large-format transparency film originally created by Kodak for illuminated advertisements—for display over a lightbox as if it were backlit signage. The result of his manipulation is an image that, though familiar, does not evoke any sense of story or emotional impact, except perhaps a vague nostalgia for the advertising style of the 1980s.
Born outside of Stuttgart, Germany, Ezawa attended the Art Academy in Düsseldorf from 1990 to 1994. He earned a bachelor's in fine arts from the San Francisco Art Institute in 1995, and a Master of Fine Arts from Stanford University in 2003. Ezawa's technique of transforming old footage into iconic works is complex. The result is recognizable, but untraceable in its detached context, emphasizing the influence of mass-media on the collective subconscious.
Correlations to Davis programs: The Visual Experience 4E: 9.1; Focus on Photography 2E: Chapter 4