Curator's Corner
Asian Pacific American Heritage III
Asian American and Pacific Islander Heritage Month continues with the work of Toshiko Takaezu, who was part of the American generation of ceramic artists who helped push the art form into being considered fine art. Her works, though grounded in traditional shapes, incorporated elements of painting and sculpture that helped promote the case for ceramics to merge with what had traditionally been considered "high art."
---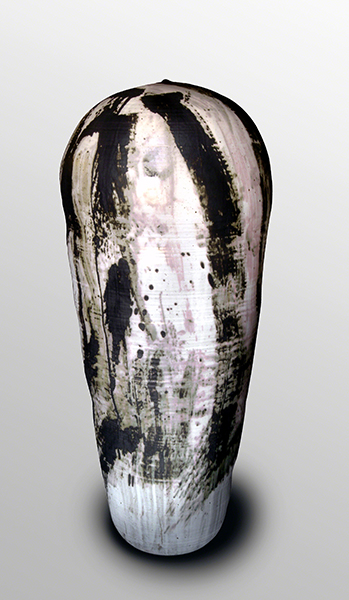 Toshiko Takaezu (1922–1991, U.S.), Li-Mu (Seaweed), 1993. Glazed stoneware, height: 63" (160 cm). Image courtesy of the Philadelphia Museum of Art. © 2021 Artist or Estate of Artist. (PMA-3637)
Following the utilitarian vessels of her early career, Takaezu progressively abstracted her artworks to arrive at this signature rounded, closed form. With only small openings at the top to allow gases to escape during firing, she made them non-functional. Works like this are inevitably named after forms in nature. The dark (black) interior of the vessel is symbolic of the human spirit, seen and yet a mysterious presence. Works of this scale often necessitated the use of scaffolding for support during construction. It was started on the wheel, and then the artist built up the structural form. The glaze was applied freely through dripping, splashing, pouring, and brushing.
Takaezu was born in Pepeekeo, Hawaii, to Japanese immigrant parents. Her upbringing in a traditional Japanese household and the surrounding Hawaiian landscape both impacted Takaezu's art as an adult. She worked in multiple media, including painting, fiber, and bronze, first encountering ceramics while working in a commercial studio in 1940.
After attending painting classes at Honolulu Academy of Arts, she studied ceramics at the University of Hawaii from 1945 to 1947. She also studied at the Cranbrook Academy of Art in Bloomfield Hills, Michigan, from 1951 to 1954, where she studied under avant-garde ceramic artist Maija Grotell (1899–1973, Finland). Grotell instilled in Takaezu the importance of individuality in self-expression.
In 1955, Takaezu spent 8 months in Japan, another formative experience. She became immersed in learning the tea ceremony, studying under renowned ceramic artists Toyo Kaneshige (1896–1967) and Yagi Kazuo (1913–1979), both of whom taught her an appreciation for Zen Buddhism. Kazuo was the first artist to introduce smoke blackening of ceramics.
Takaezu's ceramics are an intersection of East and West aesthetics with unbridled and often complex innovation. For decades she nurtured her student's processes of self-discovery in ceramics, teaching at summer sessions at Cranbrook from 1954 to 1956, University of Wisconsin Madison from 1954 to 1955, Cleveland Institute of Art from 1955 to 1964, and Princeton University from 1967 to 1992. In 1975, after opening a studio in Quakertown, New Jersey, she began formally mentoring young artists in an immersive, live apprenticeship.
Correlations to Davis programs: A Personal Journey 2E: 3.5; The Visual Experience 3E: 10.6; The Visual Experience 4E: 10.10