Curator's Corner
Art for Martin Luther King, Jr. Day
In commemoration of Martin Luther King, Jr. Day, I am recognizing an African American artist who was as committed to equality—especially for African American women—as MLK and expressed it clearly in her art: Elizabeth Catlett. She not only chronicled great Black women of the past like Harriet Tubman, but also those of her generation, particularly hard-working African American women, whom she portrayed as everyday icons of her time.
---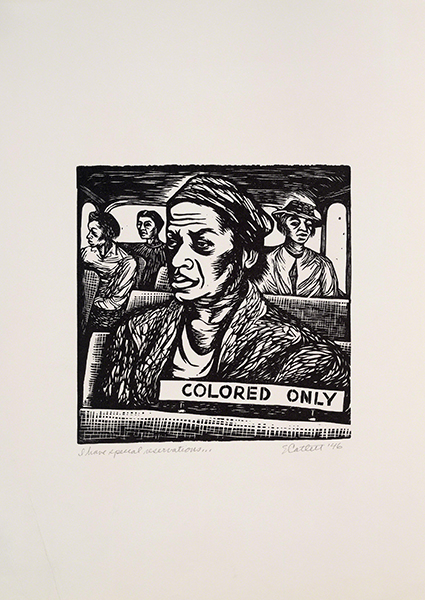 Elizabeth Catlett (1915–2012, U.S.), I Have a Special Reservation, #14 from the series African American Woman, 1946. Linoleum cut on paper, image: 6 5/16" x 6 ¼" (16.1 x 15.8 cm). The Museum of Modern Art, New York, Leslie J. Garfield Fund. © 2020 Catlett Mora Family Trust / Licensed by VAGA at Artists Rights Society (ARS), New York, NY. MOMA-P3050cavg.
The African American Woman series (originally titled The Negro Woman until it was changed in 1971) is a group of fifteen linoleum cuts chronicling everyday experience among Black women. Catlett received a Julius Rosen Foundation grant, went to Mexico City, and printed the series in the Taller de Grafica Popular. Her intention behind the series, as with all of her art, was to reflect African Americans, relate to them, and inspire them to recognize their own potential. In Mexico, mass-produced satirical prints were an historically important art form that helped disseminate political and social news beginning in the late 1800s.
Catlett produced this print 9 years before Rosa Parks refused to give up her seat to a white person on a Montgomery, Alabama, bus. The print mocked the prevailing racism in America. It also showed that African American women routinely suffered this indignity on their way to and from often menial jobs. While the series featured several prominent black women heroes from history, Catlett's prints of everyday women lend them the same dignity and monumentality.
Born in Washington, D.C., Catlett decided while in high school that she wanted to be an artist. Her early training was in painting at Howard University, where she learned of the Mexican muralists' paintings, which focused on the common people of Mexico.
Already at a young age Catlett felt that art should somehow be connected to the people. She went on to get a graduate degree from the State University of Iowa, the first to be granted by that school to an African American. This was also her first experience with white people and open racism. While in Iowa, Catlett studied under regionalist-realist Grant Wood (1891–1942), who introduced her to wood carving and printmaking.
In 1946, Catlett moved to Mexico City and joined the Taller de Grafica Popular (Peoples Graphics Studio), an artist collective for printmaking. In Mexico, seeing more of the Mexican muralists' socially conscious subjects, Catlett became more convinced that her art should connect with Black people. While in Mexico, Catlett was also influenced by the rich history of the Mexican penny press that routinely produced flyers designed by artists criticizing the corruption of the Mexican dictators (before the 1910 revolution) and the Westernized elite. By 1958 she was the first woman faculty member of the School of Fine Arts at the University of Mexico in Mexico City. In 1959, she became the first woman chairperson of the Sculpture Department.
Correlations to Davis programs: Experience Printmaking 1E: Chapter 3; The Visual Experience 4E: 8.6