Curator's Corner
Art for Juneteenth 2022: Sargent Johnson
Juneteenth is the oldest nationally celebrated commemoration of the end of slavery in the United States, originating in Galveston, Texas, in 1865. Let's celebrate the achievements of African American artists as part of that commemoration.
---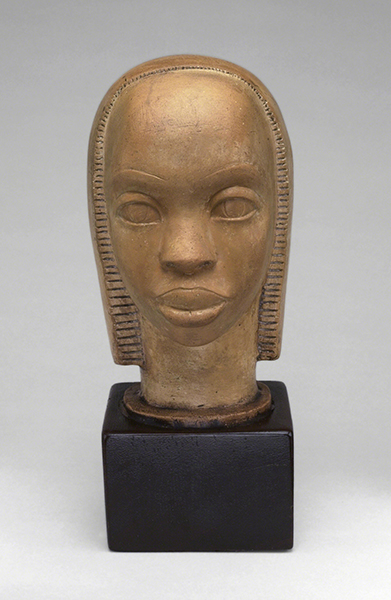 Sargent Johnson (1887–1967, U.S.), Head of a Black Woman, ca. 1935. Terracotta, 8 1/8" x 4 1/8" x 5 ¼" (20.6 x 10.5 x 13.3 cm). Courtesy of the Art Institute of Chicago, Laura T. Magnuson Endowment. (AIC-276)
Sargent Johnson's sculptures followed the recommendation of Alain Locke (1885–1954), writer during the Harlem Renaissance, who advised Black artists to use African art as models for their work. He produced many versions of Head of a Black Woman in different materials, but all with the same ethnic dignity as this one.
Johnson recalled African masks and sculpture in the rendering of the woman's hairdo as a single shape distinguished by repeated, stylized lines for the hair. Furthermore, he emphasized the features of the woman in the same monumental, stylized fashion as sculptors of ancient Egyptian pharaoh portraits. Head of a Black Woman is a triumph of classical qualities and specific physiognomy that make Johnson's study of Black women timeless. The combination of stylization and specificity create an aesthetic similar to the Art Deco figure sculpture of Ralph Stackpole (1885-1973), and yet remain distinctly African American.
Right before World War I (1914–1918), there was a great migration of African Americans from the rural South to cities in the North. Although African American men had served in World War I, racial prejudice, segregation, and lack of opportunity in the South continued to deny African Americans the hope of fuller participation in society. Black people looked to big cities in the North in the hope of a better life well into the 1960s. In cities such as Boston, New York and Chicago, Black populations increased dramatically between 1918 and 1925.
African American communities formed within the cities, and African Americans found a new self-awareness and pride in their heritage. Greater job opportunities made them feel generally more optimistic about participating more fully in American life. Great artistic communities arose in these northern cities, developing what would be called the Harlem Renaissance (named after the Black community of New York).
Johnson, born in Boston, was the son of a Swedish father and African American and Cherokee mother. Orphaned at the deaths of his parents in 1897 and 1902, Johnson lived first with an uncle and his wife, the sculptor May Howard Jackson (1877–1931). Jackson produced portrait busts on African American themes, which had a profound influence on Johnson. He studied art at the Worcester Art School in Massachusetts, lived briefly in Chicago with relatives, and then moved to San Francisco in 1915.
In San Francisco, Johnson studied art at the A.W. Best School of Art, and later (1919–1923, 1940–1942) at the California School of Fine Arts. There he studied under Stackpole. Stackpole's style was heavily influence by Art Deco starting in the 1930s. Johnson was aware of the Harlem Renaissance and the work of many of the artists associated with it. His sculpture of this period (late 1920s to mid-1930s) reflected that influence in his concentration on Black subject matter.
Correlations to Davis Programs: The Visual Experience 4E: 10.1; Beginning Sculpture: Chapter 2