Curator's Corner
Christmas Came Early
Christmas in 2018 came early, namely, this past summer. I always feel as if I'm getting Christmas presents when we receive new images of art from museums, or receive new photography of artwork already in our database. Well, this year, the presents came in the form of new photography of Antoni Gaudí's architecture in Barcelona, thanks to one of our editors who went there on vacation. She's an art historian, so obviously she knows what she should shoot!
---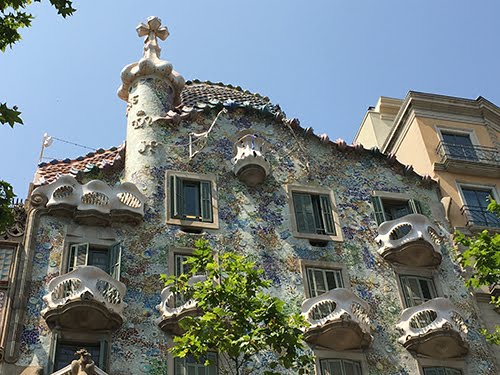 Antoni Gaudí (1852–1926, Spain), Casa Batlló, Barcelona, 1905–1906. Photograph: Helen Ronan. © 2018 Davis Art Images. (8S-29953)
Casa Batlló by Gaudí does not get as much "press" as some of his other projects, but it is equally gorgeous and equally indicative of his amazing design prowess. Gaudí was a visionary pioneer of architectural forms that contain elements present in Art Nouveau, the Arts and Crafts Movement, and numerous historical revival styles popular at the time. Educated in the revival styles, he was most drawn to Gothic Revival and a host of experimental architects such as Eugène Viollet-le-Duc (1814–1879). Also, one cannot ignore the ages-old influence of Islamic architecture after their domination of the Iberian Peninsula. This clearly comes through in Gaudí's love of ceramic tile decoration, seen above in the façade of Casa Batlló.
Josep Batlló i Casanovas (died 1934) was a wealthy textile industrialist. He bought an existing townhouse in the Beaux-Arts Classicism revival style. He offered for Gaudí to tear it down completely and create a new masterpiece from scratch, as Gaudí did with Casa Milà. Gaudí instead gutted it and created this masterpiece. Although it is tempting to attribute Gaudí's organic forms to Art Nouveau, his organic vision was a personal combination of all his many historical interests. I think it easily fits into a Gothic-influenced style.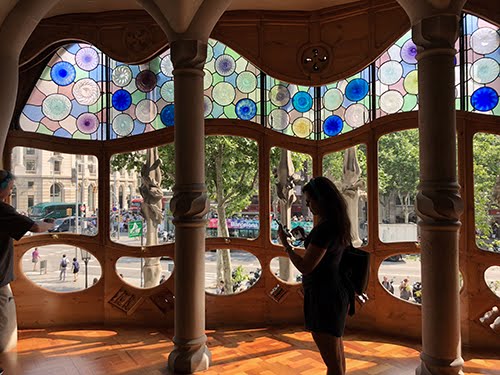 Antoni Gaudí, Casa Batlló, Barcelona, interior of second floor (Piano Nobile or "Noble Floor") main suite. Photo: Helen Ronan. © 2018 Davis Art Images. (8S-29954)
Is Frank Gehry (born 1929) the only architect who designs without any straight walls? Years before American architectural pioneer Frank Lloyd Wright (1867–1959), Gaudí conceived of domestic architecture in which rooms flowed seamlessly from one to another to produce architecture that emulated a sculptural mass. Throughout his career, he followed a unique vision in which he designed buildings imitative of living organisms, where interior and exterior are joined in a natural environment.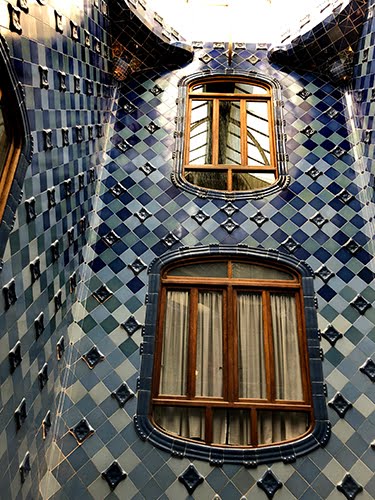 Antoni Gaudí, Casa Batlló, Barcelona, interior, central light-well/court. Photo: Helen Ronan. © 2018 Davis Art Images. (8S-29956)
Gaudí was inspired by the nearby marine environment of the Mediterranean in his decoration of the façade and interior. From the windows on the second-floor suite to the tiles of the light well, navy blue and ochre—the colors of the Mediterranean and its rocks—dominate the color scheme. Not only do walls undulate in imitation of waves, but the tile decoration is imitative of fish scales. The windows in the second-floor main suite imitate water bubbles.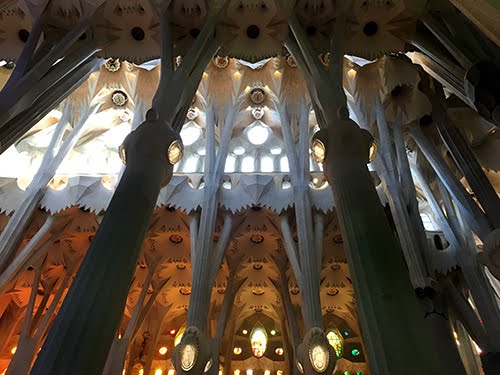 Antoni Gaudí, Sagrada Familia, Barcelona, interior, 1883 to present. Photo: Helen Ronan. © 2018 Davis Art Images. (8S-29970)
Gaudí's biggest project, which was only about twenty percent finished when he died in 1926, was the Basilica of the Holy Family (Sagrada Familia) in Barcelona. The church was conceived of as a sister church to the 1500s Basilica of the Holy House (Santa Casa) in Loreto, Italy, a shrine to the Virgin Mary. Sagrada Familia was commissioned by members of the Association of Devotees of Saint Joseph. It is a glorious combination of Art Nouveau and the Gothic style that Gaudí so cherished. It was only recently opened to the public (2010), and construction is ongoing. My favorite part of the nave construction is the scalloped floral shapes that act as vaults. It's sort of like Gothic coffers! And boy did Gaudí appreciate the importance of Gothic fenestration!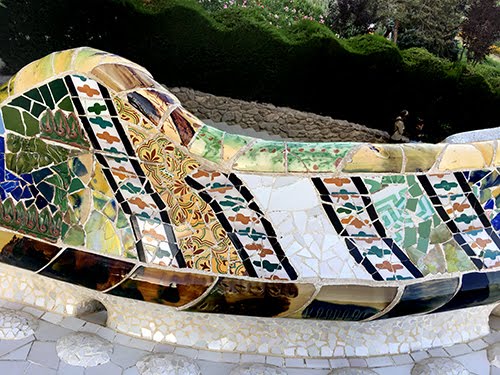 Antoni Gaudí, Güell Park, Barcelona, 1900–1914. Photo: Helen Ronan. © 2018 Davis Art Images. (8S-29974)
Helen's stunning shots from Guell Park round out this showcase of Gaudí's combination Gothic/Islamic/Art Nouveau style. A lot of the tile in Gaudí's work reminds me of Spanish Renaissance majolica work (tin-glazed earthenware). If you look closely at the tile decoration of Gaudí's buildings, however, you will see that is composed of broken (on purpose and accidental) ceramics. This type of mosaic tile work is called trencadis. The color choices settle in so nicely with the surrounding stone and plantings of the park.