Curator's Corner
Pioneer American Modernist
Every now and then my landscape painter alter-ego forces me to focus on a painter who is renowned for his or her landscapes. One of my all-time favorites in that department is Marsden Hartley. I especially like Hartley because, at a time when most American painting was dominated by realism and historicism, Hartley struck out in his own singular style.
---
Like me, Hartley had a mystic/spiritual connection to landscape that I to this day find hard to explain when I do a vitae for a show. I wonder if Hartley was ever asked why there are very seldom any references to buildings or people in his landscapes, as I am.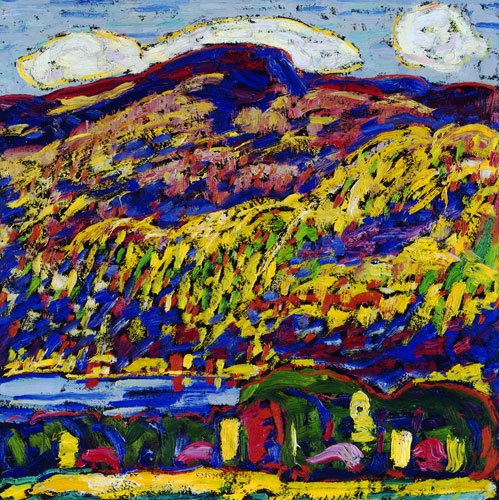 Marsden Hartley (1877–1943, US), Mountain Lake, Autumn, 1912. Oil on canvas, 11 13/16" x 11 13/16" (30.1 x 30.1 cm). © The Phillips Collections, Washington, DC. (PC-514)
Hartley was born in Maine. His family's relocation to Cleveland, Ohio, gave him the opportunity to study at the Cleveland School of Art, where he enrolled in outdoor painting classes taught by a Paris-trained impressionist. Over the years he studied at William Merritt Chase's School of Art (where he studied the work of George Inness) and the National Academy of Design in New York. He also went on retreats to art colonies in Maine where, before 1906, he began to produce landscapes of mountains and clouds. Such motifs would remain central to his work for his entire career. He would repeatedly return to Maine throughout his life.
Between 1906 and 1908, Hartley developed a Neo-Impressionist style and painted what are considered some of his first mature works. His color was influenced by the work of Maurice Prendergast (1858–1924), a painter influenced by Impressionism, and Giovanni Segantini (1858–1899) a Swiss Neo-Impressionist. From Segantini, he adopted the stitch brushstroke that is seen in this work. He showed his work to Prendergast, who subsequently introduced Hartley to Alfred Stieglitz (1866–1944), the famous photographer and greatest advocate for modernism in American art at the time.
This painting pre-dates the period when Hartley spent much time going back and forth to Europe, where his painting took on aspects of Cubism. The brilliant color, active surface, and simplified form reflect the art of great European modernists (Matisse, Picasso, Cézanne), whom he would have seen in Stieglitz's New York Gallery 291, the first gallery in the US to display abstraction and European modernism. While Hartley's numerous mountain landscapes of Maine are proof of his delight in nature, just like the work of Vincent van Gogh, they also reveal his deeply spiritual connection to nature, something he would have appreciated when he studied the work of Inness.