Curator's Corner
American Artists Appreciation Month V
---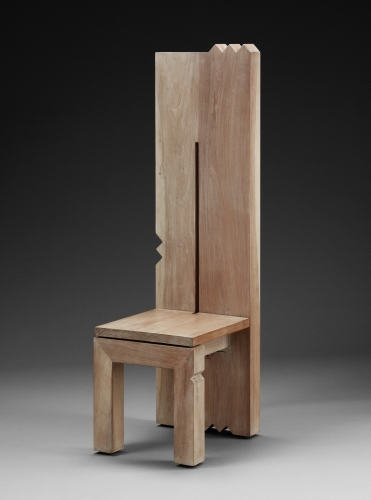 Wendy Maruyama (born 1952), Post-Nuclear Primitive Chair, 1986. Cherry wood, 48" x 15" x 17" (121.9 x 38.1 x 43.2 cm). Museum of Fine Arts, Boston. © 2017 Wendy Maruyama. (MFAB-533)
You may not remember the horrific nuclear arms build-up of the 1980s under Reagan, but it really sent the fear of nuclear war through our culture. It spawned such movies as "The Day After" (1983) about nuclear holocaust. I would imagine the terror of the period is what inspired Post-Nuclear Primitive Chair, a piece in which Wendy Maruyama imagines society rebuilding itself from the ruins of war.
Maruyama, born in Colorado, is a third-generation Japanese American whose parents and grandparents faced the brutality of Japanese internment camps during World War II (1939–1945). She is equally affected by that experience as she is by being an American exploring her Japanese heritage. She is reverent of Japan's "craft" history, although appalled at the materialistic, patriarchal society. Her multi-faceted art work reflects her social activism, which includes advocacy against the senseless killing of wild animals.
Maruyama studied woodworking at San Diego State University (BA 1975), Virginia Commonwealth University, and Boston University (MFA 1976–1978). She was one of the first two women and the first deaf student to complete an MFA in furniture making at the Rochester Institute of Technology's School for American Crafts (1980). Her furniture design was influential in the early period of Postmodern "art furniture" of the 1980s, when she challenged the male-dominated field of not only furniture making, but also woodworking in general. Maruyama's furniture used humor, social commentary, and sculptural forms to challenge traditional notions of furniture design.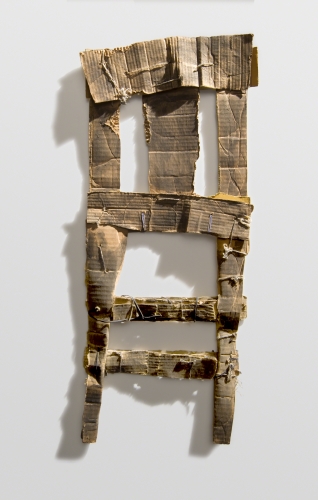 James Castle (1899–1977), Large Chair. Soot and spit, corrugated cardboard faced with off-white printed paper, gray cardboard faced with yellow paper, torn, cut, folded and wrapped; punched, stitched and tied with thin black and blue ribbons and white cotton string, 30 ¾" x 12" x 1 1/8" (78.1 x 30.5 x 2.9 cm). Image © 2017 Philadelphia Museum of Art. (PMA-2766)
I've posted about James Castle in the past, and have registered my discomfort with the designation of "Outsider Art." I've now come to embrace the term "visionary art" for artists like Castle. In Castle's case, his deafness and lack of formal means of communication (like signing) led him to live most of his life in a visual world of his own making.
According to his family, he began drawing and making things out of found scraps of paper and cardboard at an early age. He apparently checked the family trash containers on a daily basis to find materials for his works. He made tools out of broken fountain-pen nibs, apricots, and sticks, and early on discovered he could make ink by spitting into the scrapings of soot from the stove.
Castle created numerous constructions of such common place things as chairs and other household objects, young girls in colored dresses, and animals. The ingenuity and careful attention to structure he paid to these constructions make them truly worthy of being compared to anything produced by the Dada artists or Surrealists who had worked simultaneously in Europe.
In my earlier post, I said I hesitated to compare his work to that of other artists, but I've changed my mind. This construction chair reminds me of the work of Margaret Wharton (a Chicago artist). I wonder if she ever saw Castle's chairs?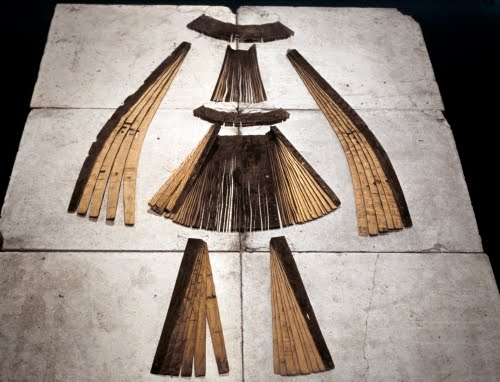 Margaret Wharton (1943–2014), Eliyahu, 1975. Disassembled chair, 61 3/8" x 46 1/16" (156 x 117 cm). Private Collection, Chicago. © 2017 Estate of Margaret Wharton. (8S-19319)