Curator's Corner
American Artists Appreciation Month II
My blog series about "American Artist Appreciation Month" continues. Here's some wonderful art by Dr. Samella Lewis and Jeremiah Paul, Jr.
---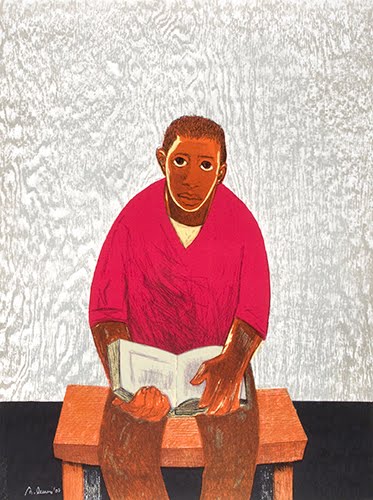 Dr. Samella Lewis (born 1924, US), Boy on a Bench, 2007. Color offset lithograph on paper, 27 ½" x 20 3/8" (69.9 x 51.8 cm). Philadelphia Museum of Art. © 2017 Samella Lewis. (PMA-4192)
Dr. Samella Lewis is one of the outstanding activists among African American artists starting in the 1960s. She was born in New Orleans, and at an early age she turned to art to help confront inequality.
Her early subjects were diverse—from scenes of police brutality against African Americans to images influenced by comic books and movie characters. Like many of the mature artists of the Harlem Renaissance (ca. 1920s–1930s), she came to believe early in life that art was an essential mode of expression of the black community.
Lewis attended Dillard University, a university established in 1935 in New Orleans as an opportunity for higher education for African Americans. At Dillard, Lewis studied under sculptor Elizabeth Catlett (1915–2012), a leading artist of the Harlem Renaissance. Lewis subsequently transferred to Hampton University, the first black university in the US, where she earned her BA in 1945. She earned an MA from Ohio State University in 1948 and in 1951 was the first African American woman to get a doctorate in fine art and art history there.
Lewis became a major figure in the art world of Los Angeles starting in the late 1960s. In 1969, she became the education coordinator at the Los Angeles County Museum, where she established the activist group Concerned Citizens for Black Art. She also published a book in 1969, Black Artists on Art, having founded the first African American-owned publishing company, Contemporary Crafts. This book pre-dated the ground-breaking exhibition Two Centuries of Black American Art at the Los Angeles County Museum in 1976. In that same year, Lewis was one of the co-founders of the Museum of African American Art.
From 1969 to 1984, Lewis was a professor of art history at Scripps College in Claremont, CA. She established a scholarly journal International Review of African American Art in 1976. Her emphasis was educating scholars and others about the many contributions made by African Americans to the arts. She has also been a strident champion of art education for young African Americans.
Lewis has produced paintings and sculptures throughout her life. The dominant theme is reflections on everyday African American life and, particularly during the late 1960s and 1970s, the struggles of everyday African Americans for equality. She is best known for figurative works on paper such as Boy on a Bench. Works such as this stem from her lifetime spent in arts education and her commitment to lifting young people up through education in the arts. In particular, this print was inspired by Lewis's concern about the growing loss of African American teachers in US schools.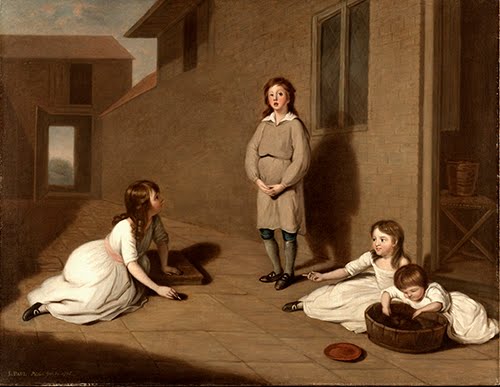 Jeremiah Paul, Jr. (1775–1820, US), Four Children in a Courtyard, 1795. Oil on canvas, 43" x 54 7/16" (109.2 x 138.4 cm). © 2017 Philadelphia Museum of Art. (PMA-3081)
In this work, I am prepared to declare Jeremiah Paul, Jr. as the first major genre artist in the US. Genre did not really get going as a major subject matter in American art until the 1820s. Although in theory it could be a portrait, I think it has "genre" written all over it, right down to the girl on the left who is attempting to draw the portrait of the nervous boy.
Paul was born in Woodbury, NJ, the son of a Quaker minister. He trained under the king of the American art school, Charles Willson Peale (1741–1827). He may also, I suspect, have learned under Gilbert Stuart (1755–1828), because his children have a touch of the English-inspired Grand Manner to them and resemble some of Stuart's portraits of children. He painted some of the lettering on Stuart's portraits. Many of his early works were copies of the work of ex-patriate American Benjamin West (1738–1820).
Four Children in a Courtyard is based on a print by the English artist Richard Morton Payne. Copying British prints was virtually the only way for American artists to improve their technique before the establishment of the first American academy, the ill-fated Columbianum founded by Peale in Philadelphia in 1794. This painting was exhibited in the first and only exhibition at the Columbianum in 1795. By 1796, Paul had moved on successfully to portraiture. He also advertised that he could take on any type of commission, from portraits to signs, fire buckets, and coffin plaques.