Curator's Corner
Never Thought About This
Landscape painters who are smart do studies of subjects such as clouds. I, on the other hand, just worked hours on a landscape last weekend using nothing but my reminiscences of how clouds look to paint a sky. Dummy! I'm always relieved when I find out artists whose work I adore actually do studies of virtually everything they include in their landscapes, including the sky.
---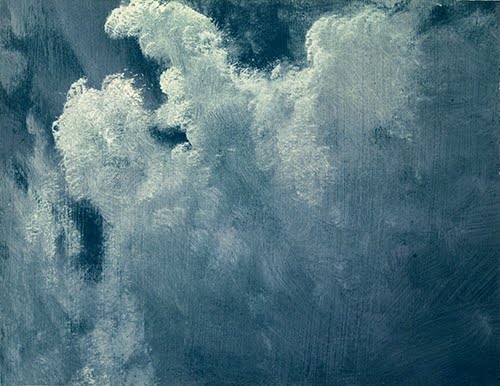 Albert Bierstadt (1830-1902, US born Germany), Blue and White Cloud. Oil on paper, 7 ½" x 9 1/8" (19.1 x 23.2 cm). © 2018 Brooklyn Museum. (BMA-5599)
Albert Bierstadt is sometimes equated with the Hudson River School, since many of his early works were of locations in the Hudson River Valley. I always associate his work more with the so-called Rocky Mountain School, eastern artists who braved the wild to document the spectacular beauty that is the American western wilderness. I would think it would be safe to assume that this study of clouds was executed by Bierstadt on one of his many sojourns west. He is known to have produced hundreds of oil sketches for paintings of the West that he subsequently produced in mammoth proportions at his New York studio.
Nothing is known of Bierstadt's years in Germany before he and his parents emigrated to New Bedford, Massachusetts in 1832. By 1850, however, he was giving drawing lessons in Boston. He went to Germany in 1853 in hopes of improving his skills by studying with the famous German romantic landscape painter Andreas Achenbach (1815–1910). He ended up, fortunately, studying with expatriate Hudson River School painter Worthington Whittredge (1820–1910).
While in Europe, Bierstadt observed Achenbach's admonition for landscape painters to go directly to nature for subject matter, doing endless sketching tours. On his way back to the US, he stopped in the Alps in Switzerland and Italy, where his love of mountains as subject matter was confirmed.
Bierstadt made a reputation painting European scenery, and began making painting trips to the White Mountains and the coast of Rhode Island in the late 1850s. With his passion for mountain scenery, the American West beckoned to Bierstadt as a source of boundless, new, spectacular mountain subject matter. His first trip west was to the Rockies in present-day Wyoming in 1859. Subsequent trips came in 1863 (Yosemite Valley), 1871 (Yosemite and the Sierra Nevada range), 1876 (Estes Park in Colorado), 1880 (California and British Columbia), 1881 (Yellowstone), and 1889 (Canada and Alaska). The large canvases he produced from these trips west attracted eastern buyers willing to pay high prices. In 1877, he also sketched the scenery in the Bahamas.
I think Bierstadt's studies of clouds really paid off, if you care to see his many storm-shrouded views of Western landscapes. There are dozens of versions of storms in the Rocky Mountains, where his depiction of low-hanging clouds is simply stunning. I'm not equating the above study with this Museum of Fine Arts, Boston painting, but the comparison is sure tempting.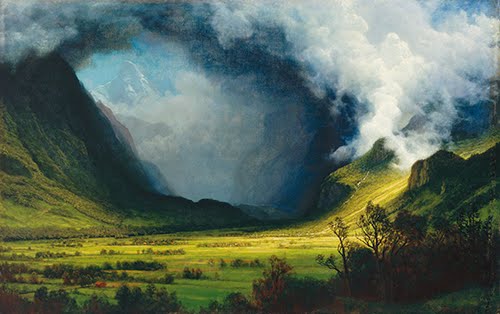 Albert Bierstadt, Storm in the Mountains, ca. 1870. Oil on canvas, 38" x 60 1/8" (96.5 x 152.7 cm). © 2018 Museum of Fine Arts, Boston. (MFAB-383)
There's another gorgeous view of the Rocky Mountains at the Phoenix Art Museum.
I couldn't resist throwing in this odd little painting. For a whacky subject, it certainly is a tour-de-force of Bierstadt's study of clouds. And I'm sure that study of clouds came in handy depicting the smoke as well!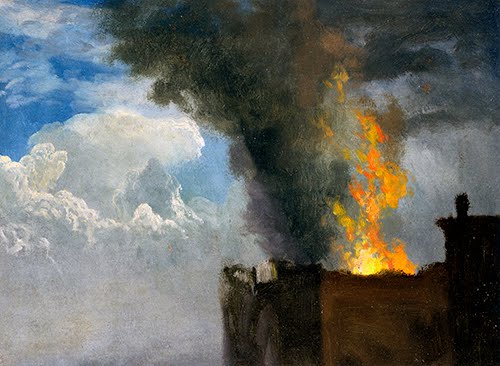 Albert Bierstadt, The Conflagration. Oil on paper attached to board, 11 ¼" x 15 1/8" (28.6 x 38.4 cm). © 2018 Worcester Art Museum. (WAM-270)