Curator's Corner
African American History Month 2021 II
February 4th was artist Nick Cave's birthday, so let's celebrate his art for African American History Month.
---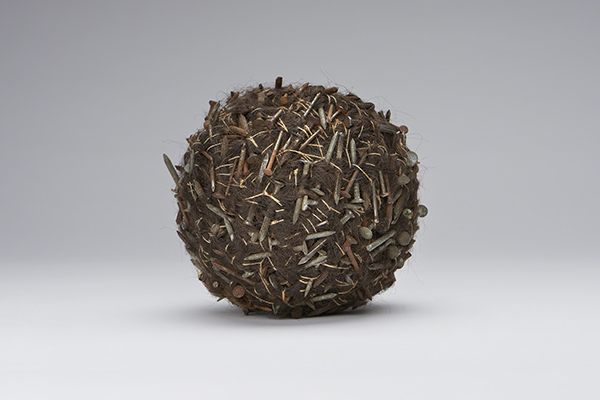 Nick Cave (born 1959, U.S.), Furballs #1, ca. 1995. Hair, twine, nails, width: 7" (17.8 cm). Courtesy of the Philadelphia Museum of Art. © 2021 Nick Cave. (PMA-8927)
In the 1990s, Cave created his series of Furballs sculptures, which combined hair—human, synthetic, and animal—with nails and other found objects. As an accumulation of hair and various materials—similar to cat hairballs referenced in the title—the works reveal elements of identity in what is discarded or left behind.
While Cave connects his Furballs series with his attentiveness as a young person to found objects and assemblages, there may be a connection to "power figures" (nkisi nkondi) of the Kongo people. Nails and other objects are driven into these oath-ensuring spiritual containers as ways of solving disputes, problems, or crimes—often serious ones. In the assertion of organic and found objects, Cave has created "power figures" in his accumulation of spiritual energy in his Furballs.
Cave is a textile sculptor, multi-disciplinary artist, performance artist, and inspirational educator. He was born in Fulton, Missouri, and showed artistic ability at a young age. While studying at the Kansas City Art Institute, he explored both visual and performance arts. At the same time, he spent his summers studying in New York at the Alvin Alley American Dance Theater.
After graduating from the Kansas City Art Institute in 1981, he designed window displays for Macy's Department store and worked professionally as a fashion designer. After attaining an MFA from the Cranbrook Academy (1988), he merged his interests in fashion design and performance, joining the faculty of the School of the Art Institute of Chicago as director of the fashion program. He is best known for his Soundsuits, fully sculpted ritualistic outfits that recall African ceremonial dance costumes, a hybrid of sculpture, dance, performance, and sound from the various objects that compose them.
Correlations to Davis Programs: The Visual Experience 4E: 5.6, 6.7