Curator's Corner
African American History Month 2020 IV
---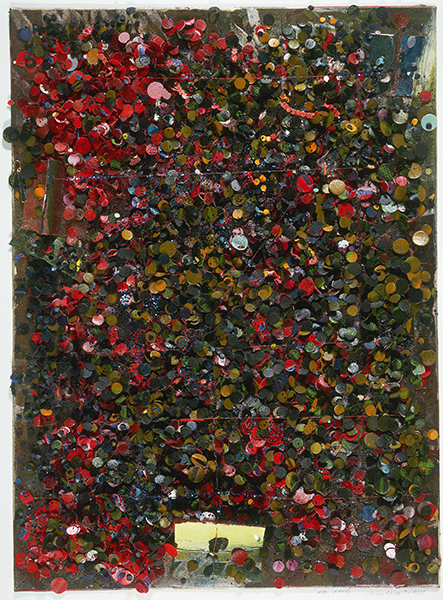 Howardena Pindell (born 1943, US), Untitled No. 89, 1977. Acrylic paint, opaque watercolor, oil pastel, cut and punched papers and cardboard, glitter, and thread on board, board: 14 7/16" x 10 ½" (36.8 x 26.7 cm). Philadelphia Museum of Art. © 2020 Howardena Pindell. (PMA-9335)
By the 1970s and 80s, many Black artists were represented in major galleries and museums around the country. Three landmark shows in the 1970s furthered the study of African American art: Contemporary Black Artists in America (1971, Whitney Museum, New York); Two Centuries of Black American Art (1976, Los Angeles County Museum); and Afro-American Artists in Afro-America (1975, Museum of Fine Arts, Boston).
The strength of representation of African Americans on the American art scene has led to a change in emphasis in the way Black artists' work is exhibited. The last major exhibition emphasizing the African connection to African American art was held in Dallas in 1989. By that time, most major African American painters and sculptors preferred to emphasize the independence of their work and their unique contribution to artistic development in America.
Born in Philadelphia, Pindell determined she would be an artist when she was 12. She studied painting at Boston University (BFA, 1965) and Yale University (MFA, 1967). After graduating, she worked in the Prints and Illustrated Books department of the Museum of Modern Art in New York from 1967 to 1979. It was while working there that she acquired an appreciation for the qualities of paper and the wide variety of uses of the medium. She also developed an interest in gridded, serialized imagery. Wishing to challenge the staid tradition of painting, Pindell has added talcum powder, glitter, and perfume—among many other unusual components—to her work to stretch the perception of "two-dimensional art."
Pindell's early works were mostly urban scenes, but she departed from realism into abstraction as her interest in texture, form, and geometry evolved. She has linked her interest in her variegated surfaces to both Post-Impressionist Pointillism and the process emphasis of Minimalism. After a life-threatening car accident in 1979, her process works of the 1970s gave way to works in the 1980s and 1990s that documented her political interests in homelessness, racism, AIDS, genocide, sexual harassment, and xenophobia.
Untitled No. 89 is a rich example of her pre-accident format. She was exploring the ideas of deconstruction and reconstruction in paper works. By 1974, Pindell's interest in Pointillism was clear in these works. She developed a system wherein she painted or drew on sheets of paper, punched out dots from the painted pieces and dropped them at random on the paper support.
She also sometimes squeegeed paint through the "stencil" spaces left between the dots. The result is a two-dimensional, decorative surface with an underlying paper/paint structure.