Curator's Corner
African American History Month 2013 IV
To close out African American History Month, I've been looking at the work of Lisa Corinne Davis. What is great about many contemporary artists is that their work often defies any categorization or demonstrative stylistic assignment. For African American artists, this trend actually began—in a major way— in the 1960s with the group Spiral in New York. Spiral, while concerned with furthering African American equality in the entrenched art gallery world, posited that African American artists could represent their culture even if their work was abstract or did not contain overt symbolism of the black struggle for equality in the US.
---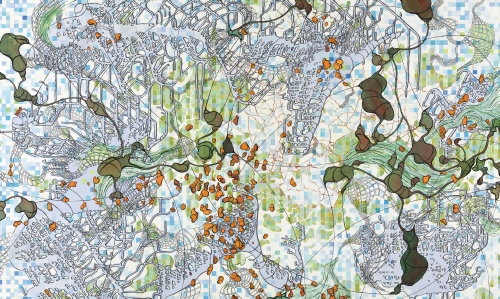 Lisa Corinne Davis (born 1958), Willfully Whimsical, 2006. Oil and collage on wood panel, 36" x 60" (91.4 x 152.4 cm). The Philadelphia Museum of Art, © 2013 Lisa Corinne Davis. (PMA-4248)
Davis' paintings consciously defy the viewer to identify or label forms and force a system of order on a personal idiom of abstraction. Her fluid forms run the gamut of influence from implied geography, exoskeletal forms, spores, and cancer cells to flora and fauna.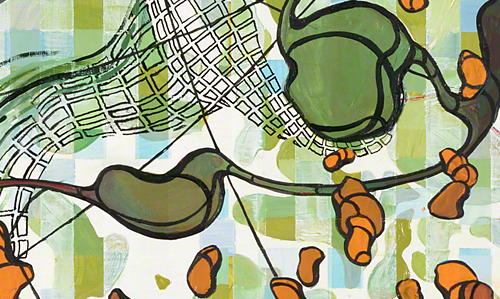 Lisa Corinne Davis (born 1958), Willfully Whimsical, detail, 2006.
In Willfully Whimsical, the viewer's eye is encouraged to explore the complex overlays of forms without coming to a conclusion about what they might mean overall. Being the nerdy art historian that I am, however, I am tempted to interpret some of the grid-like forms with seeing a city or farm land from way above in a plane. That being said, the breadth of diversity of Davis' forms is truly stunning, as well as her remarkable use of color. Check out more of her work on her website, www.lisacorinnedavis.com.
Davis, an African American of mixed heritage, was born in Baltimore. For fourteen years she has taught at Parsons School of Design, Cooper Union, and Yale University. She is currently an associate professor at Hunter College in New York. She lives and works in Brooklyn.
Studio activity: An imaginative interpretation of an object that is important in everyday life. Disregard concern about realism, and exaggerate elements of the object to create a unique composition. Study the object carefully and use markers or watercolor to create an interpretation. Use the principles of design to produce a unique composition: balance, pattern, proportion, rhythm and movement, contrast, emphasis, variety and unity.
Correlations to Davis programs: Explorations in Art Grade 4: 6.35; Explorations in Art Grade 6: 5.25; A Personal Journey: 7.1, 9.1; A Community Connection: 9.1; Exploring Visual Design: 1, 2, 9, 11, 12