Curator's Corner
African American History Month 2014 I
I'm always excited when I learn about a new artist! I'd never heard of Kermit Oliver, but discovered his story when we acquired an image of his work from the Museum of Fine Arts, Houston. His work is so awesome, and, his history as an artist is truly unique!
---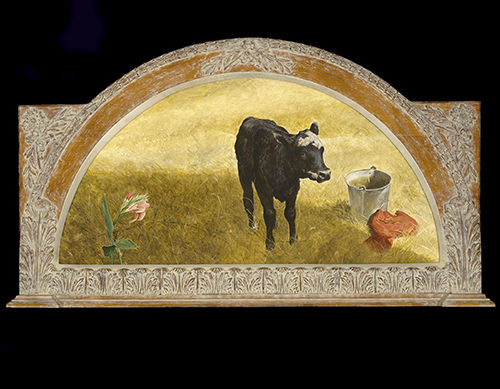 Kermit Oliver (born 1943, US), K.J.'s Calf, 1975. Acrylic on Masonite, 34 3/8" x 48" (61.9 x 121.9 cm). Museum of Fine Arts, Houston, © 2014 Kermit Oliver. (MFH-854)
Oliver was the first African American artist to get a one-person show of his work in Houston. He studied art and education at Texas Southern University in Houston, and was mentored by the renowned African American artist John Biggers (1924–1999). Although a working artist, Oliver never thought that his work would sell. He is a US Postal Service employee who works the night shift sorting mail. Growing up on a farm, he was affected by the slaughter of farm animals, which have become a major part of his subject matter.
Shelby Marcus, wife of Lawrence Marcus of the famed Nieman-Marcus department stores, discovered his work. When the French fashion house Hermes wanted designs for scarves with a southwest U.S. theme, the Marcuses recommended Oliver. He is the only American who creates design for Hermes scarves.
K.J.'s Calf displays a particularly interesting aspect of his work. He often creates frames in different shapes, and then fills them with a painting. His frames often contain carved symbolism about the subject of the painting. This painting shows empathy for the subject based on his experiences growing up on a working farm. The isolation of the subject with emphasis on contrast of dark and light is fairly typical of his work. In many ways his works remind me of Andrew Wyeth's works of rural realism.
Studio activity: Make an animal monoprint. Look at pictures of animals, and select one for subject matter. Using acrylic or gouache paint, create an image of the animal on a plastic or wooden surface. Press paper onto the wet paint to create the print. Emphasize texture and color in the painted surface. Use a wooden spoon or spatula to transfer the painting from the painted surface to the paper.
Correlations to Davis programs: Explorations in Art Grade 2: 3.14; Explorations in Art Grade 3: 2.10, 5.25; Explorations in Art Grade 5: studio 21 and 22; Explorations in Art Grade 6: 2.12; Experience Painting: 5