Curator's Corner
African American History Month 2014 III
After the Harlem Renaissance (1920s–1930s) and World War II (1939–1945), African American artists continued to seek a way to emphasize the validity of African American art in the modern art world, which largely ignored them. There were two strains: those who believed that the art should reflect African American life and African heritage, and those who believed that an individual style, no matter its amount of "blackness," could represent African American art.
---
The group Spiral emerged in 1963 with both aesthetics coming together to encourage the continual evolution of African American art in both strains. Many African American artists who were young during the Harlem Renaissance sought expression in modernist terms, many of which were unique visions in American art. Ironically, the Spiral group petered out in 1965. The Civil Rights Movement revived the Harlem Renaissance ideal of black artists representing the black experience. Al Loving, Jr. preferred abstraction.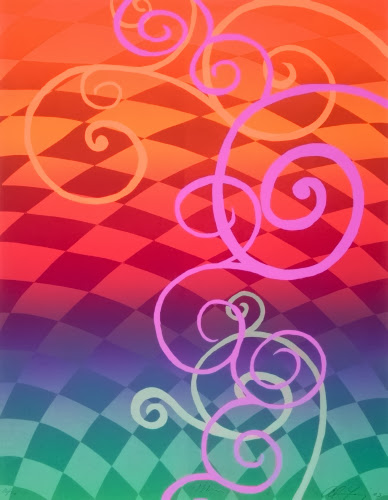 Alvin Loving, Jr. (1935–2005, US), Mara C, 2003. Color offset lithograph and screenprint on paper, 70.8 x 54.6 cm (27 7/8" x 21 1/2"). Philadelphia Museum of Art. © 2014 Estate of Alvin Loving, Jr. (PMA-4193)
Loving is a member of a generation of African American artists who prefer abstraction as a means of expression. All the while, he interweaves his family history into his work. Born in Detroit, he received BAs and MFAs in fine art from the University of Illinois and University of Michigan.
Loving's father was an educator and, ultimately, college dean, and his mother and grandmother were quilters. He was very influenced by his mother's and grandmother's work, watching them quilting as a child.
Despite the tradition of Spiral advocating that black artists should be free to express their aesthetic, in the late 1960s and early 1970s—in the light of the Civil Rights Movement—African American artists were under pressure to represent a uniquely black point of view. Loving chose abstraction, and turned to personal imagery to achieve that. His earliest works were hard-edge investigations of the cube, much like Othello Anderson.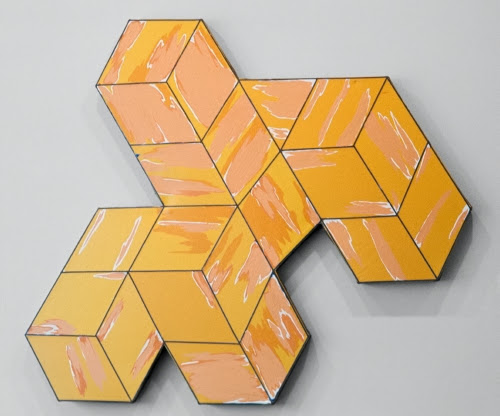 Othello Anderson (born 1949, US), E1176, 1977. Acrylic on canvas, 183 x 183 cm (72" x 72"). Photo Davis Art Images © 2014 Othello Anderson. (8S-16707)
While Loving's work of the 1970s links his work to the Hard Edge wing of Minimalism, he eventually came to favor the spatial explorations of op art. Mara C is a reference to his wife. This lithograph mimics pieces in which he applied layers of cut colored paper over a painted background. The undulating checkered background definitely reflects the influence of his mother's and grandmother's quilting. The organic shapes in the foreground remind the viewer that at one point, Loving would create works that were layers of painted paper.
Studio Activity: Look carefully at Loving's work. Design a quilt that incorporates both organic and geometric shapes. Do not be hesitant to lay organic shapes over geometric, but emphasize the two-dimensional aspect of the design. Use crayons, colored pencils, watercolor, or gouache to achieve the design. Look at a number of different types of plants for inspiration for the organic part of the design. Do not limit the geometric part to squares, but experiment with triangles or even circles.
Correlations to Davis programs: Explorations in Art Grade 4: 6:35; Explorations in Art Grade 6: 5.25; Experience Printmaking: 6, 8; The Visual Experience: 9.4