Curator's Corner
African American History Month 2012 II
During the Harlem Renaissance (ca. 1919–1939), African American artists encouraged each other to document the black experience in the United States. This included uplifting scenes of African American life, particularly those of life in Harlem. They were convinced that equality was on its way.
---
Because equality was slow in coming, and the Civil Rights movement of the 1960s proved that, African American art of the late twentieth and early twenty-first century has focused more on the historical racism in American society, going back to slavery. Contemporary artist Glenn Ligon is not alone in touching on this subject. Other artists include Kara Walker, Michael Ray Charles, and Alison Saar.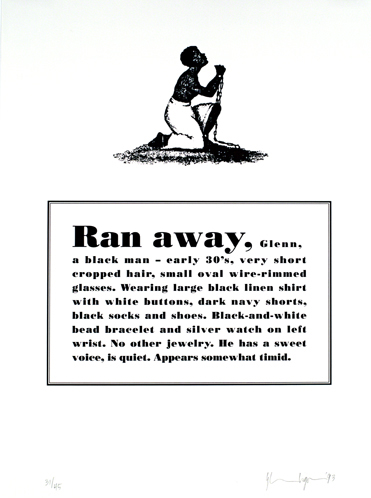 Glenn Ligon (born 1960, U.S.), Untitled from the Runaways Portfolio, 1993. Lithograph, 20" x 16" (50.8 x 40.64 cm). Albright-Knox Art Gallery, Buffalo, NY. © 2012 Glenn Ligon. (AK-649J)
Glenn Ligon is known for works in a number of media concerning race, identity, representation, and language. His work explores the combination of images and text from the past with contemporary ideology. Initially a painter, he branched out into installation art, although his graphic works are an important part of his oeuvre. He grew up in the Bronx and went to school in Manhattan, developing a deep appreciation for the history of slavery and black history. He graduated from both Wesleyan University and the Whitney Museum. For more than years his work has consistently explored race relation issues and the history of race relations in the U.S.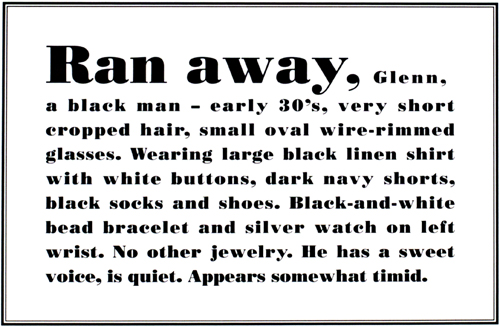 Glenn Ligon, Untitled from the Runaways Portfolio, detail, 1993.
Almost all of Ligon's paintings, prints, and (recently) videos are based on appropriation of some sort. Although he may rewrite the original text, the meaning of his works is universal, and open to endless reinterpretation. In the Runaways series, Ligon has appropriated the format of the runaway slave posters from the pre-Civil War period. He asked friends to write descriptions about him, in an ironic parody of the original broadsides. While the works may seem gently humorous, they provoke contemplation on the original intent of the broadsides and, by extension, lead us to examine how far race relations have evolved in the U.S. What is (unfortunately) compelling is that, despite the advances made during the Civil Rights movement, African American artists in the 21st century are still prompted to explore the history of slavery in the U.S. and how it relates to the status of African Americans today.