Curator's Corner
How Old Is This?
Lately, I can't seem to get away from seeing "abstraction" in all sorts of places. I came across this wonderful Japanese bowl from the mid-1700s to mid-1800s and was sort of wowed by it. If we remember the basic definition of abstraction as "reduction of a subject to the simplest forms," then this bowl qualifies.
---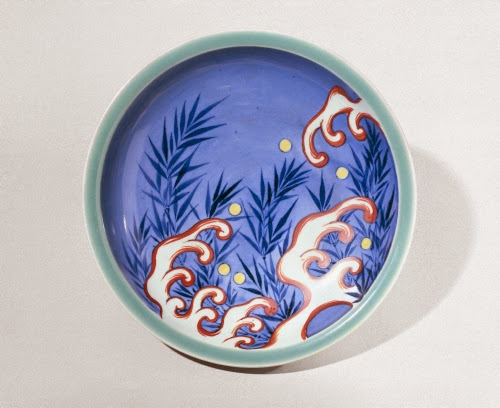 Japan, Bowl with wave and bamboo design, 1700s–mid-1800s. Porcelain, width: 8 1/8" (20.6 cm). © Brooklyn Museum. (BMA-4963)
Interestingly, the Japanese, although their ceramic tradition is probably among the oldest on the planet, did not develop their own porcelain until after 1592, when the military dictator Hideyoshi (died 1598) conducted a failed invasion of Korea. Since Korea was the conduit to Japan for many artistic genres from China, Hideyoshi brought back Korean ceramic artists who had trained in porcelain production in China. Thus porcelain was "born" in Japan and rapidly flowered during the early 1600s. No more importation of Chinese porcelain for the Japanese court!
This bowl bears the wave and bamboo design. Waves, among the strongest forces of nature, often symbolize a protection against other strong (negative) forces. Bamboo, a sturdy plant that is simple and unadorned by flowers, symbolizes prosperity (sturdiness) and frankness and openness (unadorned). The two motifs make an interesting pair, with the silhouetted bamboo that imitates an ink painting, and the wave pattern that imitates screen painting or an ukiyo-e print. The asymmetry and simplified forms are uniquely abstract compared to floral porcelain from the same period in the West: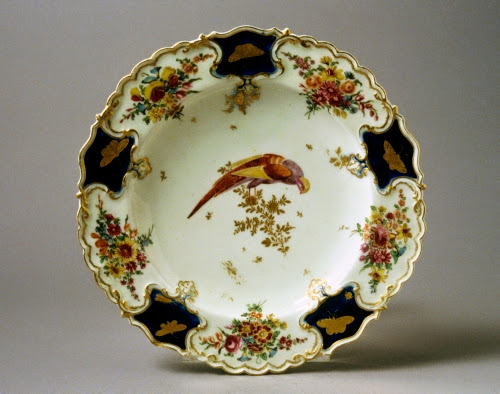 Chelsea Porcelain Factory, Plate, ca. 1763–1765. Soft-paste porcelain. © Mint Museum, Charlotte, NC. (MIN-34)
Ho hum, right? No analyzing this as an example of abstraction.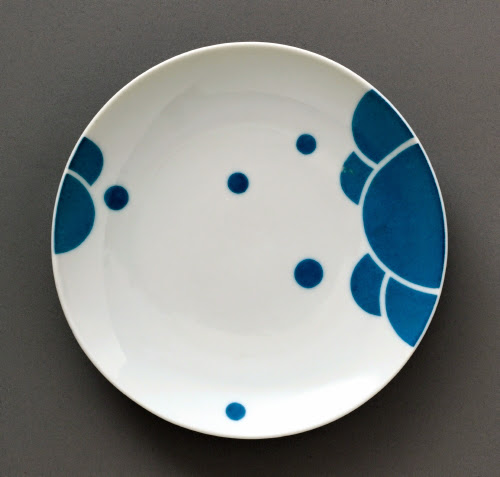 Jutta Sika (designer, 1877–1964, Austria) and Josef Böck Porcelain Factory (1828–1960, Vienna), Plate, ca. 1901. Porcelain and enamel, width: 19.1 cm (7 1/2 "). © The Museum of Modern Art, New York, Gift of Jo Carole and Ronald S. Lauder. (MOMA-D0662)
Let's zoom ahead to the period when abstraction actually poked its head into art in the West during the Art Nouveau style. It flourished between the 1890s and roughly the first 20 years of the 1900s. The reason I mention Art Nouveau is because one of the influences on Western Art Nouveau was the linearity and simplification of natural forms in….Japanese art. I'm not quite sure which forms in nature this plate represents. I suspect that the forms on the right side should be displayed on the bottom, as the cups and bowls from this pattern are oriented thus. That way it looks like a totally abstracted wave pattern.
Jutta Sika was an interesting woman. She was trained in the graphic design field. In 1901 she was one of the founding members of Wiener Kunste im Hause (Viennese Art at Home), a foundation that was a precursor of the Wiener Werkstätte in Vienna, which was the Austrian equivalent of the Bauhaus. She was a strong believer of integrating all the disciplines in the arts whenever possible. She also worked as a fashion designer.
Here are two works that show how the wave pattern and bamboo appear in other art forms, but are oh-so-similar: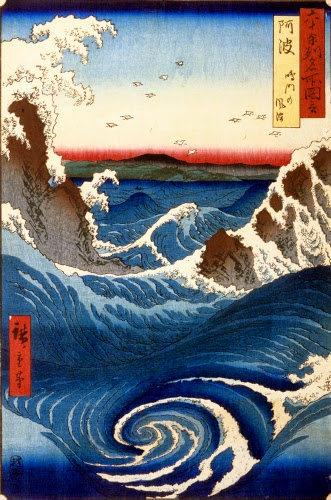 Utagawa Hiroshige (1797–1858, Japan) Awa Province, Wind and Waves at the Whirlpool of Naruto, #55 from the Famous Places in the Sixty-Odd Provinces series, 1853 and 1856. Color woodcut on paper, 14 1/4" x 9 9/16" (36.2 x 24.4 cm). © Philadelphia Museum of Art. (PMA-1401)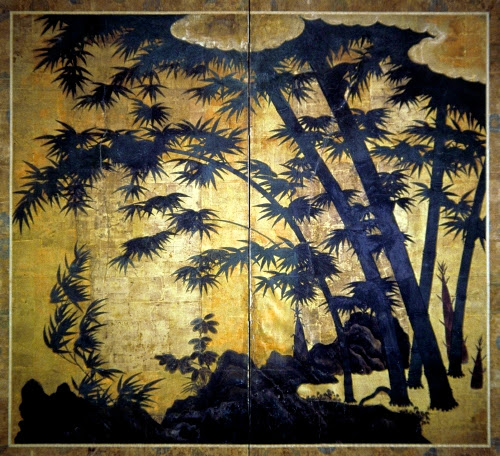 Japan, Sprays of Bamboo, two-fold screen, 1700–1800. Ink, color and gold leaf on paper mounted on wood frame, ca. 66 15/16" x 72 7/16" (170 x 184 cm). © Worcester Art Museum. (WAM-309)
Correlations to Davis programs: Explorations in Art Grade 2: 3.17-18 studio; Explorations in Art Grade 3: 6.35; A Personal Journey: 3.1, 3.4; A Community Connection: 2.6, 5.2; A Global Pursuit: 7.5; Experience Clay: 4; Exploring Visual Design: 7; The Visual Experience: 10.6, 13.5; Discovering Art History: 2.2, 4.4