Curator's Corner
A Visual Tribute to Labor Day Week 2022
Aside from the myth of Sunday as a "day of rest" in the West, it's interesting to me that there is only one day a year that celebrates "labor" in the U.S. The movement to recognize workers' social and economic contributions to this country began during the years of the burgeoning labor movement in the late 1800s. A couple of states passed a Labor Day law in 1887. So many of the states followed suit that Congress enshrined Labor Day as a legal holiday in 1894. Here are some artworks—not just from the U.S.—that are reminders of the variety of jobs we often don't think about.
---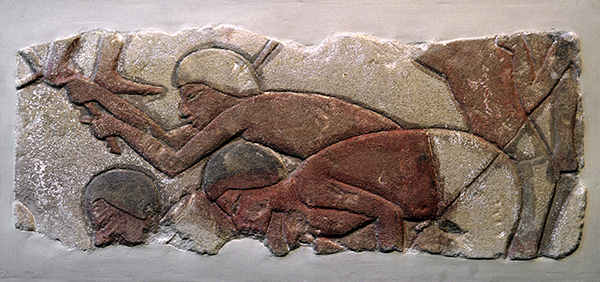 Ancient Egypt, Talatat: Men Hoeing the Ground, ca. 1353–1336 BCE. Painted sandstone relief, 8 3/8" x 21" (21.4 x 53.3 cm). The Cleveland Museum of Art. (8S-30135)
Five years into the reign of Amenhotep IV (died 1336 BCE), which began around 1353 BCE, the pharaoh changed his name to Akhenaten and forced the worship of only the god of the solar disk, Aten. The traditional pantheon of gods was ignored, their temples closed, and their priests forced to convert. Akhenaten built a city in the Middle Nile dedicated to Aten's worship called Amarna.
Early in Akhenaten's reign, he built a huge temple dedicated to the sun god Aten at the east end of the great Temple at Karnak. To make the pharaoh's monumental building programs faster, sandstone was quarried and cut into medium-sized blocks, called talatat, which could be easily carried into position by a single person. Mudbricks were also used in the construction. This talatat relief probably shows workmen digging raw clay to make the mudbricks, possibly for Akhenaten's temple addition at Karnak.
Akhenaten's reign had a graphic effect on ancient Egyptian art, which had followed a strict canon of style for millennia. Artists depicted the royal family with skinny arms and legs, elongated necks, and distended bellies and thighs, not in keeping with the sanitized, stylized naturalist conventions of the past. The convention of combined profile and frontal view (a canon since the 2000s BCE) was also mitigated by depictions of people in full profile, as is seen in this relief. Certain stylistic conventions never changed, such as the use of red ochre coloring for male skin.
After Akhenaten's death, the cult of Aten was almost immediately abandoned, Akhenaten's and the queen Nefertiti's names and deeds were effaced from monuments, and Egyptian art returned to the artistic conventions of the previous 2000 years. Most of the art that remains from Amarna is in fragments of the size of this low relief.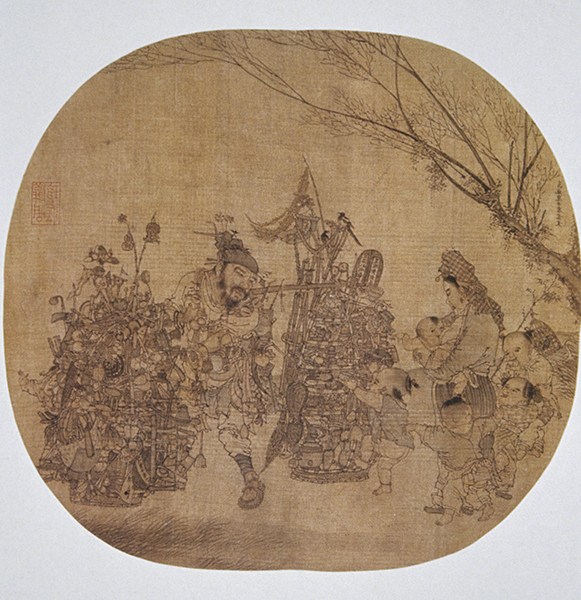 Southern Song Dynasty, China, Knick-Knack Peddler. Fan painting, ink and colors on paper. National Taiwan Museum of Fine Arts, Taipei. Photo © 2022 Davis Art Images. (8S-26185)
Song dynasty (960–1279) rulers concerned themselves greatly with reforming China legally, governmentally, and socially for all levels of society, including the working classes. This resulted in a reviving of everyday life (genre scenes) as subject matter in art. Paintings tended to feature smaller, more intimate scenes. The revival came partially because of the growing influence of Neo-Confucianism, which espoused the idea that government officials, even the emperor, had obligations to their people, no matter their status.
Many genre subjects, like the one depicted in Knick-Knack Peddler, are set against almost completely blank backgrounds. That may be due to the large amount of detail in such works that would be lost against any amount of background setting. This scene is executed in the jiehua, "rule-line drawing," technique. The relatively simple delineation of the figures contrasts sharply with the intricate detail of the objects the peddler is carrying.
Art historians believe that the knick-knack peddler theme appeared in Chinese art in the 1100s and 1200s in the Southern Song court. The artists of that court used the theme to display their skill in the fine-line drawing needed to describe each item the peddler carries. The theme is almost always the same regardless of who painted it: a peddler bedeviled by anxious children grabbing his stock while a bemused mother looks on.
The Song dynasty is considered one of the most significant periods of cultural and artistic development in Chinese history. It was a period of tremendous pressure by various cultures outside of China in the north with the constant threat of invasion.
The major formats of Chinese painting were well-established already in the Tang dynasty (618–907 CE) through the Five Dynasties Period (ca. 907–960 CE). They were refined and expanded during the Song dynasty. While landscape and flower subjects dominated Song painting, genre rose in appreciation.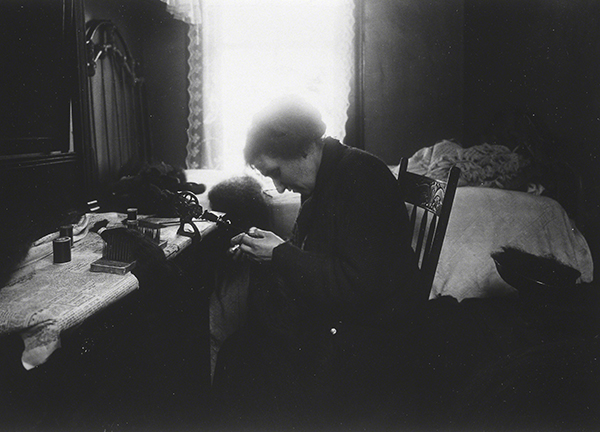 Lewis Wickes Hine (1874–1940, U.S.), Tenement Home Worker Making Hairpieces at Home, ca. 1910. Gelatin silver print on paper, 4 3/8" x 6 ¼" (11 x 16 cm). Private Collection. Image © 2022 Davis Art Images. (8S-20645)
In 1908, Lewis Wickes Hine left teaching to become a photographer and investigator for the National Child Labor Committee. Much of his investigation into child labor abuse included newly arrived immigrants. Immigrants were easily exploited by factories. They often worked up to 12 hours in a sweatshop, taking work home to finish. Such photographs were an extension of his earliest photographic series on the abuses of newly arrived immigrants.
Although Hine took numerous shots of his subjects to achieve what he felt was the most impact for the topic, his works generally avoided dramatic excess. The halo-like window light surrounding this female subject is fortuitous for its symbolism. Hine's camera and his self-taught talent did not lend itself for well-taken images indoors. The stark contrast between dark and light, however, create a dramatic emphasis on the woman's occupation, creating an understandable visual impact.
Hine considered photography to be social documentation—a light that was required to illuminate the dark places of society, particularly the large community formed by immigrants that poured into the U.S. from the 1800s into the 1900s. The effectiveness of the documentation depended largely on an artfully framed and lighted subject.
Born in Oshkosh, Wisconsin, Hine attending Columbia University. After graduating in 1903, Hine began teaching at the Ethical Culture School in New York. The school trained people to help serve the less fortunate and improve their lot in life through public service. In 1905, Hine's boss gave him a camera as a teaching aid and to record school activities. His interest in social reform led almost immediately to his first documentary series in the same year. He set out to document the uncaring treatment of immigrants on Ellis Island.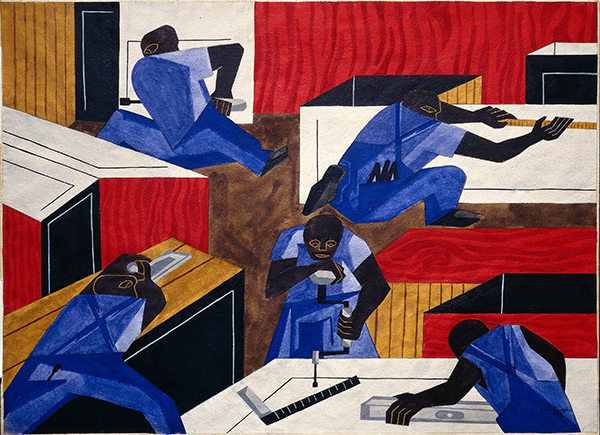 Jacob Lawrence (1917–2000, U.S.), Cabinet Makers, 1946. Gouache and pencil on paper, 21 ¾" x 30" (55.2 x 76.1 cm). Courtesy of the Hirshhorn Museum and Sculpture Garden, Smithsonian Institution, Washington, DC. © 2022 Jacob and Gwendolyn Knight Lawrence Foundation, Seattle/Artists Rights Society (ARS), New York. (SI-210lwars)
As a young man, Jacob Lawrence became fascinated by the work of carpenters and cabinetmakers in Harlem. He hung out in a shop in his neighborhood, the Bates brothers, to watch them making furniture. From that experience, he developed a fascination for tools as creative extensions of the hand.
In the late 1940s, consistent with his interest in life in Harlem, Lawrence began to explore the theme of builders in prints and paintings. This theme would recur in his work through the end of his life. He experimented at the same time with the diversity of tools and materials available to him as a painter. Cabinet Makers is among his first explorations in gouache.
Cabinet Makers is typical of Lawrence's technique of laying down one color at a time. This aided in the visual rhythm and compositional unity of the work. The depiction of various tools being used productively tied into Lawrence's overarching theme in his work of African Americans as valuable members of American society.
Lawrence was a major force to come out of the Harlem Renaissance. He was born in Atlantic City, New Jersey, but moved to Harlem when he was 12 years old. His mother enrolled him in after school art programs, where he discovered a love of drawing and painting.
In his earliest drawings, Lawrence made copies of the patterns he saw in rugs from the Middle East in crayon and color pencil. He would fill in the drawings with color. Lawrence used this technique in his painting all his life, attributing his interest in color, shapes, and overall pattern to these copies of rugs.
In the 1930s, Lawrence began painting scenes of life in Harlem. Meeting other artists of the Harlem Renaissance, he learned to appreciate the importance of promoting African American culture and its unique place in American history through art. He made a name for himself for the first time in 1939 when he exhibited his series of panels on the life of Haitian general Toussaint l'Ouverture. His famous Migration of the Negro series followed to critical acclaim.
Lawrence's personal style was unaffected by other painting styles such as abstraction, Social Realism, Expressionism, or Impressionism. His style varied little through his career except to become a more sophisticate, involved process. He applied one color at a time to the whole work, providing uniformity of color balance. The technique also enhanced the pattern and lively surface.
Correlations to Davis programs: A Personal Journey 2E: 2.3, 2.4; A Community Connection 2E: 2.1; A Global Pursuit 2E: 5.1; Explorations in Art 2E Grade 2: 5.6, 5.7. 5.9; Focus on Photography 2E: Chapter 6; Experience Art: 2.1