Curator's Corner
A Pioneer Abstract Sculptor
January 10th was the birthday of one of the great pioneer abstract sculptors of the late 1900s, Barbara Hepworth. Her sculpture has always been a tribute to the materials in which she worked. She was also one of the first modernists who emphasized the idea of positive and negative space in her works.
---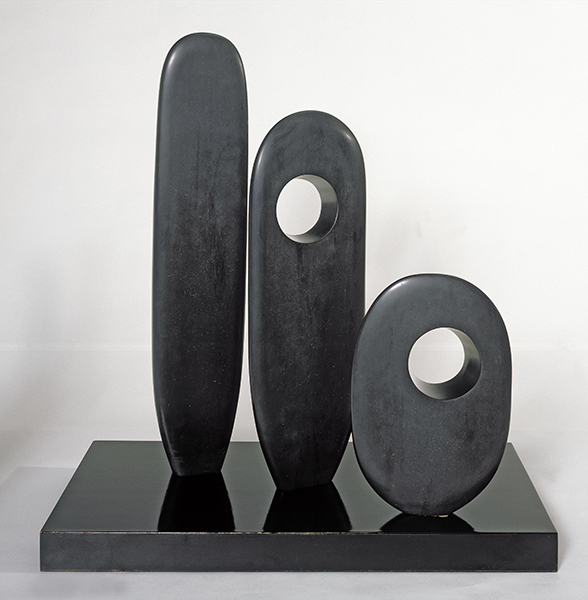 Barbara Hepworth (1903–1975, England), Three Standing Forms, 1964. Slate, 26 ½" x 24 7/8" x 13 15/16" (67.3 x 63.2 x 35.4 cm). Courtesy of Albright-Knox Art Gallery, Buffalo, NY. © 2021 Artist or Estate of Artist. (AK-508)
During the 1940s, Hepworth experimented with a variety of organic and geometric forms. In the early 1950s she produced a series of "Figures" that were totem-like vertical pieces. Three Standing Forms is from that series. The great delicacy of the carving emphasizes the beauty of the stone.
In her respect for material and simple forms, Hepworth's sculpture has the dignity and monumentality of the classical sculpture she had studied in Italy. Her hallmark usage of holes in her pieces pointed the way to environmental sculpture and primary structures of the 1970s. The work reflects not only the influence of the monumentality of antique sculpture, but also the totemic quality of Mesoamerican stelae and ancient Egyptian monolithic figures.
Hepworth was among a group of artists, which included Henry Moore (1898–1986) and Ben Nicholson (1894–1982), who created a revolutionary approach to abstract sculpture starting in the 1930s. She was born into a family that encouraged the talent and education of its daughters, and as a result she studied sculpture in Leeds and London. While studying at the Leeds School of Art, she became friends with Moore. During their lifelong friendship, their interaction as sculptors helped give impetus to modern sculpture in Britain.
While studying in Rome, Siena, and Florence after winning a scholarship in 1924, Hepworth learned direct carving techniques, which eliminated the need for maquettes (studies in clay). The freedom of this approach gave her a confidence that allowed her to emphasize the inherent texture of the material, a quality that was always important in her work.
In 1931 Hepworth married Nicholson, a pioneer British modernist painter. He and Hepworth traveled to Paris in the early 1930s and were exposed to all of the avant-garde art movements taking place there. Hepworth was particularly affected by the organic sculptures of Constantin Brancusi (1876–1957) and Jean Arp (1887–1966). During the 1930s, Hepworth's sculpture gradually developed a repertoire of organic and geometric abstract forms. She also explored the possibilities of positive and negative space in three-dimensional form by carving holes through her pieces.
In her later career, Hepworth developed a method of bronze casting that allowed her to retain the respect for refined surface and develop monumental works. In all of her pieces, both large and small, Hepworth felt that she was expressing a certain intuitive femininity in the curving, organic surfaces.