Curator's Corner
A Great Art Teacher: Alice Tavani
The annual National Art Education Association (NAEA) convention is later this week—held virtually this year—and it's the start of Women's History Month, so I'm introducing you to a dear friend of mine who is not only a brilliant artist, but also a gifted and dedicated middle school art teacher: Alice Tavani of Centerville, Ohio. In 2020, the Ohio Art Education Association voted her Art Educator of the Year. She is also this year's NAEA Western Region Art Educator of the Year, and that demands celebration of her gifts to the art education community!
---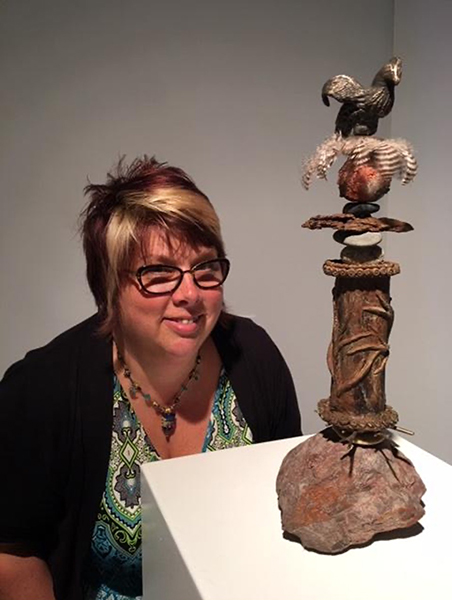 Alice Bordenkircher Tavani with her work In the Beginning (2016). Courtesy of the artist.
I met Alice in Chicago in the late 1980s when she worked with me at Rosenthal Art Slides while getting a masters in art education at the University of Illinois. Not only did I recognize her knowledge of art and art history at the time, she was already totally focused on art education. She was actually instrumental in shifting my focus from college-level art history to art education in the K–12 sphere. She grew up in rural Ohio, surrounded by art in her home with a mixed-media artist mother who encouraged her to follow her early instincts to be an artist. Interestingly, she also had aspirations to be a jockey or veterinarian. It was during her sophomore year at Ohio State University that she decided to pursue art education, along with continued studies in fine arts. It was also at that time that she formed her dedication to always setting aside time for making art.
Alice's unique gifts for art education became clear to me when I was invited to be a guest artist in her class at Saint Scholastica High School in Chicago. She had an awesome art room that included photography facilities, and it was then that I realized the breadth of art forms in which she was skilled. Over the years, she has truly expanded on those interests, on top of raising a son. Her teaching philosophy is compassionate and emphasizes the importance of art in students' lives, regardless of whether or not they go on to be artists. She is passionate about introducing her students not only to "old masters" of Western art, but art from multicultural and contemporary viewpoints as well, giving them an art education informed by art history. As she states in her teaching philosophy, the beauty of art education is that there is no one way to teach, and she continues to learn with each school year. She really is inspirational in the way she shows her students how art is an integral part of life.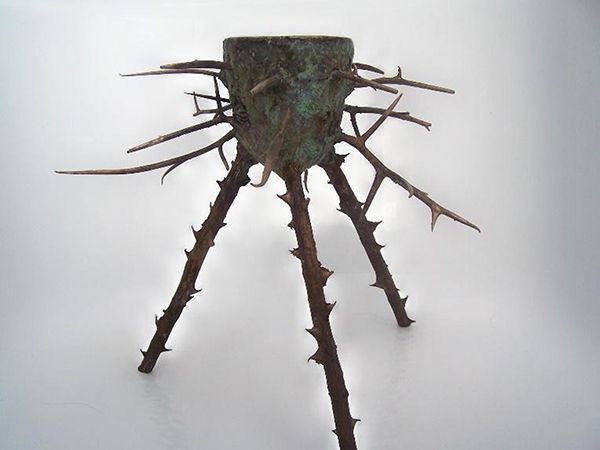 Alice Bordenkircher Tavani, SHE had nothing to offer but Darkness, 2013. Courtesy of the artist.
In her current artwork, Alice is inspired by her life-long love of nature, which was instilled in her by her parents. Her bronzes are not meant to represent one particular element of nature, but the overarching impact of nature in our lives, and how interwoven our lives are with nature. Her view is that, despite humankind's spoiling of the natural environment, Nature perseveres in providing for us. Her works are both inspirational and cautionary.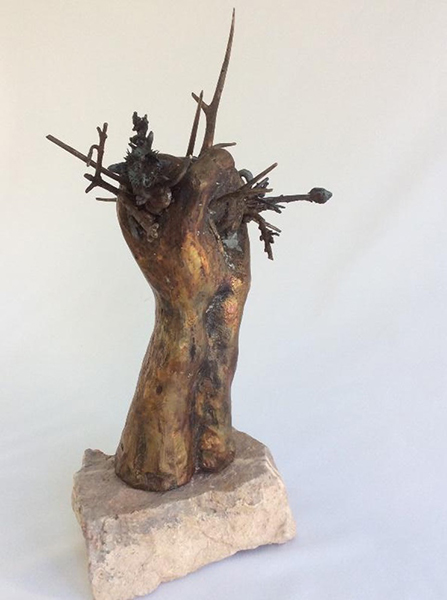 Alice Bordenkircher Tavani, Fallacious Restraint, 2016. Courtesy of the artist.
During the pandemic, Alice has forged ahead in new ways to keep her students connected with one another and also with art making. She initiated a series of Recreations of famous works of art in order to make the solitude more interesting. This is my favorite one of these, a take on a Tōshūsai Sharaku (active 1794–1795) print: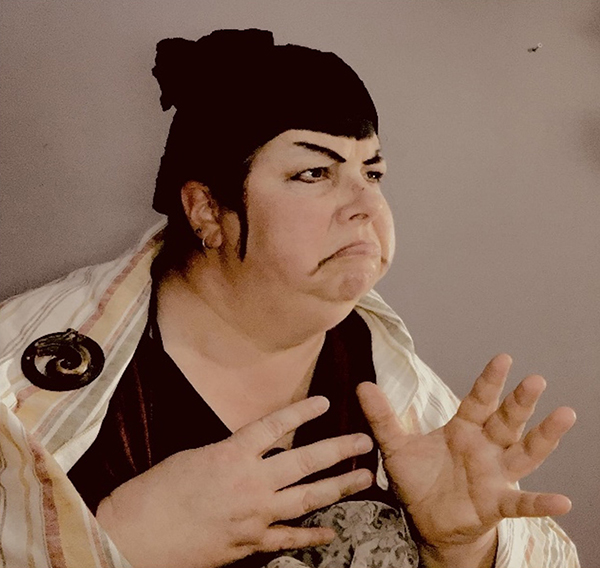 Alice Bordenkircher Tavani, Sharaku Recreation. Courtesy of Alice Bordenkircher Tavani.
Tōshūsai Sharaku (active 1794–1795, Japan), Kabuki Actor Ōtani Oniji III as Yakko Edobei in the Play The Colored Reins of a Loving Wife (Koi nyōbō somewake tazuna), 1794. Woodblock print; ink, color, white mica on paper, 15" x 9 7/8" (38.1 x 25.1 cm). The Metropolitan Museum of Art, Henry L. Phillips Collection, Bequest of Henry L. Phillips, 1939, JP2822.
She subsequently made a lesson out of this work, instructing her students not to restrict their interpretations to "theatricality," but to use food, clothing, or objects from their homes. The results of this lesson are awesome! Check them out here:
https://drive.google.com/file/d/18X6eY8sq7KARsKwkDe0hR9G2tcBwN3Cx/view?usp=sharing