Curator's Corner
9/11 Commemoration in Art
Many artists have tried to make sense of the horrific terror attacks that occurred in the United States 20 years ago, including some thoughtful and affecting artworks. Gerhard Richter created a truly thought-provoking composition, not to exploit the tragedy of that day, but to remind people that it happened and how everything changed in the U.S. after that moment.
---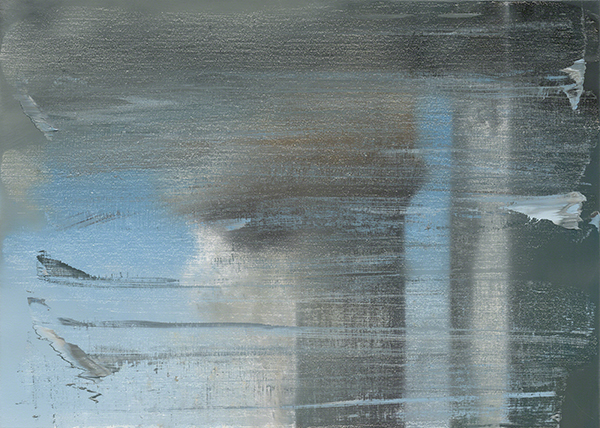 Gerhard Richter (born 1932, Germany), September, 2005. Oil on canvas, 20 ½" x 28 ¼" (52.1 x 71.8 cm). Courtesy of the Museum of Modern Art, New York. © 2021 Gerhard Richter. (MOMA-P5131)
The paintings of Gerhard Richter have been called photorealism, Pop Art, and Neo-Expressionism, although his body of work really defies one designation. By the 1980s, Richter felt that he had pigeon-holed himself with his photo-paintings and the reductionism of his realist works. He pushed himself to work in the totally opposite direction—abstract and vibrant color. His style evolved into an expressionistic abstraction, pursuing a course of narrative abstraction that is often monumental in scale and emphasizes brilliant color and fluid application of paint.
September, which at first glance seems as if it could be reflections in a pond, is Richter's commemoration of the September 11 attacks. Not wanting to create a monumentally sized "history painting," Richter chose a canvas the size of a flat-screened TV, the vehicle through which most people witnessed the terrible event. Avoiding his typical photorealist style, he ended up subtracting layers of paint through scraping when he had finished the initial work. He added a veil of gray paint, creating the illusion of a hazy memory of something anyone who saw the event could never forget.
Born in Dresden, Germany, Richter initially studied art in Dresden (1957–1961), once of center of German academic painting and part of East Germany after the Soviet state was founded in 1949. After defecting to West Germany in 1961, he studied at the State Art Academy in Düsseldorf (1961), which was a center for progressive art in the early 1960s. His earliest works after studying in Düsseldorf—a hub of l'Art Informel—were a combination of influences as different as Jean Dubuffet (1901–1985) and Alberto Giacometti (1901–1966).
While in Düsseldorf, Richter also became acquainted with Sigmar Polke (1941–2010) and Blinky Palermo (1943–1977). Both of these artists, interestingly, executed paintings based on photographs early on, later venturing into abstraction. Richter's first exhibition was a group show titled Living with Pop: A Demonstration of Capitalist Realism (1963), which combined abstraction, photorealism, and performance, heavily influenced by the anti-art group Fluxus and the free abstraction group ZERO. At the same time, the exhibition indicated that German modernists were paying attention to the rise of Pop Art.
Starting in 1963, Richter's interest in current affairs, consumer society, the media, and popular culture led him to create a group of paintings based on photographs, often in black and white. Exploring the relationship between the photograph and painting, he initiated his trademark "blurring" of the subject. However, dissatisfied with the "moronic" process of copying photographs, he returned to pure abstraction by the late 1960s.