Curator's Corner
Women's (Art) History Month 2020 II
---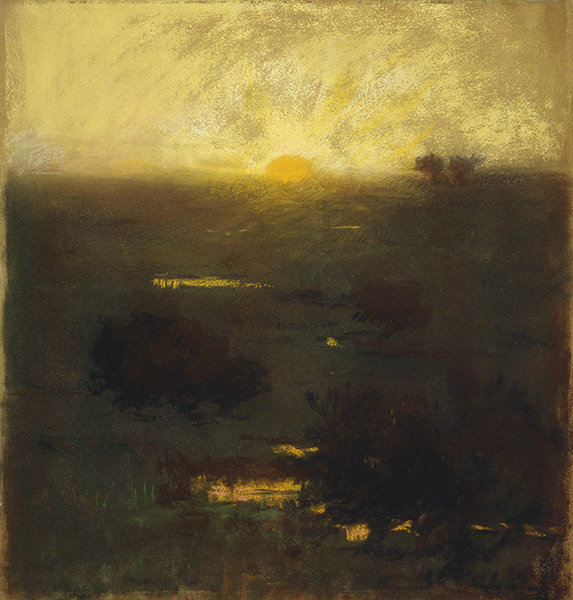 Sarah Wyman Whitman (1842–1904, US), Sunset, ca. 1880. Pastel on sanded paper, 16 ½" x 15 ½" (41.9 x 39.4 cm). © 2020 Museum of Fine Arts, Boston. (MFAB-22)
Only after the American Civil War (1860–1865) did American art schools begin to enroll female students. Many women artists went to Europe, where there was a bit more freedom for them to be trained in their vocation. By 1889, Boston had the highest concentration of women artists in the U.S. It may have been because many of the male artists who trained in Boston schools had traveled to the more liberal artistic milieu of Paris after the Civil War, where women were freer to establish careers as artists.
Sarah Wyman was born in Lowell, Massachusetts; raised until age 11 in Baltimore, Maryland; and married in Boston, Massachusetts. Tutored as a child, she was a strong advocate of self-education, seeking out instruction in painting under the American Barbizon painter William Morris Hunt (1824–1879). She also studied with the Realist painter Thomas Couture (1815–1879) in Paris between 1877 and 1879. Already by 1880, her still-life, landscape, and portrait works had earned her a place in the Society of American Artists in New York.
Wyman's painting, Sunset, reveals the influence of Hunt's emphasis on representing the spiritual forces in nature and his admonition to be totally faithful to depictions of nature, an influence of the Arts and Crafts Movement from Britain. Her style also references the painterly landscapes of Couture. Many of her landscapes, like this one, reflect an interest in ambient light and atmosphere. It is, however, not painted in the then-current Impressionist palette, but rather the academic palette with which she was trained. In spirit, Wyman's misty landscapes are reminiscent of the Nocturne works of James Abbott McNeill Whistler (1834–1903).
Sabina Elliott Wells (1876–1943, US) for Newcomb Pottery (1895–1940, New Orleans), Vase, 1902–1904. Earthenware, height: 12" (30.5 cm). © 2020 Brooklyn Museum. (BMA-5548)
A native of Charleston, South Carolina, Sabina Elliott Wells was a ceramic artist and painter in oils. She studied at Newcomb Pottery in New Orleans in 1902 and 1903, then worked there as a designer between 1903 and 1905. She left Newcomb to work in pottery in Baltimore, and subsequently returned to Charleston.
The majority of Wells's work displays stylized floral forms that are bounded by incised outlines with internal contour line decoration in multicolor glazing. She had a strong sense of design and her pieces show a marked influence of a restrained Art Nouveau aesthetic.
During the last thirty years of the 1800s, there was a revolt by some decorative artists against the poor quality of mass-produced objects such as furniture and ceramics. The Arts and Crafts Movement, which arose first in England in the 1860s under William Morris (1834–1896), spread to the United States in the 1880s. The overriding concern of the movement was the return to handcrafted objects designed and executed by a single artist. Thus "art pottery" was born, distinct from commercial, mass-produced wares.
The movement that has been termed American Art Pottery began with the Philadelphia Centennial Exhibition in 1876. This "refined" art form became popular with American women artists, who formed pottery societies around the U.S. Read more about the development of American Art Pottery in my blog post from 2015.
Between 1885 and 1891, New Orleans had three vibrant, successive ceramics concerns, employing two potters and thirty young women decorators: The Ladies Decorative Art League (1885–1886), New Orleans Art Pottery Company (1886–1887), and Baronne Street Pottery (1887–1891). After the founding of Sophie Newcomb College there in 1890, the former owners of these three studios established Newcomb Pottery in 1895.
The new concern was guided by experienced ceramic artist Mary Sheerer (1894–1931), educated in Cincinnati art schools and colleague of ceramic artists from Rookwood Pottery. Joseph F. Meyer (1848–1931), a ceramic artist experienced in every aspect of studio ceramic work, threw the vessel shapes that Sheerer designed. The women who decorated the vessels had to have their designs approved by Sheerer for quality and consistency purposes. The preferred motifs were the vegetation and flora of the New Orleans region. Mississippi clay was used, gradually infused with flint and feldspar.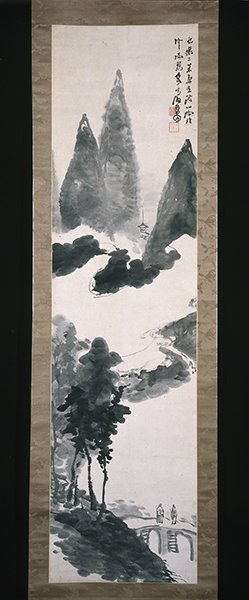 Seikō Okuhara (1837–1913, Japan), Mountain Landscape, ca. 1910. Ink on paper, hanging scroll, image: 67 1/4" x 17 7/8" (170.8 x 45.4 cm). © 2020 Brooklyn Museum. (BMA-5476)
Seikō Okuhara's landscapes are characterized by expressive brush strokes and forms in loose washes reminiscent of the Chinese "free style." Many of her landscapes were executed in the so-called "boneless" (mokkotsu) style, like Mountain Landscape above. The forms are not defined by contour lines. Although this is a fantasy view, she also excelled in "true view" (shinkei zu) landscapes, as well as flower paintings.
After the opening of Japan to the West, there developed in the late 1870s the yōga school of painting, literally "western style." This not only meant that Western styles were imitated, but also that Western media such as oils and watercolors were used. Almost simultaneously there arose a group of painters who strove to maintain the traditions of the Kanō school, literati landscape painting, and ukiyo-e. This group was known as the Nihon-ga, or "Japanese painting" school. Many of the artists of the period executed works in both styles.
The Taisho Period (1912–1926) was one characterized by rapid industrialization and militarization of Japanese society, as well as regional ambitions to expand Japan's influence over the western Pacific, either by forced trade or military conquest. This disastrous course toward World War II (1939–1945) was all the more reason many Japanese artists clung to the glories of past art, particularly from the Edo Period (1615–1868)—250 years of isolationism, peace, and prosperity.
One of the many styles that emerged from Nihon-ga—out of a renewed interest by Japanese artists in Chinese monochromatic painting of the Southern Song period (1127–1279/1280)—was called Nanga or "southern style." Okuhara, born in Ibaraki Prefecture, was the daughter of a samurai family. Her father was a Nanga painter. She grew up steeped in the revival among certain groups of artists of the traditional Chinese literati-scholar-amateur painters.
Okuhara was an educated woman considered a feminist revolutionary (she cut her hair short and wore men's clothing). Largely self-taught as a painter, she joined an avant-garde circle of aspiring literati artists in Tokyo. She eventually studied under Hirata Suiseki (1801–1868) of the Tani Bunchō school and Takami Senseki (1785–1858), a scholar who taught her about Western painting.