Curator's Corner
Women's (Art) History Month 2020 III
I dare say the role of women artists in the history of art has always been a strong presence, even if major art histories do not record all of them faithfully.
---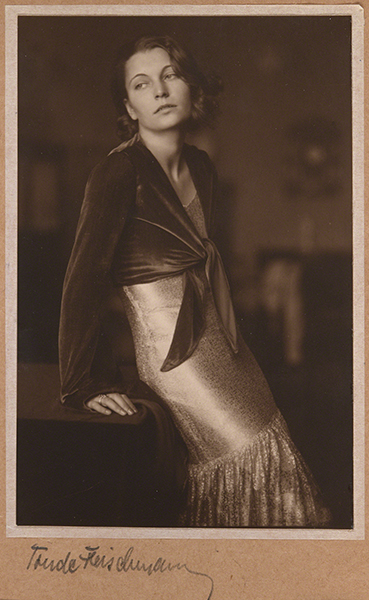 Trude Fleischmann (1895–1990, US, born Austria), Inge Schön, ca. 1929. Gelatin silver print on paper, image: 4 5/16" x 2 7/8" (11 x 7.3 cm). Philadelphia Museum of Art. © 2020 Artist or Estate of Artist. (PMA-8896)
Despite her three years of photographic education and study of art history, Trude Fleischmann considered photography a craft rather than an art form. This may have been due to the fact that women running their own photography studios were a rarity in Vienna in the early 1900s, and Fleischmann would have needed a cold eye on business to have succeeded as she did. Portraits of society people and celebrities, such as actress Inge Schön pictured above, were her bread and butter. Her style fits comfortably into the Pictorialist category. The languid pose, soft-focus backdrop, and melancholy expression are similar to the Pictorialist portraits executed by Edward Steichen (1879–1973). Fleischmann produced several portraits of Schön, including head shots.
During the interwar years (1918–1939) in Austria, there was a boom in the field of photography. This paralleled the growth in the number of magazines being published. Magazines began using photography rather than lithography and engraving for illustration of articles. There was a trend at the time of a good number of women photographers active in Vienna, many of them Jewish. It was a relatively commercial media (which may explain why Fleischmann considered photography a craft) and easy to enter because it did not require long academic study (possibly with naked models). Many women taught themselves photography.
Fleischmann was born in Vienna to a wealthy Jewish family. She became passionate about photography already as a child and her parents supported her interest. She studied art history in Paris for one year. The then studied for three years at the Teaching and Research Institute for Photography and Reproduction Methods in Vienna, where women were receiving training in photography since 1908. After graduation (1916), she became a photofinisher in the studio of another woman photographer, and shortly thereafter with Hermann Schieberth (1876–1948), a Pictorialist portrait artist who introduced Fleischmann to his clients of the cultural and intellectual elite.
By 1920, Fleischmann had secured her own studio in Vienna. She rapidly acquired a large number of clients, among which were society, theater, and opera personalities. As her list of clients grew, her studio became a cultural meeting place. Because of her renown, she was not required to depend solely on "foot traffic," and enjoyed more freedom in subject matter and compositions. Many of her works were on the erotic side.
Because of her Jewish background, Fleischmann was forced to flee Austria when the Nazis invaded in 1938, first to Paris, then London, and then New York. She was aided by a former student and girlfriend, Helen Post (1907–1979). In New York, she opened a studio in 1940 and enjoyed, yet again, a successful commercial career. Aside from photographing models for Vogue magazine, cityscapes of New York took up the majority of her work at this time. She retired to Switzerland in 1969.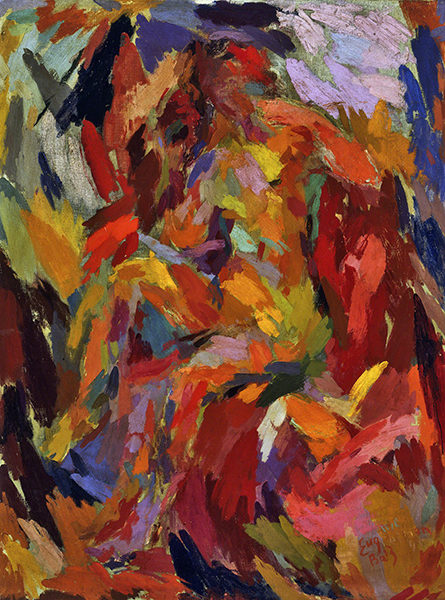 Eugenie Silverman Baizerman (1899–1949, US, born Poland), Actress Dressing, 1945. Oil on canvas, 45 9/16" x 34" (115.7x 86.3 cm). The Museum of Modern Art, New York. © 2020 Artist or Estate of Artist. (MOMA-P1071)
Like many of Eugenie Silverman Baizerman's works with a figurative title, Actress Dressing features a female nude that is all but obscured by the brilliant, expressionistic brush work of pure colors. The exuberant colors form a tension between foreground and background, which is barely hinted at by surrounding cool colors. Indeed, figure and background seem to occupy the same plane. The overall emphasis on decorative surface may recall Baizerman's early artistic studies copying nonfigurative Art Nouveau patterns. Baizerman often compared her work to music. In her energetic emphasis of color and movement, her work is comparable to the early American modernists of the Synchromism movement.
After the advent of Abstract Expressionism in the late 1940s, New York became the center of modernist abstraction, usurping the place Paris had held. Unfortunately, it was a male-dominated movement. Commercial galleries were hesitant to feature avant-garde work, so by 1949 a number of artists formed a series of cooperative art galleries in the East Village. These galleries catered to abstraction and the "second generation" of Abstract Expressionism, who weren't lucky enough to land commercial galleries. Among those artists, a third were women.
Baizerman was among the pioneering women of the East Village cooperative gallery scene, exploring abstraction in the U.S. before the advent of Abstract Expressionism. Born in Warsaw, Poland, she grew up in Russia. Her family included an artistic grandfather, actor mother, and language teacher father. She was encouraged in art by her parents, who hired her a teacher who acquainted her with Art Nouveau aesthetic. She also studied at Odessa Art School.
In 1913, Baizerman's family immigrated to the U.S. In New York, she studied at the National Academy of Design. Her young work was academic in aesthetic with subdued color sense. In 1920, she met sculptor (and future husband) Saul Baizerman (1889–1957). Travelling to Paris in 1920, her appreciation for color was awakened when she saw the work of Impressionists and Post Impressionists. She began to paint in a Pointillist style, covering canvases in series of brightly colored dots. By 1927, her mature style had emerged, characterized by series of short, gestural brush strokes of vivid color. Her style is sometimes linked to the term Abstract Impressionism.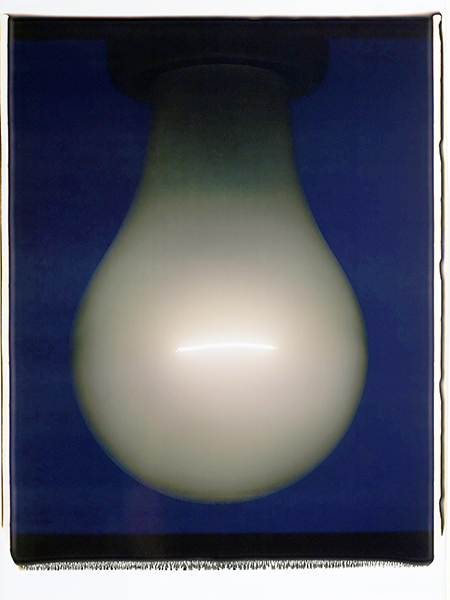 Amanda Means (born 1950, US), Light Bulb 0050C, 2001. Diffusion transfer print on paper, 24" x 20" (61 x 50.8 cm). Albright-Knox Art Gallery, Buffalo, NY. © 2020 Amanda Means. (AK-1715)
Amanda Means has explored the limits of the photography medium while working with everyday objects such as light bulbs, plants, and water glasses. An early series of light bulb images were executed in black-and-white. By 2000, she was exploring the light bulb series in color in a variety of exposures. For Means, light bulbs are representative of the duality of the human experience, balanced between the natural and built environments.
Means uses objects such as light bulbs as photographic negatives rather than film. She places the light bulb on a piece of glass in the photographic enlarger. The enlarger light passes through the light bulb making it appear that it is glowing. The effect is that the bulb seems to be emanating its own light. Traditional photographic techniques exploit reflected light in both camera and darkroom. Means's techniques avoid light reflection completely.
Photography relies on the ability to fix shadows on a light-sensitive surface. In the 21st century, many photographers experiment with camera-less photography. Some of the earliest experiments in photography in the 1830s were produced without cameras. They were created of exposing light-sensitive paper to sunlight with objects between the sun and the paper.
There are three types of traditional camera-less photographic processes that have been around since that time: 1) the photogram, made by placing objects in direct contact with photo-sensitive paper and exposing both to light; 2) the chemigram, made by directly manipulating the surface of photographic paper, often with other media added; and 3) luminogram, a variation on the photogram in which objects are placed between the light source and paper without touching.
The photographic work of Means is largely done without a camera. Raised in the town of Marion in update New York, she grew up in a farming community. Quiet, starlit nights in the country and her subsequent move to Manhattan have inspired her fascination with not only light, but also exploring contrasts of natural and man-made objects, and combinations thereof. She earned a BA from Cornell University in 1969 and an MFA at SUNY, Buffalo in 1978. Early influences on her photography include the light-charged projects of James Turrell (born 1943) and the light-infused images of Yosemite Valley by Carlton Watkins (1829–1916).
Initially, Means photographed tangled underbrush in closeup and printed the exposures in her Manhattan darkroom. The tangled weeds—a natural element—symbolized the chaotic environment she felt surrounded her in New York. From there, she progressed to photographing flowers and leaves without a camera. Ironically, Means worked as a master black-and-white photographic printer for artists such as Robert Mapplethorpe (1946–1989) and Roni Horn (born 1955), and for the Smithsonian Institution. However, the majority of her current work is done without a camera.