Curator's Corner
Women's (Art) History Month 2021 II
If anyone documented the human (women's) condition extensively, it was artist Isabel Bishop. Her sensitive paintings and prints of working women during the Great Depression (1929–1940) and war years (1939–1945) are perhaps the most awesome documents of American society at the time. She certainly had an empathic connection with these women, and her studies reveal a connection to physiognomy that rivals, if not exceeds, the studies of the same by Leonardo da Vinci (1452–1519).
---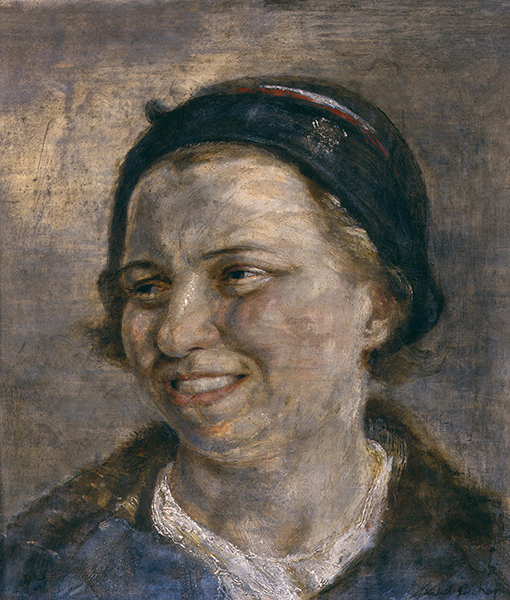 Isabel Bishop (1902–1998. U.S.), Laughing Face, 1938. Mixed-media on panel, 13" x 12 ¼" (33 x 31 cm). Image courtesy of the Butler Museum of American Art, Youngstown, Ohio. © 2021 Estate of Isabel Bishop/DC Moore Gallery, New York. (BIAA-6)
This rendering of a laugh caught in the moment is one of the earliest examples of the artist's depictions of expressions. The influence of Renaissance and Baroque portraiture is evident, notably in the pyramidal composition of the figure. The face is shown tilted in a three-quarter pose, recalling the work of Peter Paul Rubens (1577–1640, Flanders) and lending a sense of vibrancy and movement. The yellowed hues set off by tones of blue are also reminiscent of Rubens.
While recalling traditional portraiture styles, Bishop also challenged the notion of female guile historically associated with representations of smiling women. Rather than the smile as a mask for sinister motives, here the smile is based firmly in reality—the artist calls attention to the delight present in everyday moments experience by ordinary people.
The resurgence in popularity of realism in art in the 1920s is not unlike the same phenomenon that followed the American Civil War (1860–1865), as epitomized in the rural genre scenes of Winslow Homer (1836–1910). This introspection became even more pronounced after the advent of the Great Depression. This turn of realism has various sub-categories, including Social Realism, Regionalism, and American Scene Painting.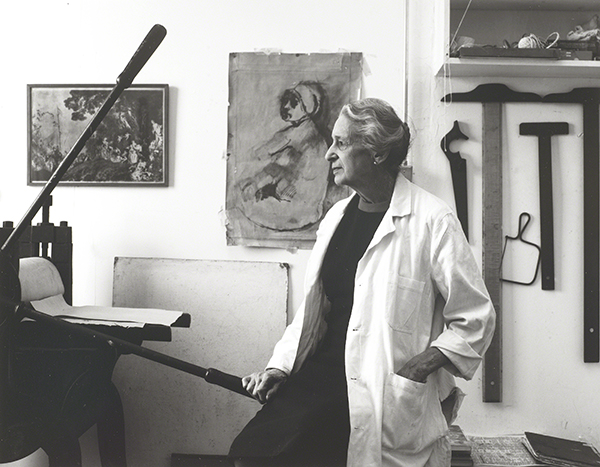 Arthur Mones (1919–1998, U.S.), Isabel Bishop, from the series Artists in Photographs, 1979. Gelatin silver print on paper, 11 ½" x 19 ½" (29.2 x 49.5 cm). Courtesy of the Brooklyn Museum of Art. (BMA-3234)
Though raised in the Midwest, Bishop moved to New York right after high school in order to study painting at the Art Students League in 1920. While studying there, Bishop developed a strong interest in the nude and figurative art.
Bishop's mentor at the League was Kenneth Hayes Miller (1876–1952). Miller was an urban realist who believed that contemporary realism should have the same strong plastic values and structure as Renaissance painting. Although Bishop too admired Baroque and Renaissance painting, her brand of realism developed in a less mannered fashion than Miller. She strived to incorporate traditional Renaissance concepts of space and balance in her works.
Correlations to Davis Programs: Discovering Art History 4E: 15.4