Curator's Corner
A Nice Winter Treat
And, by "nice treat," I don't mean the sight of snow. As an art historian, I really like to stop and look into artists I've previously never thought a lot about. Charles S. Kaelin is one of those artists. I think he's an American treasure, and so I'm going to get you acquainted with him so you sing his praises, too. The Butler Institute of American Art has two nice examples of his work (probably because his work was exhibited frequently in Cincinnati during his lifetime).
---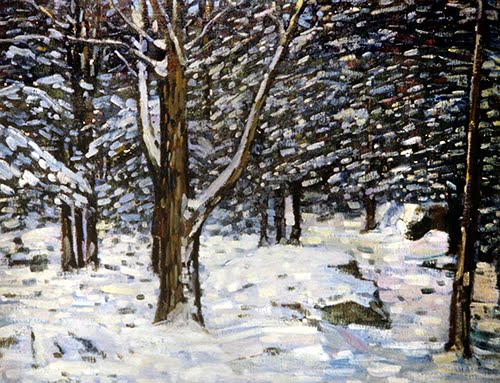 Charles Kaelin (1858–1929, US), Cape Ann Woods. Oil on canvas, 25" x 30" (63.5 x 76.2 cm). © 2019 Butler Institute of American Art, Youngstown, Ohio. (BIAA-469)
Impressionism came late to American artists, brought over by artists who had encountered the movement while studying in Paris. Some of the earliest major players were Childe Hassam (1859–1935), Dennis Miller Bunker (1861–1890), William Merritt Chase (1849–1916), Willard Metcalf (1858–1925), and Theodore Robinson (1852–1896). This of course discounts Mary Cassatt's (1844–1926) Impressionist work that predated all of these artists.
Considering how popular Impressionism still is with the public in the 21st century, it is surprising that it was not received with open arms when it appeared in galleries in the 1890s. French Impressionism was introduced to Americans in the 1880s, but was never well received. Critics initially thought that it lacked the grandeur of "true art." By 1893, however, many American artists were painting in Impressionist styles.
The first exhibit of American Impressionists took place at the Durand-Ruel Gallery in New York in 1898. It was put on by a breakaway—from the National Academy's stranglehold on exhibitions—group of artists led by Hassam, called The Ten. Ironically, when Impressionism finally found favor in America in the first decade of the 1900s, it was already considered a passé style in Europe, replaced by even bolder experiments in modernism.
If any artist embodied the credentials of an Impressionist, it was Kaelin. He was one of the earliest American proponents of the Post-Impressionist style, which was pioneered by French artists Georges Seurat (1859–1891) and Paul Signac (1863–1935). Kaelin, whose love of nature was described as a "passion," was born in Cincinnati to a Swiss lithographer. Initially studying lithography at the Art Academy of Cincinnati, he supplemented his studies with painting in 1878 under the Tonalist John Henry Twachtman (1853–1902). Twachtman had just returned from Munich where he had adapted the Dark Impressionist style to landscape. Kaelin acquired a love of landscape painting, following Twachtman's admonition for subjective expression as opposed to the stale formulas provided by Kaelin's academic training.
Kaelin, who worked as a commercial lithographer for almost twenty years, produced an early body of work in the form of pastel landscapes, much of it in a filmy, light-infused style through the traditional palette (at the time) of Twachtman. (Twachtman, too, eventually adapted the pure color palette of Impressionism.) He visited Gloucester and subsequently the Rockport Art Colony in Massachusetts in 1900. After coming in contact with American Impressionists there, and inspired by the clear, brilliant light of the Cape Ann region, he made seasonal visits there for ten years. He abandoned his earlier Tonal manner and embraced the Impressionist palette, painting directly outdoors, and ultimately, in the Divisionist style of Post-Impressionism.
Kaelin abandoned his lithography career and moved permanently to Rockport in 1916. He often rendered his outdoor studies on Cape Ann in crayon, in which long, strong strokes of crayon weave together to create overall a tapestry of color. These long, sure strokes are apparent in his oils as well, in which color is supreme, and, in the case of Cape Ann Woods, forms sometimes dissolve to the point where they coalesce, much like the late works of Monet (1840–1926).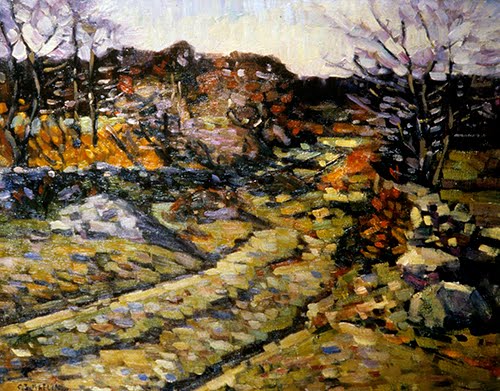 Charles Kaelin, Granite Shore. Oil on canvas, 20" x 24" (50.8 x 61 cm). © Butler Institute of American Art, Youngstown, Ohio. (BIAA-468)